It's been six weeks since Apple (NASDAQ:AAPL) reported Q2 earnings and those large cash plans. Since then, the debate has raged on over everything in regards to Apple; buybacks, valuations, etc. There seems to be a wide range of opinions out there over what's good for Apple, and what's not. Today, I'm going to explore the numbers behind Apple, and show what this means for Apple as a company, as well as Apple the stock, going forward.
Buyback and earnings per share:
I discussed the Apple buyback in detail in my last Apple article, mentioning how it really is a $50 billion plan. $10 billion of that plan was set aside originally in an effort to stop the share count from rising even further. When it comes to the share count, it would be lowered by about $50 billion really.
I showed in that last article how the outstanding share count had risen from 910 million to 940 million over the past three years, from the end of Q2 2010 to Q2 2013. However, some investors might not realize the impact that the outstanding share count has on earnings per share. Earnings per share are not exactly calculated using the outstanding share count, which may surprise some investors.
Earnings per share are calculated in two ways, basic and diluted. When it comes to earnings per share that Apple reports, everyone looks at the diluted share number. This is how diluted earnings per share are calculated for Apple, as per their 10-Q filing (page 6).
Diluted earnings per share is computed by dividing income available to common shareholders by the weighted-average number of shares of common stock outstanding during the period increased to include the number of additional shares of common stock that would have been outstanding if the potentially dilutive securities had been issued. Potentially dilutive securities include outstanding stock options, shares to be purchased under the Company's employee stock purchase plan and unvested restricted stock units ("RSUs"). The dilutive effect of potentially dilutive securities is reflected in diluted earnings per share by application of the treasury stock method. Under the treasury stock method, an increase in the fair market value of the Company's common stock can result in a greater dilutive effect from potentially dilutive securities.
Why am I making such a big deal about the diluted share count? Well, not all investors may understand how the buyback will actually improve earnings per share. If Apple has 940 million shares outstanding at the end of Q2, and in Q3 they buy back 3 million shares, but have 1 million shares added (from options expiration, etc.), the share count will be 938 million at the end of Q3. Apple investors might think that the 938 million count is lower than the 940 million one, so earnings per share are instantly improved.
That could be true to a point, but remember the definition above. It's a weighted average method over the time period, which in this case is the financial quarter. Investors sometimes don't realize it's not just the share count coming down from quarter to quarter. If Apple buys back shares in their current fiscal Q3, the outstanding share count (and diluted share count used for earnings per share) could easily be lower than the Q2 count. However, the real number to look at is how the diluted share count looks in relation to last year's Q2. The following table shows Apple's diluted share count over the past couple of years (in thousands).

So even though the diluted share count in Q2 this year was lower than that of this year's Q1, the Q2 figure was above the year-ago period. Thus, earnings per share were actually hurt by a continued rise in the diluted share count. However, the Q2 2013 count was lower than the Q3 2012 count. Since we assume that Apple will be buying back shares this quarter, the diluted share count should go down even more, and that will start to provide some help to earnings per share.
But even if that share count goes lower this quarter, will it really provide a huge help to earnings per share? The answer is probably not right away, depending on your expectations. Apple had about $58 billion left on the program at the end of fiscal Q2 (calendar Q1), and the program is expected to be completed by the end of calendar 2015. That means $58 billion for 11 quarters, or about $5.27 billion per quarter, which would equate to a little less than 12 million shares per quarter at current prices.
But even if Apple accelerates that a bit, you're still talking about a weighted average, so the diluted share count might not come down that fast. Even if they got the diluted share count down to 930 million for Q3, you're looking at a less than 2% impact on earnings per share for this quarter. Last year's earnings per share were $9.32, so you're hoping (at best) for maybe a 20 to 25 cent improvement on earnings per share in this year's quarter. That's at best, and it could be just 10 or 15 cents potentially. On $7.00 or $9.00 a quarter, it's not much, and those that think that Apple's earnings per share are going to jump by leaps and bounds right away are sadly mistaken. Sure, over two or three years, you're going to see a much larger impact. But for this current quarter, and probably the next few, it's not going to move the needle tremendously. This is especially true when current estimates call for a 21.35% drop in quarterly earnings. At this point, a drop of 20% versus 21.3% really is negligible. It's a big drop, and that's all that really matters right now.
Margins:
There have been a lot of concerns over Apple's margins, which have come down tremendously over the year-ago period. It was fiscal Q2 last year that quarterly gross margins peaked at 47.37%, and they stood at just 37.5% in this year's Q2. The chart below shows Apple's gross margins going back to Q1 of 2010.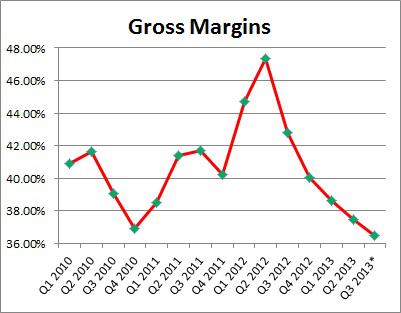 *Q3 of 2013 is expected number using midpoint of Apple's guidance for 36% to 37% gross margins for the quarter.
I've mentioned in the past, and you can see above, that the longer-term range seems to be in between 38% and 42%. 9 of the 14 quarters above (not counting fiscal Q3 this year) came inside that range. But with competition increasing and Apple looking for growth opportunities, will the new range be lower? Here are a few items that need to be examined.
First, a new iPhone, and let's call it the 5S for now. It was the release of the 4S that sent margins skyrocketing, as using the same form factor plus economies of scale really helped. I do think we'll see some margin help from a 5S, but probably not to the extent we saw in the 4S. Don't expect to see 47%, and I think 42% might be generous in the current environment. A new phone would also offset areas where Apple is sacrificing margins to achieve growth, like India.
Second, the potential of a cheaper iPhone. Analysts are extremely mixed over the impact of this new device. Gene Munster thinks that there could be a negative impact on margins, depending on how much the cheaper phone cannibalizes sales of the regular unit. However, Morgan Stanley's Katy Huberty thinks a cheaper iPhone could actually raise Apple's gross margins. My personal opinion is more along the lines of Munster. I think gross margins will come down a little with a cheaper iPhone, but I don't see them crashing due to it.
The second item of potential concern is in regards to the iPad and the iPad mini. As the tablet wars have heated up, Apple has done a great job in terms of unit sales. However, that hasn't been positive for gross margins. Gross margins on the iPad were below company average to begin with, and Apple told us last year at the iPad mini launch that margins on the mini were well below corporate average. It is possible that Apple could launch a sub $250 iPad mini, which would not only take down the average selling price in the iPad category, but probably margins as well. Even cheaper versions of the regular iPad could potentially hurt margins.
Another item is the potential music streaming service we've been hearing more and more about. Sure, anything could help revenues, but will it hurt margins? Yahoo shows Pandora's (NYSE:P) gross margins over the past year at 32%, and we know that streaming video services like Netflix (NASDAQ:NFLX) have margins in the mid to high 20% range. At first, this service will be a small portion of revenues, but it still could be a lower margin item.
In the end, gross margins will continue to be pressured if new products and services come out with gross margins of 25%, 30%, or even 35%. Apple's margins have come down over the past year, and I don't think that they are going to skyrocket higher anytime soon. Maybe when the stock was at $650 or $700, it was reasonable to expect a long-term trend in the 40% to 44% range. However, with a stock around $450, maybe we should think the new range is 36% to 40%. A lower stock price reflects lower expectations, and in a competitive environment, Apple might have to sacrifice margins for growth. It already has been doing that with products like the iPad mini.
Valuations:
When it comes to valuations, there are so many factors to discuss. The buyback, dividend, and growth are just a few items to consider. Should Apple be valued higher because of its dividend and buyback? You could definitely argue that point. But do you also realize how much Apple's earnings are falling this year, despite a decent rise in revenues? Is that not worth mentioning, or should we just ignore it because it doesn't fit the bull theory? Well, when it comes to Apple's valuation, I try to be fair and balanced. Today, I'll compare Apple to some of the other top tier tech names and provide an update to my own "price target", but understand that there is no one correct valuation for Apple. There are no other companies on earth that match Apple's business one for one, which means that comparisons are fluid, and they will not be perfect.
The biggest challenge is comparing Apple to Google (NASDAQ:GOOG). At the end of Monday's trading, Apple traded for 11.45 times 2013 expected calendar year earnings. Google traded for 18.95 times expected 2013 calendar earnings, and for Google, this valuation is based on non-GAAP earnings. Google's GAAP earnings are lower, meaning the GAAP valuation would be higher, or you could argue that Apple's non-GAAP valuation would be even lower.
Ignoring the difference between GAAP and non-GAAP numbers for a minute, these are just two different businesses and stocks right now. Google does not pay a dividend, and is not undergoing a massive buyback program. But on the other hand, Google is showing more growth than Apple right now, and a lot of it. Google's 2013 revenue growth rate could be double (or even more than double) Apple's revenue growth rate. Google is also expected to grow earnings per share, while Apple's are forecasted to decline by a fair amount. Investors believe that Google will keep its fast growth going for a while, which is why they are willing to pay a premium.
Let's look at Microsoft (NASDAQ:MSFT) next. Apple has a much powerful buyback at this point, but to be fair, Microsoft has already spent a ton on its buyback. Both dividends are comparable at this point, but we probably expect more growth out of Apple's dividend over the next couple of years. In terms of revenue growth, Microsoft is growing in the mid to high single digits at this point. Apple is in the high single to low double digits at this point. But the gap between the two is much narrower than it was just a year ago, and much narrower than we thought it would be even three or four months ago. Microsoft is also looking at flat earnings this year, while Apple is seeing the much mentioned decline. When it comes to the valuation on calendar year earnings, Microsoft is at 11.86 while Apple is at 11.45. This is also a non-GAAP number, because Microsoft's business has certain items that throw off earnings at times, like Windows upgrade and the large charge they took last year. In this case, you could easily make the argument that Apple is a little undervalued.
Because I've argued that Apple is now more of a value name, there have been two other large cap techs that also pay decent dividends and buy back stock. Let's first start with Cisco Systems (NASDAQ:CSCO). Like Microsoft, Cisco's buyback is not as strong currently as Apple's will be, but Cisco has also been buying back stock for years. Cisco hasn't had a dividend for too many years, but Cisco's dividend is currently slightly higher than Apple's. Right now, Cisco's revenue growth is in the mid single digits, with earnings growth around that area as well. Apple does not have earnings growth. Cisco currently trades for 11.89 times 2013 calendar year earnings, also non-GAAP. When it comes to Apple versus Cisco, Apple may seem a little undervalued as well.
Then we have Intel (NASDAQ:INTC). In my opinion, Intel has the strongest buyback when compared to Microsoft and Cisco Systems. Additionally, Intel has a dividend yield nearly one full percentage point higher per year than Apple. That's a sizable advantage on the dividend front. In terms of growth, Intel has really been hit by the weak PC market. Intel is expected to show very slow revenue growth this year, low single digits at best, and maybe things get better next year. Like Apple, Intel is expected to see earnings drop this year, but Intel earnings also dropped a bit last year. Intel does trade at a premium to Apple, currently fetching 13.50 times 2013 expected earnings, and unlike the rest of the names mentioned above (not counting Apple), these are GAAP earnings.
So let's recap the valuations, based on currently expected 2013 calendar year earnings, not fiscal years. Also, the Cisco "calendar" I am using ends in January 2014, as that company has a slightly different fiscal calendar. Remember, only Apple and Intel are GAAP numbers.
Apple: 11.45
Microsoft: 11.86
Cisco: 11.89
Intel: 13.50
Google: 18.95
So when it comes to Apple, most feel that the name is undervalued. I agree with that statement to a point, but I don't feel that Apple is worth $600 or $700 right now. I've been long using a flexible price target, one where I assign a multiple to a given level of earnings. You can see in the table below how I calculate this target, which is based on this year's fiscal earnings. Currently, the average analyst estimate for Apple calls for $39.60 in earnings per share this fiscal year. That would mean that if Apple hits that level, my price target on Apple would be $497 by the time Apple reports earnings in October.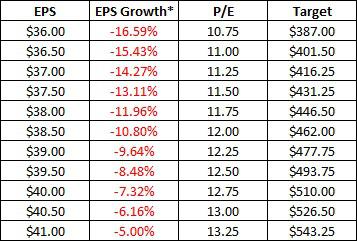 *Adjusted for extra week in prior fiscal year.
Final Thoughts:
I mentioned in my latest article that we're in a waiting period for Apple, and I echoed some of those thoughts again today. Apple's buyback will start to kick in over the next few quarters, but it probably won't dramatically impact earnings per share until this time next year. Also, the expected launch of new products and services for Apple will provide some potential growth, but most likely at a cost. Apple's gross margins are trending lower, and I think you must adjust your expectations for the new range that they will see. Apple's valuation seems hard to compute against other names that don't have extremely similar businesses, but these names have comparable dividends, buybacks, and growth. In the end, Apple seems undervalued, and if the company meets current expectations, I see Apple having about $50 of upside from here. That doesn't mean Apple can't go lower in the meantime, during this waiting period, which is why I continue to recommend buying on pullbacks.
Disclosure: I have no positions in any stocks mentioned, and no plans to initiate any positions within the next 72 hours. I wrote this article myself, and it expresses my own opinions. I am not receiving compensation for it (other than from Seeking Alpha). I have no business relationship with any company whose stock is mentioned in this article.
Additional disclosure: Investors are always reminded that before making any investment, you should do your own proper due diligence on any name directly or indirectly mentioned in this article. Investors should also consider seeking advice from a broker or financial adviser before making any investment decisions. Any material in this article should be considered general information, and not relied on as a formal investment recommendation.