When people think about e-commerce, they think Amazon.com (NASDAQ:AMZN). Or perhaps even eBay (eBay). It's natural, these are the names people know and interact with in the Western world. But the funny thing is, neither Amazon.com nor eBay are leaders on a worldwide scale.
The largest e-commerce company
Indeed, the largest company in terms of merchandise being bought and sold online is not Amazon.com or eBay. It's Alibaba, a Chinese company partially owned by Yahoo (NASDAQ:YHOO) which does business under several trademarks: Taobao, Alibaba, AliExpress and Tmall.
Alibaba has recently exceeded the combined size of Amazon.com and eBay. The following is a slide from Mary Meeker's "KPCB Internet Trends 2013", presented in the D11 Conference: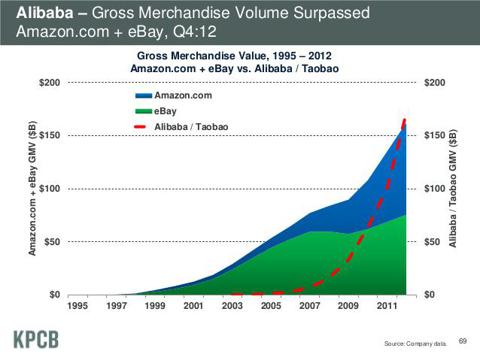 With China's market pushing 542 million consumers and still growing briskly, it's not a surprise that the largest Chinese player is also dominant worldwide (See table below, from the same conference).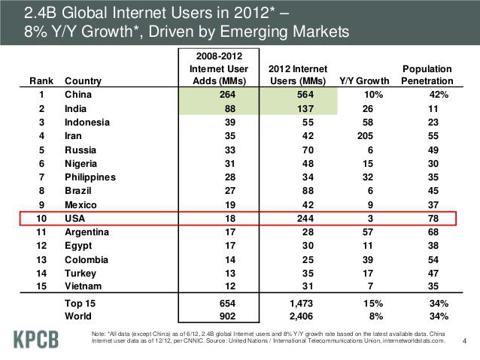 Alibaba is also helped by the fact that 8.1% of retails sales in China happen online, versus 5.2% in the U.S. Alibaba's size is thus not a surprise, except for the fact that Amazon.com and eBay have not been able to penetrate the Chinese market effectively, of course.
The threat
But why is Alibaba relevant for Amazon.com and eBay? One could argue that as much as Amazon.com and eBay had trouble penetrating the Chinese market, Alibaba will have trouble getting out of it.
Alibaba is relevant because of its business model. Alibaba mostly follows the eBay model. It connects sellers to buyers without keeping inventory. This is also similar to Amazon.com's "third party" (3P) model, wildly believed to be Amazon.com's most profitable retail segment. So if Alibaba expanded in the West - for now it mostly doesn't accept foreign suppliers - it would compete head-on with Amazon.com and eBay.
Alibaba already has the scale in terms of consumers to be attractive to suppliers, even western suppliers. At the same time, it has such a wide gamut of suppliers that it's also attractive to consumers. This means neither Amazon.com nor eBay have a defensible "network effect" over it. And then comes Alibaba's greatest weapon: it's potentially much cheaper to sell through Alibaba than to sell through Amazon.com or eBay, except for small vendors.
Alibaba doesn't charge listing fees to list products on Taobao, and TMall, usually used by larger merchants also has variable fees of 1-5%, considerably lower than Amazon.com's or eBay's traditional 10-15% fees depending on the products. It does cost to keep a store open on TMall ($5000-$10000, but the margins per product sold are much higher).
This means that were Alibaba to expand in the West, and it could easily disrupt both Amazon.com and eBay due to its much lower costs, and comparable or wider selection plus larger size.
Reinforcing this view
There's something which tells us how competitive Alibaba is and would be in the event that it expands in the West, which Jack Ma (Alibaba's CEO) has said it would eventually do. This is the fact that many of Amazon.com and eBay third party suppliers actually supply themselves by buying in Alibaba's markets!
So, Alibaba expanding in the west would actually mean cutting out a middleman, these suppliers which take advantage of Alibaba's huge competitiveness, as well as cutting out Amazon.com and eBay, which add another layer of cost.
A small aside
Yahoo still holds around 20% of Alibaba, which should be worth around $12-$14 billion, or a full 50% of Yahoo's present market capitalization. Yahoo is thus the only way to play Alibaba's success in the Western markets right now.
Conclusion
Contrary to public perception, neither Amazon.com nor eBay are the worldwide leaders in e-commerce. That role falls for Alibaba, which sells as much merchandise as Amazon.com and eBay put together and is growing faster than both.
Alibaba has not yet expanded in the West but will eventually do so. This is a huge threat for both Amazon.com and eBay, because it's much cheaper to sell through Alibaba's markets than it is to do the same through Amazon.com or eBay. At the same time Alibaba has the size in terms of suppliers and customers not to be defeated through any kind of network effect.
This means that when Alibaba expands in the West, either Amazon.com and eBay will be forced to lower their commissions by 50-75%, or will face considerable market share losses. The implications for the valuation of Amazon.com and eBay are significant.
To illustrate just how competitive Alibaba is, it suffices to say that many third party sellers in Amazon.com and eBay use Alibaba to supply themselves. This means both these suppliers and Amazon.com/eBay can be cut out of the loop in time.
Disclosure: I am short AMZN. I wrote this article myself, and it expresses my own opinions. I am not receiving compensation for it (other than from Seeking Alpha). I have no business relationship with any company whose stock is mentioned in this article.