By Carla Fried
Playing it safe(r) has been mighty profitable over the past five years. The S&P 500 Low Volatility Index has a five-year annualized gain of near 11% compared to .06% for the S&P 500. No wonder the PowerShares S&P 500 Low Volatility ETF (NYSEARCA:SPLV), stuffed with old reliables including Coca-Cola (NYSE:KO) and General Mills (NYSE:GIS), has ballooned to $5.2 billion in assets. Meanwhile the PowerShares S&P 500 High Beta ETF (NYSEARCA:SPHB) has less than $300 million.
But while it's hard to go 10 seconds without hearing the virtues of defensive stocks with solid dividends and wide moats, the less noticed news is that beta is making a comeback. The high beta ETF has gained 16% this month, compared to 1.7% for the low-vol strategy. And as this stock chart shows, beta has delivered over the past year: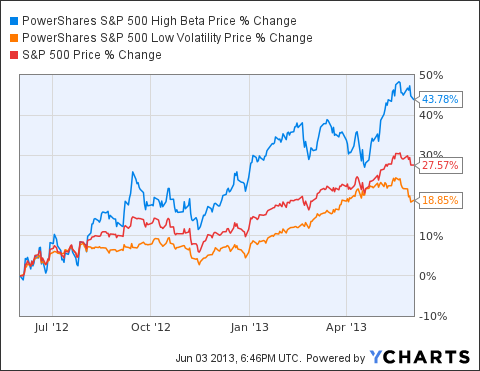 SPHB data by YCharts
That's actually the way it should be. In rising markets, the higher-octane stocks should by definition increase more than the market. It's just in our wacky post-crisis world, the least risky pockets of the stock market have been the preferred way to recover. At least until now. (Low volatility's documented long-term charm is that its stocks will fall less in down markets and that helps the strategy produce market-beating returns -- with less volatility -- over full market cycles.) Low-volatility stocks, particularly those with dividend growth, however, have been bid up in many instances.
The PowerShares S&P 500 High Beta ETF holds the 100 stocks from the index that generated the highest standard deviation over the trailing 12 months. Right now the three biggest holdings are Advanced Micro Devices (NYSE:AMD), First Solar (NASDAQ:FSLR) and Micron Technology (NASDAQ:MU). All three have gained at least 40% over the past three months, compared to 10.5% for the overall benchmark index.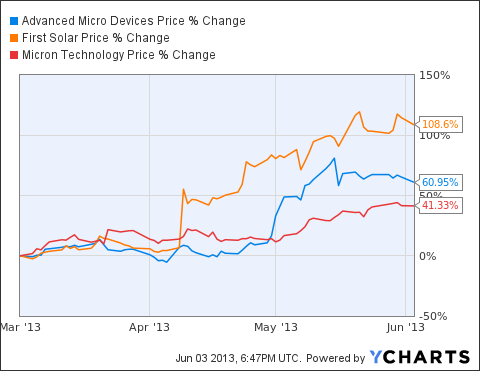 AMD data by YCharts
But true to their volatile nature (Advanced Micro Devices' beta is 2.3, First Solar is 1.5, and Micron Technology is 1.3; the S&P 500's beta is by definition, always 1.0), a seat belt is required. Here's how the three stocks fared during one of the more recent strong bouts of (downside) volatility, the 2011 summer U.S. debt ceiling debacle/EU dysfunctionality stretch: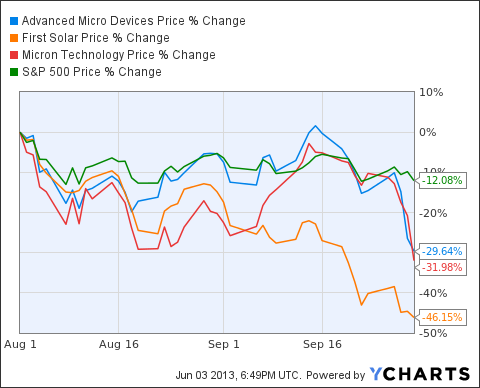 AMD data by YCharts
Using our Stock Screener, Gold and Platinum subscribers can isolate the highest beta stocks in the S&P 500. Currently, more than half the stocks in the index have a beta greater than 1.00.
American International Group (NYSE:AIG) tops the list with a beta of nearly 3.5.
While the low volatility strategy by its very nature teems with stocks that pay bond-beating dividend yields, high beta and income are not mutually exclusive. Our Stock Screener shows 25 stocks in the S&P 500 with betas above 1.5 also have a current dividend yield of at least 2.5%.
Both General Electric (NYSE:GE) and Ford Motor (NYSE:F) make that cut, with current dividend yields of 3.3% and 2.8%, respectively. But they both have cut dividends in the past (Ford in 2006 and GE in 2009.) For a high-beta stock with a more dependable dividend history, Aflac (NYSE:AFL) and its 1.9 beta is worth a look. The stock is at a 52-week high, yet has a sub-9 PE ratio. The current dividend yield is 2.5% and the company is a dividend growth champ; its payout steadily rising over the past 10 years and more than quadrupling over that stretch.
Disclosure: I have no positions in any stocks mentioned, and no plans to initiate any positions within the next 72 hours. I wrote this article myself, and it expresses my own opinions. I am not receiving compensation for it. I have no business relationship with any company whose stock is mentioned in this article.