We know that the world economic situation is uncertain and that its future hides plenty of dangers. The euphoria of growth seen in 2006 has been gradually revived by a delusional optimism of those who do not realize that the marks of the financial crisis are still available. Market laws should return to govern the financial and monetary policy, which now appears to be a little closer to happening. Nevertheless, the stock market has continued strongly bullish throughout 2013, with investors selling assets in order to purchase shares.
If the market is forming a top in the short term, any ordinary correction could lead to a sharp drop in prices, given the extremism that was achieved. Indeed, the percentage of bulls reached 90% a few days ago, which is a record since 1996, the year from which there is data available of this indicator for the S&P 500.
It is well known the main reason for this situation: the massive monetary injections from the Fed. The illusion of growth "as before" makes many people act as greedy investors without a proper rationale.
The probability that markets keep rising is very limited. In addition to this, risk of a U.S. Treasury crash is unusually high, especially after what Fed Chairman Ben Bernanke said last week. In fact, he stated that the central bank could reduce its $85 billion in monthly Treasury and mortgage bond purchases if improvements in economic growth are sustainable.
This uncertain situation is favorable to increase the value of precious metals. In any event, the demand for physical gold and silver has been remarkably strong. World Gold Council Managing Director Marcus Grubb informed Reuters last Friday:
Asian markets will see record quarterly totals of gold demand in the second quarter of 2013.
Grubb indicated that China's gold imports are expected to reach 880 tons with Indian demand to arrive at 965 tons in 2013. The WGC also expects the central bank purchases of gold to range between 450 and 550 tons this year. Add it all up, and we already have well over 210% of the paper gold sold in 1H 2013. If we think of the whole year 2013, the situation can be even more robust. It makes one wonder why such a demand is not reflected in the prices. It will be a point to monitor closely in the near future.
In the past, silver has taken an almost perfect correlation with gold. In fact, since the silver bull market began in November 2001, its daily price action has had a correlation r square with gold of a staggering 93%. In reality, the price of silver has always been dependent on the price of gold. In recent months, the capitulation of gold in February followed by genuine panic in April led the precious metals prices to pitiful levels.
Chart courtesy of StockCharts.com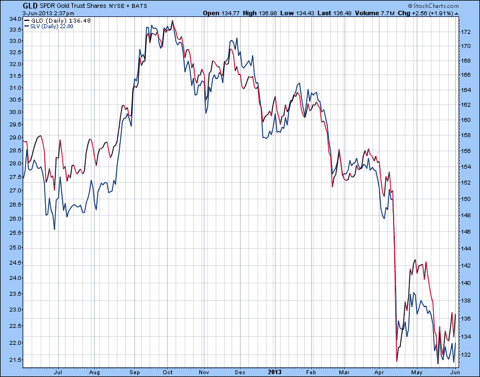 The Gold ETF (NYSEARCA:GLD) and Silver (NYSEARCA:SLV) are the best instruments to invest in these two precious metals on a paper market type as opposed to the physical market. As stated above, silver follows gold usually leveraging the yellow metal's trend. That's why silver has tumbled year-to-date 28% while gold has fallen 17%. But what happened to their physical bullion?
When stock traders sold SLV or GLD shares faster than silver or gold were being sold, its custodians had to buy those excess shares offered. They raised the necessary cash to buy back shares by selling some of their physical bullion held in trust for its shareholders.
We know that precious metals paper markets and bullion markets are decidedly different. We may have physical gold and silver rising with consistent demand while paper gold and silver may drop. That's exactly what we are witnessing at this moment.
SLV holdings reached 10084.96 tons at the end of last year and registered 9992.92 at May, 31 (an insignificant reduction of just 0,9 %). By contrast, GLD holdings stretched to 1350.82 tons on the last day of 2012 and showed a weak 1013.15 tons at May, 31 (a decline of 25%).
Regarding the paper market, silver fell more than gold in the considered period (which was an expected result). Nevertheless, in the physical market, the decline in gold holdings was enormous but silver remained virtually flat. This is extraordinary occurence and can only have one explanation: there is no way a SLV owner or strong investors will let go of their physical investment in the paper market (backing the outstanding shares) or the physical market itself.
The larger silver investors and owners of the silver ETF believe that silver will rise in the future and are not willing to stand without their physical silver. The ones who have been selling are the small and medium investors. One must realize that the silver market is relatively small, and it is very difficult to have this behavior in gold, which is quite larger.
This situation identified in silver is an effective signal for gold. Nothing has changed in the precious metals fundamentals, and it is known that the Commercial short position is minimal. I am convinced that, notwithstanding the high volatility in the near term, the precious metals will rise sharply for a diverse set of reasons:
China, India and Central Banks have planned to purchase around 2,340 tons of gold during 2013
Strong precious metals players are unquestionably in the market for the medium and long run in spite of trading often
Signs of rising inflation
If the situation gets worse in the markets, precious metals may again be a solid investment option
The U.S. dollar seems to have reached a top, and if it will go down in a relevant way, it may indicate a bullish situation for the precious metals
Conclusion
Gold and silver prices have remained depressed for months despite insufficient physical supply that by all reports is clearly unable to fill a robust demand. One probable reason why all this physical buying has not boosted gold price has been the strength of the USD. On the other hand, silver and gold prices are close to their production costs, which means that a bottom should be in place in a very near term. Otherwise, any further drops would force production cuts and mine closures, which would reduce supply and strengthen prices.
We have seen that silver dropped more than gold and still many investors have kept their physical holdings almost intact. This is a clear sign that investors who dominate the market wish to retain the physical white metal. Such an attitude is decisive for silver and all precious metals, and a clear bullish indication.
Disclaimer: The author of this article gives only his personal view and opinion, never making any investment advice to buy or sell specific securities. The information presented is from sources believed to be reliable, but its accuracy cannot be guaranteed. Before investing in financial assets, investors should do their own research and consult a professional investment adviser.
Disclosure: I have no positions in any stocks mentioned, and no plans to initiate any positions within the next 72 hours. I wrote this article myself, and it expresses my own opinions. I am not receiving compensation for it (other than from Seeking Alpha). I have no business relationship with any company whose stock is mentioned in this article.