Walgreen Company (WAG) has raised their dividend for the 34th year in a row, and this hike is more substantial than most at 22%. The anticipated yearly dividend will be 55 cents, raised from 45 cents over the previous four quarters. As the company's CEO Greg Wesson said in the press release, "This dividend increase reiterates our confidence in our key growth strategies and our ability to generate strong free cash flow in the future." The company has grown impressively over the last five years with an average revenue of more than 12%, but because of the recession the company has slowed new store openings. The increased dividend payout is expected to cost the company $99.2 million this year. It appears that at this time instead of using the capital to continue the breakneck growth, the board sees increasing the dividend substantially as a more appropriate use of the funds.
Walgreen reported 3Q earnings last month and results were mixed as the company reported better sales results but those sales were on lower margin items. This falls in-line with the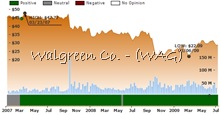 company's current strategy to emphasis on "affordable essentials" such as paper products and groceries. Even though this is pressuring margins, in the current consumer spending environment the strategy is tough to argue with. Because of the close competition among drug stores Walgreen's has never been able to have high margins anyway, and their strategy is much more suited to making up for the lack of margin by selling volume and turning over retail inventory quickly.
At Ockham, we have Walgreen rated as Undervalued based on the stock's current fundamentals compared to historical norms. As you can tell from our historical valuation chart, we have been positive on WAG for quite some time. For an example of why, take a look at the company's current price-to-cash earnings which is currently 9.5x; however, over the past ten years the stock has traded in the range of 14x to 19.6x times cash earnings. Furthermore, we always look positively on stocks with a strong dividend, and in the case of Walgreen's the yield is not all that impressive but they consistently raise it and it is in no danger. The company has strengthened their already impressive balance sheet by more than doubling the amount of cash on hand as of the last quarterly report. Even as the company has slowed new store openings, we like the direction that management is leading it in.