This bit of data came as a surprise to me because, generally, I thought the rising trend in foreclosures would have expanded the pool of potential renters. However, that is not the case at all these days as vacancy rates topped out at 7.5% in the last quarter according to real estate research firm Reis Inc. That rate falls just short of the 7.6% level in 1987, but the Reis blames the soft market on unemployment, which most analysts believe will continue to be a problem for at least the next quarter or more.
There are two main contributing factors that lead to the trouble for apartment leasing. For one, the growing number of job losses is wrecking havoc on demand. As one example, would be apartments with rent divided among multiple working parties are being vacated when one of those people losses their job. The remaining tenants often cannot cover the extra portion of the rent in the time necessary to find another roommate. Some people that once lived on their own are finding roommates to help cover costs and some people are moving back home to live with their parents. Furthermore, with new buildings being finished adding to the supply overhang, some building owners are having to convert properties that were once for sale to rentals in order to get the cash flow. The growing supply and the shrinking pool of renters is having a heck of an effect forcing rental rates to come down. The asking rates for rentals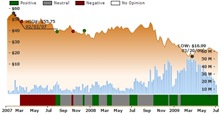 has fallen .6% in each of the last two quarters. Effective rates, or the rates actually paid by tenants have fallen even faster dropping .9% in the last quarter and 1.9% from a year ago.
This is bad news for apartment complex leasing companies and managers. With the job market by all accounts looking weak into the future it is unlikely that this trend will reverse course in short order. Supply and demand will continue to move further from equilibrium, and real estate REITs will need to lower rental rates in order to lure tenants. The largest in that group is Equity Residential (NYSE:EQR) whose stock is down 53% in the last year, and they have already begun offering lower prices in order to attract renters.
For long term investors, Equity Residential and its competitors could be an investment opportunity. This may seem an odd time to advocate this stock but considering a lot of this bad news has been priced in, and based on our methodology we would expect the stock to be selling substantially higher when the market recovers. It is not unreasonable to expect the stock to be back in the $27 to $35 range. In the short term, the stock certainly could trade lower, but the stock pays a nice dividend while you wait as the yield is approaching 10%.