Jim Cramer says a lot of contradictory things when it comes to predictions, but he doesn't waver from at least one piece of critical advice: risk only what you can afford to lose on spec plays.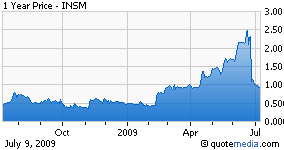 Thursday a biotech spec play called Insmed Inc. (NASDAQ:INSM) is currently down 54% after the company said its drug Iplex failed to treat the most common form of muscular dystrophy in a midstage study. I bought into the story when the stock was $1.24 on advice from a hedge fund manager closely following the company. First, let me explain I never trade based on naked tips. But I will perform my own due diligence on a tip and decide if I want to get involved. In the case of INSM, I bought some shares for the following legitimate reasons:
The company did a ~$130 million deal with your grandfather's drug company Merck (NYSE:MRK);
The stock was on the short list to be added to the Russell 3000 index (and ultimately was); and,
The company was sitting on a highly anticipated muscular dystrophy drug (Iplex) featured in a huge spread in the New York Times.
So, the company seemed like more than a penny stock to me. I believed there was an actual chance the company could be a biotech success story in the making.
Unfortunately, Thursday morning the company announced disappointing results for Iplex and speculators (including me) fled from the stock. In this instance I was actually a solid winner with INSM. I bought the stock at $1.24 (you can verify on my Twitter) and sold 75% near a double at a few different prices between 2.40 and 2.50. So, when I sold the remainder this morning for $1.13, I walked away with a winner.
Many other souls are probably not hungry today. A handful of people are probably vomiting because they lost a significant amount of money in less than 24 hours on a massive gap down with no bid. Although I am not one of those people today, I was an up-Chuck in the summer of 2005.
In the early summer of 2005 I had been working on a decent-sized deal in the video game space. I learned a ton and felt ready to monetize my extraordinary insights. I had made a lot of money in emerging superstar Activision (NASDAQ:ATVI) because I played their games and knew they had excellent management and game developers. So I thought I was ready to pick a Peter Lynch 10-bagger. Hey, I worked in the biz now, right? How many others on Wall St. really knew the first thing about video games?
Without further ado I started doing some fundamental analysis on a group of companies covered by Wedbush Morgan analyst Michael Pachter. I had been on Pachter's distribution list for a while, so I had a few emerging names in mind. One month Pacther wrote a great review of what he called a successful turnaround story called Majesco (NASDAQ:COOL). He said the stock had a very high probability of doubling or better over the following 12 months. I took my research to the next level and started reading 10Qs, investigating games and talking with salespeople at retailers, and ultimately my brother attended the shareholder meeting.
All was magical in Majesco world. The company just hired an allegedly accomplished executive from Reebok (RBK), Carl Yankowski (if you ever see this guy near any of your investments, sell first and ask questions later), and management said the new games were selling above expectations. Carl even looked my brother in the eyes at the shareholder conference and said it would be a blowout quarter.
A couple weeks later my brother and I were at work when we got an infamous message on IM: "What the f*ck is going on with COOL???" We hurriedly jumped on our broker's website and learned the company now said they would miss expectations although only a week earlier they repeated how they would beat expectations. At that point, the reasons did not matter. The stock was already down 50% after hours. I felt my body temperature plummet and my nausea reflex kick into overdrive. Vomit or sell? I was paralyzed like a moron who accidentally got in the way of Iceman's freeze stream.
I will spare you the remaining Chuck Palahniuk type details. Suffice to say, I clicked sell to protect the remainder of my capital and regroup. As I always say, you can always buy back a stock but a losing position can go against you forever.
That was the last time I tempted fate by loading up a significant investment position in a speculative business. I lost more money that day than most dual income families slave to bring home in a year. Although it was one of the worst days of my life (definitely the worst day of my investing career), I bounced back and made sure the cost turned into tuition for better investment days ahead.
To come full circle back to Insmed, you can now appreciate how I ended up a winner in a stock that is currently suffering the same fate as COOL did on that awful 2005 summer after-hours session: I had already learned how not to trade spec plays. I learned that pro traders scale out of winning positions to lock in gains and reduce risk. I learned that pro traders never allocate more than a few percentage points of their portfolio to stocks that will either win the lottery or end up as toilet paper. And those two skills were enough to make INSM a winner for me.
Again, everyone has an opinion about Jim Cramer. But if you sincerely follow just one piece of his advice (risk only what you can afford to lose on spec plays), you will have learned all you need from him. That's how you will avoid the existential Nausea of Sartre which leads to Mad Money, and instead end up counting your Smart Money.