Intel (NASDAQ:INTC) has seen its stock underperform that of its large semiconductor peers like Qualcomm (NASDAQ:QCOM), ARM Holdings (NASDAQ:ARMH), and Broadcom (BRCM). This has been due to the spectacular growth in mobile devices as compared to the declining units in the PC industry. Intel missed the bus on the mobile microprocessors (MPU) as it did not take the opportunity to build mobile processors for Apple (NASDAQ:AAPL). Qualcomm has seen its stock price increase sharply as it captured more than 50% of the mobile SoC market due to its strong communication expertise. Semiconductor design company ARM has seen its valuation reach stratospheric levels as most mobile processors are built using its RISC architecture. However, the days of QCOM and ARMH might be coming to an end as Intel unleashes its new 22nm "Baytrail" and "Merrifield" chips towards end 2013. This will be followed by 14 nm chips built on the Airmont architecture in 2014 and 10 nm chips in 2015. Competitors like Samsung (SSNLF.PK) and TSMC (NYSE:TSM) are having trouble moving beyond 32 nm and 28 nm. Intel might have such a huge manufacturing lead over its competitors that it could capture the entire mobile processor market by 2015. I think that Intel is a terrific stock to own at this price.
What is the "Fabless" Model
Intel is a vertically integrated company that designs and manufactures chips itself. Other big semiconductor companies like Qualcomm, Nvidia (NASDAQ:NVDA) and Advanced Micro Devices (NYSE:AMD) follow the "fabless" business model. In the fabless business model, companies design the chips while the manufacturing is done by foundries such as TSMC and Global Foundries. Intel is the last remaining major non-memory company that does not use the fabless model. The reason behind the fabless trend is the huge expense in building a new "fab" or semiconductor factory. It can cost ~$3-$5 billion to build a new fab, which is beyond the financial capability of most companies. While the fabless model has the advantage of reducing capex, the disadvantage is that you cannot get sufficient capacity at the leading edge. Even big foundry customers such as Qualcomm and Apple have faced chip shortages in the past.
TSMC is alarmed by the loss of its 20 year old customer
Intel recently started to provide foundry services to non-ARM semiconductor fabless customers. This was done as Intel factories are running at less than 50% utilization due to the decline in the PC market. One of the major customers that Intel has managed to win is Altera (NASDAQ:ALTR). According to the agreement, Altera will start producing its FPGA chips in Intel factories on the 14nm node. This move has justifiably alarmed top TSMC management, as Altera was TSMC's exclusive customer for more than 20 years. TSMC is the world's leading foundry and has ~80% market share at the 28 nm node which is the leading process node offered by non-Intel companies. Apparently, Altera thinks that TSMC might take too much time to shrink its geometry beyond 20 nm. Non-Intel semi companies are having a tough time in shrinking their process nodes beyond 28-32 nm, with Samsung stuck at 32 nm. Intel on the other hand is moving at a tremendous pace and will be having commercial chips being produced at 14 nm factories by 2014. TSMC might not even have commercial chips being produced at 20 nm, leave alone 14 nm. Intel will further press its advantage with 10 nm chips by 2015.
The move shocked TSMC. The company's chief executive Dr Morris Chang noted during an analysts' call with New Electronics: "I very much regret Altera's decision to work on 14nm with Intel." Elizabeth Sun, pictured, director of TSMC's corporate communications division, explained his comment. "It was a big deal; not in terms of the size of the business, but in terms of emotion. Altera has been a customer for 20 years and has always single sourced at TSMC. Its move to Intel for 14nm - even though the rest of its products remain at TSMC - is hard for us." In his analyst call, Dr Chang noted the move had forced an internal investigation. While Sun wouldn't say what lessons had been learned, she inferred that Altera had made its call on the basis of one parameter - transistor performance.
Source - Newelectronics
Why this is bad for Intel competitors
The current mobile processor industry is dominated by ARM designed processors. Chinese players like Mediatek and Spreadtrum (NASDAQ:SPRD) dominate the lower end, while Nvidia and Qualcomm rule the middle and upper segments. Samsung and Apple also use ARM's RISC designs for making their "Exynos" and "A" chips respectively. However, the silicon of all these companies might become obsolete if their foundry partners cannot make the jump to the next Moore generation. Samsung is stuck at 32 nm and a lot of people doubt whether TSMC can make the jump to the "16 nm FinFet". The prospects for other foundries like Global Foundries and United Microelectronics (NYSE:UMC) is equally bleak. Smaller process nodes will allow Intel to pack in more transistors and functionality at lower cost. Intel has already made the huge investments in the last 3 years building leading edge factories.
This news, however, has been vastly overblown, with some sites trumpeting that the 16nm FinFET A57 is now "ready for mass production." Nothing could be further from the truth. During TSMC's last conference call, CEO Morris Chang gave some guidance on the company's roadmap through 2015.TSMC expects 28nm shipments to grow by 3x this year compared to 2012, with the first 20nm shipments occurring in 2014. He believes 20nm shipments in 2014 will be larger than 28nm shipments in 2012, while 20nm shipments in 2015 will be larger than the company's 28nm shipments in 2013.When asked how much volume TSMC would be doing on 16nm in 2015, Chang responded "I think it will be very small." And that tracks perfectly with what we've previously seen from ARM/TSMC collaborations. The first Cortex-A15 built on 20nm with TSMC taped out in 2011. If Chang's remarks are accurate, we might see such a chip come to market in 2014 or 2015 - three or four years after tape-out. This seemingly contradicts TSMC's own published roadmaps that claim the company will begin "risk production" on 16nm in 2013. What it actually illustrates is that TSMC's roadmaps are often extremely… creative. Clearly, the company is working on 16nm FinFET right now, but Chang's own statements make it clear that they're nowhere near commercial volume and don't expect to be for another three years.
Source - Extremetech
Destroying competition is nothing new for Intel
Intel has destroyed the server and PC MPU competition through sheer technological and manufacturing expertise. Its main competitor AMD has decided to shift its resources to niche areas like custom made silicon. So it would not be surprising if Intel decimated the competition in the tablet and smartphone areas. Currently Intel gets miniscule revenues through the sale of Microsoft (NASDAQ:MSFT) Surface Pro tablets. Intel's current mobile processor chips are being produced at the 32 nm node. "Clovertrail+" is competing well with ARM designed chips and has made some crucial wins. Intel's stock has jumped as mobile leader Samsung has decided to use Intel's Atom chips for its "Samsung Galaxy Tab 3" tablet. Intel should win a large number of customers with its new 22 nm chips at the end of the year. Execution will be crucial as Intel needs to get chips to customers during the crucial holiday season.
Intel has been preparing hard for mobile dominance
Intel has been preparing hard to capture the mobile market. Here are some actions that Intel has taken in the past couple of years:
Signed an agreement with Google (NASDAQ:GOOG) to make Android operating system compatible with Intel chips.
Bought Infineon's communication division to add communication (4G) functionality to its mobile SoCs.
Intel will spend almost $30 billion between 2011 and 2013 in building the most technologically advanced semiconductor fabs.
Intel announced a $2 billion investment in 2013 for producing next generation 450 mm wafers.
Announced a refresh of its 5 year old Atom architecture - Silvermont.
Launched its first mobile chips Medfield in 2012 followed by Clovertrail+ chips in 2013.
Decision to produce new Atom chips at 22 nm for the 2013 holiday season - dual core Merrifield for smartphones and quad core Baytrail processors for tablets.
Intel's new Core architecture to make the biggest single generation improvement in energy performance with the lowest power Haswell chips being able to power tablets.
Bought ST-Ericsson's GPS division in 2013.
Major organizational reshuffle with a new "Devices" group to focus on emerging product trends in 2013.
Stock Performance and Valuation
Intel's stock has been range bound for most of the last decade like Microsoft. The company has underperformed mobile semiconductor stocks like Qualcomm, Broadcom and ARM. Intel has returned just ~22%, compared to the ~634% return given by ARM in the last 5 years. Intel's stock trades at a forward P/E of 12x with a P/B and P/S both at ~ 2.3x. Despite Intel's upcoming catalysts and formidable strengths, the stock still trades at ~35% discount to the S&P 500.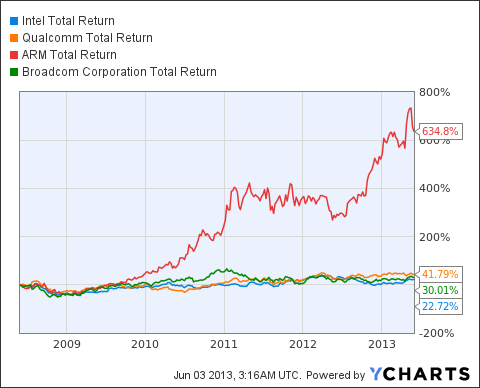 INTC Total Return Price data by YCharts
Summary
Investors have not factored in the possibility that Intel could have a monopoly like position in the mobile processor market. Intel could change the game by fielding powerful "x86" chips for the mobile market which could beat "me-too" ARM chips in both cost and performance. It is a fact that the industry's leading semiconductor foundry is alarmed that they will not be able to compete with Intel in manufacturing. Top fabless semi companies such as Cisco (NASDAQ:CSCO) and Arena are switching to Intel's foundry services. Intel is one Moore generation ahead and will in all probability be two Moore generations ahead by 2014. All mobile companies are too reliant on ARM designs and TSMC. Intel could capitalize on this Achilles heel and rip apart the competition through its manufacturing prowess. At the current price, Intel is cheap as hell and remains one of my favorite stock picks.
Disclosure: I have no positions in any stocks mentioned, and no plans to initiate any positions within the next 72 hours. I wrote this article myself, and it expresses my own opinions. I am not receiving compensation for it (other than from Seeking Alpha). I have no business relationship with any company whose stock is mentioned in this article.