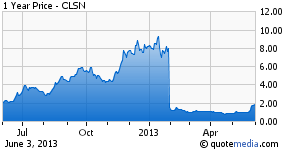 Celsion Pharmaceuticals (NASDAQ:CLSN) and its investors have been on a wild ride (to say the least) since November, 2012. The stock was at $4.30 per share on the 1st of November and more than doubled by December 13th on anticipation of the Stage III ThermoDox heat test results. The shares touched $9.30, before tumbling to sub-$1 on negative results, leaving management and investors shocked and speechless, and casting a dim light on the future of Celsion. It was apparent the only way things would be turned around was a miracle from the management. We might currently be in the midst of this "miracle" in my opinion. On April 22, shares of CLSN bottomed at $0.77 per share. This was the bottom of the overall downtrend that had lasted for over 120 days, and it began to reverse. Plummeting over 90% since previous highs, there was finally a flicker of hope that things could be turning around. On April 23, Celsion's press release showed light at the end of the tunnel. It most importantly announced that ThermoDox was being re-evaluated and showed positive signs of being beneficial:
The Company has conducted a comprehensive analysis of the data from the Phase III HEAT Study with key principal investigators, data experts and liver cancer experts. This follows the announcement on January 31, 2013, that ThermoDox® in combination with radiofrequency ablation (RFA) did not meet the study's primary endpoint. Emerging data from the HEAT Study post analysis demonstrates that ThermoDox® markedly improves progression free survival (PFS) and overall survival (OS) in patients who had optimal RFA. The analysis indicates that if patients' lesions undergo RFA for 45 minutes or more, they clearly benefitted from ThermoDox®. These findings apply to HCC lesions from both size cohorts of the HEAT Study (3-5 cm and 5-7 cm) and represent a sizable subgroup of patients. This data is subject to further verification and review by the HEAT Study Steering Committee.

"We have completed a thorough review of the HEAT Study and there is clear evidence that ThermoDox® can benefit patients when RFA is optimized," said Dr. Nicholas Borys, Celsion's Vice President and Chief Medical Officer. "These data are very exciting and consistent with the mechanism of ThermoDox® activity."

Michael Tardugno, Celsion's Chief Executive Officer, added, "Based on the strength of these findings, the Company will request a meeting with regulatory authorities for guidance on moving forward with our HCC development program. We plan to disclose the details of the HEAT Study data at upcoming medical meetings and in a peer-reviewed publication. We will provide updates on these activities when appropriate."
Along with that, Celsion announced the implemented plans for corporate restructuring and ongoing search for acquisitions.
Corporate Restructuring
The Company implemented a restructuring program to lower its operating costs to conserve capital. The program includes elimination of approximately one-third of Celsion's workforce and the deferral of expenses associated with the Company's Phase II study of ThermoDox® in combination with RFA for the treatment of colorectal liver metastases (The ABLATE Study). Celsion expects these measures to remain in effect until such time as it finalizes its plans for the continuation of its development program with ThermoDox® in HCC. Celsion ended the first quarter of 2013 with approximately $46 million in cash and investments. Ongoing salary costs, net of restructuring costs, are expected to reduce overall operating expenses during the current fiscal year.

"While it is difficult to eliminate positions in our talented and dedicated workforce, this move is necessary to ensure that our costs are adequately aligned with our resources and business strategy," Mr. Tardugno said. "We are reducing expenses in all areas, but we are doing this with an eye toward limiting the impact on our future development programs for ThermoDox® as well as afford us the opportunity to identify and develop new product candidates."

Engagement of Financial Advisor to Evaluate Acquisition Alternatives

The Company has engaged Cantor Fitzgerald & Co. to conduct a comprehensive review of merger and acquisition opportunities with the goal of identifying novel products with high potential, or companies, for Celsion to acquire. Strategic alternatives the Company may pursue could include, but are not limited to, continuing its current operating plan, partnering or other collaboration agreements, acquisition of another company's business or assets, or a merger or other strategic transaction. There can be no assurance that the exploration of strategic alternatives will result in any agreements or transactions, or that, if completed, any agreements or transactions will be successful or on attractive terms. The Company does not intend to disclose developments with respect to this process except as required under applicable securities regulations.
This instilled a new hope in investors and showed that the diligent management had recovered from the blow and taken the reigns of the company back. From that point, things have only gotten better for Celsion and its future.
On May 22, according to its press release, Celsion announced that it had received approval for an additional patent for its ThermoDox technology in four crucial markets, stating:
LAWRENCEVILLE, N.J., May 22, 2013 /PRNewswire/ -- Celsion Corporation announced today that its proprietary patent application, "Method of Storing Nanoparticle Formulations," has now been granted in the four largest markets for liver cancer globally: China, Japan, South Korea and most recently Taiwan.
The addition of these 4 patents in the areas around the world most affected by liver cancer was huge for Celsion. As stated by the President and CEO Michael Tardugno:
"Our program for expanding patent coverage adds long-term value to our drug pipeline.
Along with the approval of these patents, Celsion announced their progress towards securing marketing approval in China. China accounts for over 50% of the cases of liver cancer in the world. The market for ThermoDox in China is huge, and it has the ability to save countless lives.
Looking Ahead
Since this initial glimmer of hope on April 23rd, the future of Celsion has become increasingly brighter. The stock has come tearing back from $0.77 to over $2 per share on massive volume. The price per share has consolidated very nicely at $1.70, and it has only begun to fill the massive upside gap. The next major resistance level, after we break the minor resistance at $2.10, will be $3.98 (the 200 day moving average). From the resistance of point of $2.10, CLSN shares have 100% upside until the next resistance. From Friday's closing price of $1.69 per share, CLSN shares have the potential to run over 115%. Along with this major upside potential, CLSN created a base at $1.57, due to the institutional buying at market price. According to the press release:
LAWRENCEVILLE, N.J., May 31, 2013 /PR Newswire/ -- Celsion Corporation (the "Company") today announced that it has received commitments from institutional investors to purchase an aggregate of approximately $9.83 million of the Company's common stock in an at-the-market registered direct offering led by a dedicated health care fund.

The Company entered into definitive purchase agreements with these investors pursuant to which the Company agreed to sell an aggregate of 6,264,492 shares of its common stock at a per share price of $1.57. The shares were priced at-the-market with no discount to the previous day's closing bid price. In addition, there were no warrants issued as part of this financing transaction. The closing of the offering is expected to take place on or about June 4, 2013, subject to the satisfaction of customary closing conditions.
This direct offering by Celsion not only raises much needed capital for their pursuit of acquisitions, but it also becomes the base or lowest support level. Institutions buying at market price is a very bullish sign for CLSN. I strongly believe we will see the momentum behind shares of CLSN continue to build and the gap start to be filled due to the anticipation of the announcement of the HEAT Study findings for ThermoDox on June 19th. Things have been going Celsion's way lately and are only getting better.
Financial Position:
According to the Q1 2013 Earnings Release, Celsion has over 60 million in cash to fund operations and fund its search for acquisition. While it did burn 4 million last quarter, the market for ThermoDox in china will be huge and Celsion is on the verge of tapping into that revenue stream. Also, it should begin to receive royalties from the Hisun agreement. In the short term this stock has the chance of being very volatile with any further news and gives investors the possibility of great gains or losses. This stocks future is progressively becoming brighter and it has a lot of room to run.
Conclusion:
Celsion shares have been sparked back to life and they have many factors driving them higher. The chart shows CLSN shares are set to soar and have a lot of good news surrounding them. Management has regained control and things are rapidly getting back on track. Below I have listed the main reasons Celsion is rebounding and rebounding hard:
Celsion announced Corporate restructuring and reduced cash burn
Celsion announced the hiring of a financial advisor to pursue acquisitions
Celsion was issued new patents for ThermoDox in the areas of the world most affected by liver cancer
Celsion is on the verge of securing a marketing agreement in China where over 50% of the cases of liver cancer occur
The institutional buying of over 10 million shares at market price is a very bullish sign and creates a rock bottom support level at $1.57 per share
As of late, shares of Celsion have announced tremendous progress and made strides in turning things around and getting back on track. These multiple positive factors have begun to raise CLSN from the dead.
Disclosure: I am long CLSN. I wrote this article myself, and it expresses my own opinions. I am not receiving compensation for it (other than from Seeking Alpha). I have no business relationship with any company whose stock is mentioned in this article.