For today's article, I have chosen two high-yielding utilities: North Carolina-based Duke Energy Corporation (NYSE:DUK), and The Southern Company (NYSE:SO), which has its headquarters in Atlanta, Georgia.
I have chosen these two companies because at first glance, they look very similar:
Both pay a high dividend, with SO only barely beating Duke Energy (4.60% for SO vs. 4.55% for DUK).
Both have seen their net income rise over the past 5 years.
Both SO and DUK pay out a very large portion of their earnings as dividends.
Both are large-cap companies; DUK has a market cap of $47.4 billion while SO's market cap is slightly lower, at $38.4 billion.
I will be trying to decide which of these companies is the better choice. We will start by looking at the revenues for SO and Duke over recent years.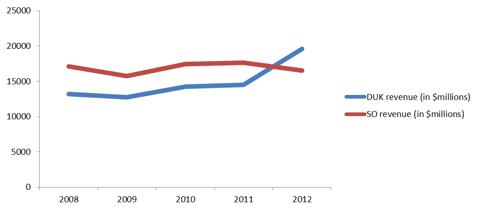 As we can see from the graph above, DUK has raised its revenue from only 13.2 billion dollars in 2008, to $19.6 billion in the most recent fiscal year. SO hasn't performed as well; its revenue dropped by $590 million, or just over 3% in the same timeframe. However, things start to look a lot brighter for The Southern Company, when we compare its net income to DUK's.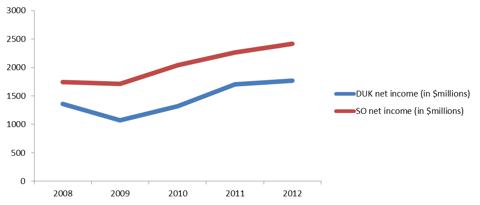 SO raised its net income from $1.74 billion in 2008 to $2.41 billion in 2012, an increase of 38.6%, which is better than DUK, which increased its net income by 29.8% (from $1.36 billion to $1.77 billion).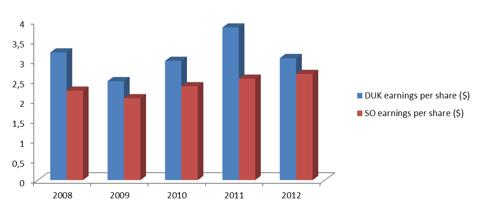 DUK's earnings seem to be a lot more volatile than SO's, bouncing up and down yearly. In 2012, DUK's earnings per share were a bit lower than in 2008. The opposite is true for SO. In 2009, EPS dropped from $2.25 to $2.06, but since then, it has been rising, reaching $2.67 in 2012.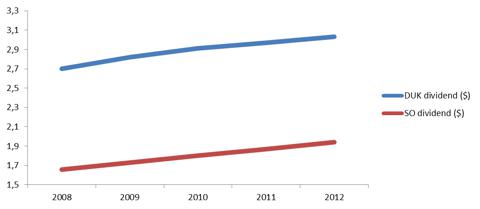 As stated earlier, both DUK and SO are high-dividend yielding stocks, paying well over 4%. But which of the two companies has raised the payouts the most? To find out, I've made a graph showing both companies' dividends over the last 5 years. DUK has raised its dividend by $0.33, or 11.2% in this period, while SO's dividend was boosted by 19.9%, growing from $1.66 to $1.94. Clearly, SO's dividend increases are a lot more impressive. But how sustainable are they? To find out, we will compare the payout ratios (dividend divided by EPS).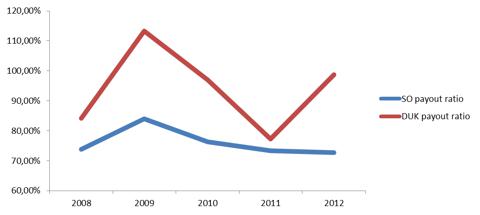 Looking at this graph, SO appears to be the better choice. Despite the fact that the dividend yield for both companies is almost identical (4.55% vs. 4.60%), SO's payout ratio is a lot lower. Over the past 5 years, the highest payout ratio for SO was 84.0%, in 2009. In the same year, DUK's dividend payments were quite a bit higher than its income, and the payout ratio reached 113.3%. In 2012, DUK's payout ratio was 98.7%, compared to SO's 72.7%.
Lastly, we will look at the valuation for both companies. The next graph shows historical price-to-earnings ratios, as well as the 5-year averages.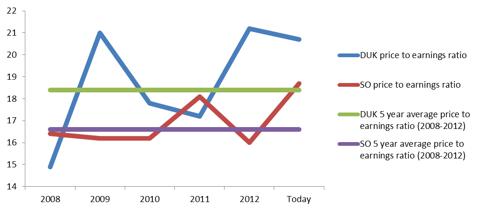 Both companies are trading well above their 5-year average price-to-earnings ratios. However, despite the fact SO has higher growth in net income and dividend, and a lower payout ratio, DUK's p/e ratio is a lot higher (20.7, compared to 18.7 for SO). For investors looking for high, sustainable dividends, SO is a better choice than DUK.
Disclosure: I have no positions in any stocks mentioned, and no plans to initiate any positions within the next 72 hours. I wrote this article myself, and it expresses my own opinions. I am not receiving compensation for it (other than from Seeking Alpha). I have no business relationship with any company whose stock is mentioned in this article.