United Therapeutics (NASDAQ:UTHR) specializes in treating pulmonary arterial hypertension. The disease affects some 30,000 people in the United States and 100,000-200,000 people worldwide, primarily women in their prime.
What Is Pulmonary Arterial Hypertension?
Pulmonary arterial hypertension is high blood pressure in the arteries of our lungs. These arteries shrink, limiting blood flow and forcing the heart to work harder. Simply put, over time PAH weakens and enlarges the heart, causes shortness of breath and fainting. Sadly, the average patient lives only five to seven years following diagnosis. And, since there is no cure for PAH, the disease is chronic and has significant unmet need.
In Steps United Therapeutics
The company offers three drugs for the treatment of PAH. Their first drug and top seller is Remodulin, which was acquired from GlaxoSmithkline (NYSE:GSK) in 1997. In Q1, Remodulin generated $114.7 million in sales, up 3.7% from last year. Remodulin is approved in the United States and is available in most of Europe. The company expects to complete its European rollout this year and next, allowing it to focus on expanding the drug in Asia.
This year, United gained approval in China and the company hopes to obtain approval in Japan in the coming year or two. The market opportunity in Asia could be substantial given Remodulin's competitor Flolan generates roughly $150 million in annual sales in Japan alone. Broadly, Remodulin sales growth will come from organic and geographic growth. However, the company is also working with Medtronic (NYSE:MDT) on an implantable pump system it hopes could launch in 2015.
Click to enlarge images.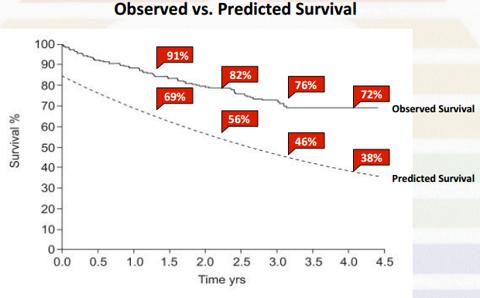 Source: United Therapeutics.
While the market for Remodulin is more mature -- it's been on the market since 2002 -- United is seeing much more rapid growth from Tyvaso, which is Remodulin's inhaled alternative. In Q1, Tyvaso generated $94.6 million in revenue, up 35% from a year ago. In 2012, Tyvaso sales climbed to $325.6 million, up from $151.8 million in 2010 - the first full year after its FDA approval. In June 2010, Tyvaso received orphan drug designation providing exclusivity through July 2016.
The only other inhaled PAH treatment is Ventavis, which is marketed by Actelion in the United States and Bayer (OTCPK:BAYRY) in Europe. The major advantage of Tyvaso over Ventavis is a reduced treatment schedule. While Ventavis requires six to eight inhalations daily, Tyvaso requires just four. And, while the inhaler needs to be cleaned after each dose of Ventavis, Tyvaso's inhalation devices only needs to be cleaned once a day. As a result of significant growth, the company expects Tyvaso to soon become the company's top-selling drug.
The company's third approved drug for PAH is oral Adcirca. Adcirca's active ingredient is tadalafil, which is also the active ingredient in Eli Lilly's (NYSE:LLY) Cialis - an erectile dysfunction (ED) drug. The company acquired U.S. commercialization rights for the drug from Eli Lilly in 2008 and gained FDA approval for the drug in 2009. As part of the agreement, Lily purchased 6.3 million shares of United Therapeutics.
In Q1, Adcirca sales climbed 51% year-over-year to $33.8 million. In 2012, Adcirca sales totaled $122.5 million, up from just 36.3 million in 2010. The drug competes against Pfizer's (NYSE:PFE) Revatio, which uses the active ingredient in Pfizer's ED drug Viagra. Adcirca's advantage over Revatio is once daily dosing, versus 3 times daily for Revatio. Adcirca also competes against Gilead's (NASDAQ:GILD) Letairis. Typically, Adcirca and its oral competitors, are the first-line treatments for PAH. As the disease progresses, Remodulin and Tyvaso may be added.
Growth for Both Remodulin and Tyvaso Could Come From Improved Dosing
Currently, Remodulin is delivered continuously by infusion, either subcutaneously or intravenously. And, Tyvaso requires four inhalations a day, a regime hard to keep for many patients. Since both treatment options are fairly invasive, patients tend to avoid these treatments as long as possible and stay on the therapy for only about 18 months.
So, the company hopes to create a once a day self-injection version of Remodulin and is researching an oral alternative using Beraprost, which it licensed from Toray Industries, to be used in combinations with a once daily inhalation of Tyvaso. If United is successful in improving treatment delivery, more patients will likely begin therapy sooner and adhere to the therapy longer -- boosting sales.
United's Opportunity Beyond PAH
Outside of PAH, United licensed drug 14.18 from the National Cancer Institute as a treatment for orphan disease neuroblastoma -- a cancer of the peripheral nervous system responsible for roughly 12% of deaths due to cancer in children less than 15 years old. Only 1,000 patients are diagnosed annually and the company is currently working on establishing its own production of 14.18 will match the Institute's, allowing it to use the NCI's phase III trial to file for approval in Europe by year end and in the United States in early 2015.
Thanks to Sales and Profit Growth, Shareholders Are Being Rewarded
United's three current products generated sales of $245 million last quarter, up 20% from a year ago. For the full year, United expects to produce revenue of $1 billion, plus or minus 5%. For comparison, United's sales in Q1, 2008 totaled $62 million. The growth in sales has boosted the company's cash and equivalents to $876 million exiting last quarter.
The growth and cash flow has fueled the company's buyback program. United completed its pre-existing $100 million buyback in February and replaced it with an additional $420 million program which began in March. As of the Q1 earnings release, roughly 10% of the new program had been spent.
Despite the growth across Tyvaso and Adcirca and the potential for future growth tied to innovating dosing, short sellers remain unconvinced. Days to cover currently stand at 9.4, suggesting potential upside from covering on additional good news.

Source: E.B. Capital Markets, LLC.
Analysts appear confident the company can continue to produce profit upside. In 2014, consensus is modeling earnings per share growth of 21% to $7.15. This gives shares a forward price-to-earnings multiple slightly above 9. For comparison, the company's five-year PE low is 8, suggesting shares are not overvalued.
As for timing, shares have finished August higher than they begin June in eight of the past 10 years, according to the Seasonal Investor database. This suggests investors interested in the company may benefit from seasonal tailwinds through summer.

Source: Seasonal Investor Database.
Additional source materials:
Disclosure: I have no positions in any stocks mentioned, but may initiate a long position in UTHR over the next 72 hours. I wrote this article myself, and it expresses my own opinions. I am not receiving compensation for it (other than from Seeking Alpha). I have no business relationship with any company whose stock is mentioned in this article.