Canadian Pacific (NYSE:CP) was a favorite of mine for many years, and a staple among pair traders hedged in a relationship with Canadian National (NYSE:CNI) holding the short side. There were many good trading rolls available on both an intraday and swing trading basis, either as fades (entering in on extremes), or going along with directional breakouts.
But take a look at the big picture below.
This chart is a 1:1 ratio of CP's stock price minus CNI's stock price, on a monthly chart. In less than two years, the spread has reverted over $50! In simple terms, in October of 2011, CNI's stock price was almost $20 more than CP's. Now it's worth almost $30 less....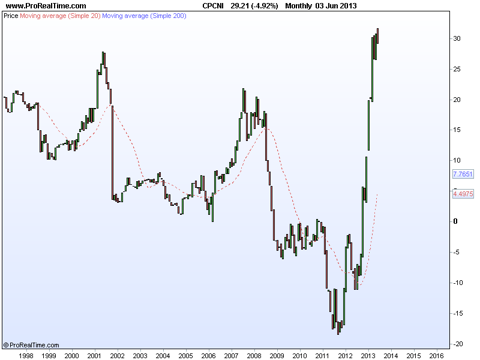 Spread relationships at times can be like rocket ships before ignition: they can sputter for a long time, fizzle out before take off, blast off, and in some rare cases jettison into a long flight pattern. When big institutional dollars shift money into market favorites, trends in popular stocks can last a long time. Being caught in a move like this can be a nightmare for a spread trader; especially when you get accustomed to trading off statistical probability sets and trend patterns.
Canadian Pacific has performed so strong over the last year, peaking at $140, now would be a good time to cash out if you're still long. It's hard to justify maintaining this position with a weak dividend yield of 1.06%, and higher than the S&P in P/CF (17.7 vs. 14.3), P/B (4.4 vs. 1.8), and trailing P/E (42.4 vs. 14.9).
I like CP, so I'm not recommending shorting the stock, although in a ratio spread (dollar even spread vs. CNI) it looks tempting.
I'm a firm believer in commodity stocks and blue chips, like the railroads, for long-term investments. And like Warren Buffett, I would recommend naked puts on CP. Writing puts anywhere around $100 or less is a good way to generate some income, while establishing an initial entry if exercised.
Disclosure: I have no positions in any stocks mentioned, and no plans to initiate any positions within the next 72 hours. I wrote this article myself, and it expresses my own opinions. I am not receiving compensation for it (other than from Seeking Alpha). I have no business relationship with any company whose stock is mentioned in this article.