A diverse range of asset classes have been left shaken in recent weeks by a spate of violence that has spread across investment markets. The first to get taken out at the beginning of the quarter was the metals and commodities markets. The next victim roughly a month ago was the broader fixed income complex. And in recent days, fear has struck close to the heart of policy makers in selected segments of the stock market. With an increasing number of asset classes falling down, it is important to question whether the few remaining categories left standing might be next.
So what exactly is this asset class serial killer wreaking havoc on investment markets? It is the Japanese government bond market. It all started innocently enough on April 4 with the announcement by the Bank of Japan that they intended to embark on an extraordinarily aggressive quantitative easing program that would double the yen money supply by the end of next year. Investors initially cheered the news, for we have certainly been conditioned over the last few years to expect that all forms of money printing is nothing but good for capital markets including stocks. But what we have been left with in the months since is an increasingly unraveling mess. In the end, what we may discover from the current Japanese monetary experiment is that a rubicon not only exists today but can also be crossed where quantitative easing transforms from euphorically uplifting to catastrophically destructive.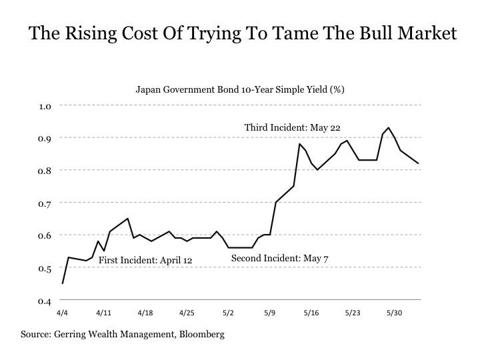 First Incident: April 12
The first act of violence emerging from the Japanese government bond market took place on April 12. Over the course of two trading days, the Japan 10-year government bond yield jumped from 0.55% to 0.65% with a considerable spike in implied volatility along the way. While the magnitude of this move in yields appears small on an absolute basis, it is considerable from a convexity standpoint. And while much of the capital markets continued to move along largely unaware, the most liquid asset classes in capital markets were being struck down as major institutions fought to hold the line on their Japanese government bond positions. This included gold (NYSEARCA:GLD) and silver (NYSEARCA:SLV) that immediately plunged by -13% and -18%, respectively, over the next two trading days. This also included industrial metals such as copper (NYSEARCA:JJC), which dropped by -10% over the next week, and oil (NYSEARCA:USO), which fell by over -7% in the next four trading days.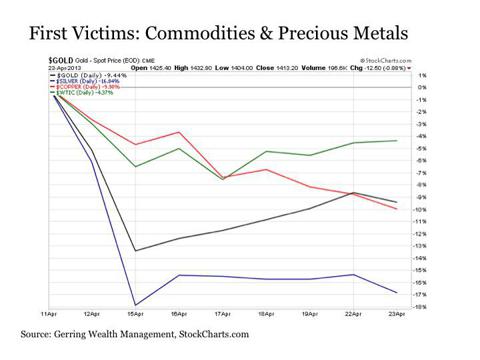 Many investors not only disregarded this initial act of violence, some actually cheered it. For not only was the decline in the precious metals market regarded as a confirmation of investor confidence in monetary policy and quantitative easing, but the decline in industrial commodities also provided greater slack in inflationary pressures to enable policy makers to continue down this money printing course. Unfortunately for capital markets, this complacency left other major categories fully at risk for the next strike.
Second Incident: May 7
The second vicious episode sparked by the Japanese government bond market started on May 7. After remaining fairly quiet for several weeks, Japan 10-year government bond yields suddenly erupted higher. Starting at 0.56% on May 7, yields spiked viciously higher over the next few days to as high as 0.92% on May 15. While industrial commodities such as oil and copper managed to escape unscathed this time around, the precious metals took another hit with both gold and silver falling by roughly -7.5% and wiping away a previous bounce in the process.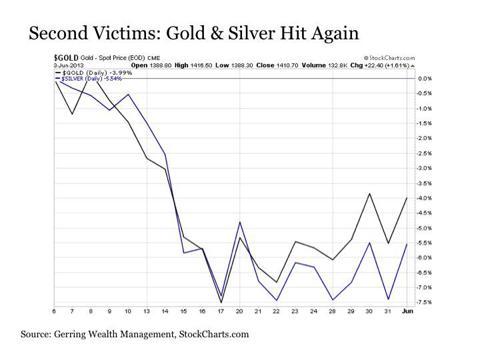 Unlike the first incident, the capital market harm was more widespread this time around. And the bond market was the far more notable victim emerging from this second incident, as nearly all major categories were impacted. The high quality bond market in general (NYSEARCA:AGG) declined by -1.5%, which led to May being one of the worst months for the asset class in years. But the pain was felt more acutely among the more specialized asset classes in the space. Long-term U.S. Treasuries (NYSEARCA:TLT) dropped by over -5.5% over the following two weeks before finding their footing, while U.S. Treasury Inflation Protected Securities, or TIPS (NYSEARCA:TIP), have fallen by -3.4% and counting through Monday's close. High yield bonds (NYSEARCA:HYG), which are usually highly correlated with the U.S. stock market, have bled lower by -3.3% to date. And emerging market debt (NYSEARCA:EMB) has tumbled by over -5%.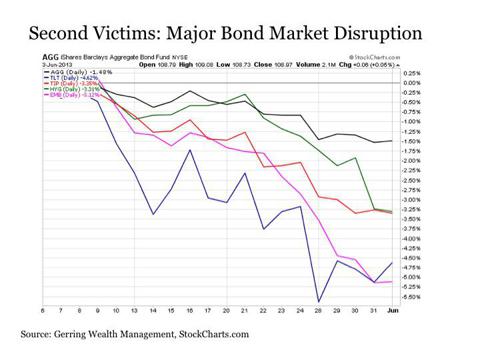 For the first time, damage was also being felt in selected segments of the stock market. This particular development has still not garnered much attention to date, however, for the asset class under attack during this incident in emerging market stocks (NYSEARCA:EEM) was the one stock category that had already been struggling most year-to-date.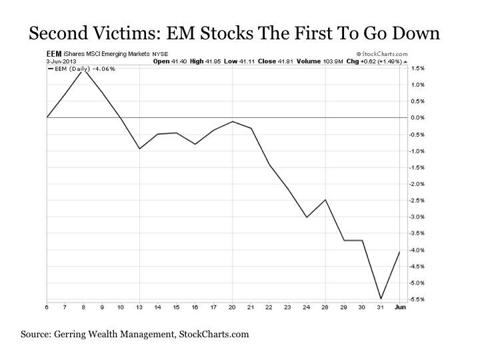 Thus, even though the list of asset class victims was rapidly building, capital markets in general remained largely unfazed and guards were left down. For as long as the beloved major stock markets across the globe were rising, it was widely presumed that all must certainly be well.
Third Incident: May 22
The third act of violence took place on May 22. And unlike the first two incidents, multiple parties seemingly carried it out. At a time when Japanese 10-year government bond yields continued to thrash about with heightened volatility that included a brief spike above 1%, U.S. Federal Reserve Chairman Ben Bernanke took to the floor of Congress and reinforced the idea that a tapering of Fed asset purchases may soon be in the offing. At the same time, sentiment was emerging from the Bank of Japan that actions might be required to dampen the intensifying volatility in the Japanese bond market. It has been with this latest incident that many segments of the beloved global stock market have come under heavy fire. Leading to the downside has been the white-hot Japanese stock market (NYSEARCA:EWJ), which has dropped by -14% in the days since. Developed non-U.S. stocks (NYSEARCA:EFA) in general as well as emerging markets like China (NYSEARCA:FXI) have also suffered during this stretch, with both steadily declining by -5% over this same time period.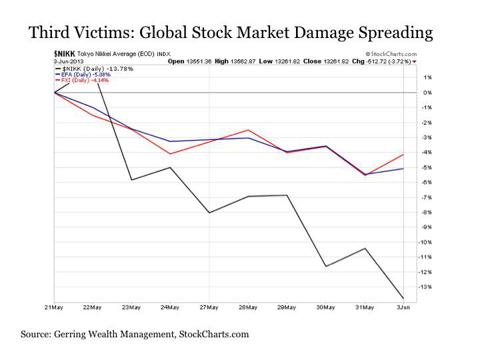 What has been even more notable is the impact that has been felt within the seemingly impenetrable U.S. stock market from this latest incident. Defensive utilities stocks (NYSEARCA:XLU) have been slashed by -6% in recent days, while once strongly performing homebuilder related stocks (NYSEARCA:XHB) have also dropped by -4.5%. And U.S. Real Estate Investment Trusts (NYSEARCA:VNQ), which are the post crisis stock market darlings, have been blasted by over -9% over the last two weeks.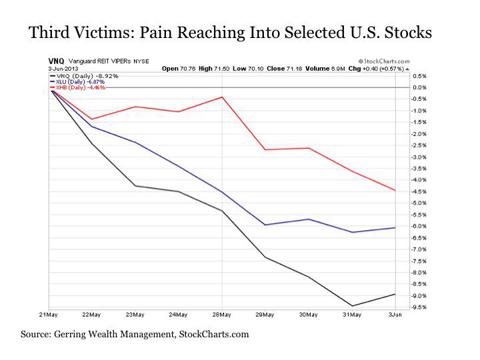 Who's Next?
In the wake of the rampage by the Japanese government bond market, only one major asset class remains that has been effectively unharmed. That is, of course, the U.S. stock market (NYSEARCA:SPY), which despite some very modest and brief pullbacks along the way has managed to push steadily higher all along the way. Although we have seen some modest weakness in U.S. stocks since the most recent May 22 incident, the downside has been trifling in comparison to the terror that has been afflicted on so many other asset classes to this point. Thus, it may not be long before the next incident targets U.S. stocks for a move to the downside.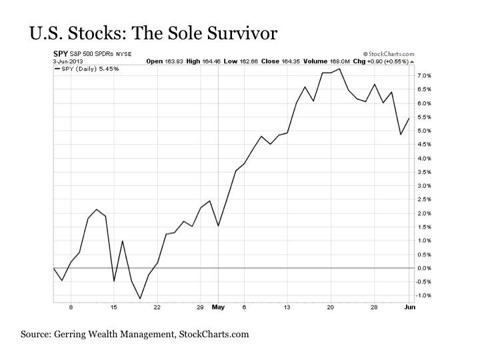 The recent performance by an immediately related asset class further raises the possibility that U.S. stocks may indeed be next. Over the past year, U.S. stocks and REITs have moved in virtual lockstep. But while REITs have plunged sharply since the latest incident on May 22, U.S. stocks have not followed suit in any meaningful way, or at least not yet.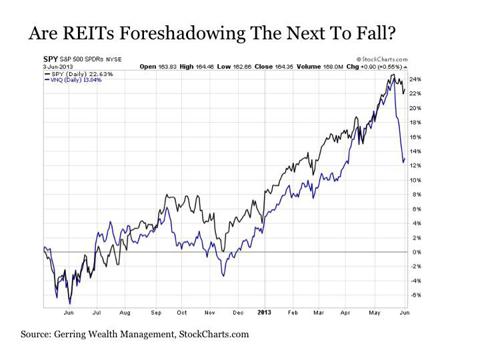 Bottom Line
Stocks are seemingly in an increasingly fragile position at the present time. Perhaps the volatility in the Japanese government bond market will be apprehended in time and the U.S. stock market will manage to escape unscathed. But recent trends afflicting investment markets are not showing any signs of abating at this point. Instead, they are continuing to intensify. Thus, time may be running short for stocks. And if another incident emerges that pushes stocks through critical support levels such as the 50-day moving average on the S&P 500 Index in the coming days, this may be the signal that it is finally time to move to the sidelines from U.S. stocks at least for a spell if not longer.
Disclaimer: This post is for information purposes only. There are risks involved with investing including loss of principal. Gerring Wealth Management (GWM) makes no explicit or implicit guarantee with respect to performance or the outcome of any investment or projections made by GWM. There is no guarantee that the goals of the strategies discussed by GWM will be met.
Disclosure: I am long TLT. I wrote this article myself, and it expresses my own opinions. I am not receiving compensation for it (other than from Seeking Alpha). I have no business relationship with any company whose stock is mentioned in this article.
Additional disclosure: I am long stocks via VIG, VXUS and a number of individual stock positions. I long bonds via BOND, ILB, MUNI, BAB and MINT. I am long gold and silver via GTU, CEF, PHYS and PSLV.