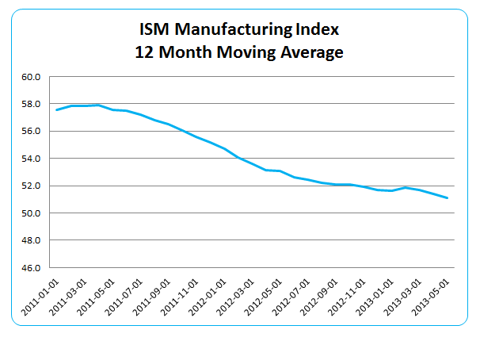 Click to enlarge
(Click to enlarge)
Signs of trouble in the economy do not seem to be troubling investors. Volatility has picked up a bit, yet stocks move higher on almost every bit of bad news. In the convoluted thinking of today's investment world, investors are betting that bad news will force the Fed to continue its aggressive policies of keeping interest rates at historically low levels. On the other hand, hints of strength in the economy prompt investors to sell stocks due to fears that the Fed may actually begin to unwind at least a portion of its monumental easing. In other words, the rally in stocks appears to be due more to quantitative easing from the Fed than from improving fundamental factors such as revenue and earnings growth.
The most recent "disappointing" economic news that caused stocks to rally came from the Institute for Supply Management. Their widely-followed Purchasing Managers' Index (PMI) fell from 50.7 in April to 49.0 in May. Since the critical level is 50.0, the latest report indicates that the manufacturing sector moved from expansion to contraction. May marked the third straight month that the PMI declined bringing it to its lowest level since June 2009. Not coincidentally, that's the same month that the National Bureau of Economic Research officially marks as the end of the Great Recession.
Furthermore, eight of the PMI's sub-indexes also deteriorated. Perhaps the greatest concern is the significant drop from 52.3 in April to 48.8 in May for the index that measures new orders.
Ordinarily, I would not be concerned about one month's reading; however, the PMI has been deteriorating for some time. The graph above shows the PMI's 12-month moving average since the start of 2011. There is no denying that the trend is not favorable. I suppose, however, that you might find this encouraging if your investment thesis is based on the hope that the Fed will do more.
Admittedly, manufacturing accounts for a smaller proportion of the U.S. economy than it did a few decades ago. As a result, some analysts argue that the PMI isn't as important as it once was. Even so, manufacturing is not too small to ignore. According to the latest GDP report, the goods producing sector accounted for approximately 24% of our $16 trillion economy and manufacturing was responsible for 19% of corporate profits. Frankly, I don't see how we can hope for stronger employment when the manufacturing sector is on life support. Since the Fed is the physician in charge, we can expect strong medicine in the form of easing to continue.