No matter what side of the debate you are on as far as who has the best semiconductors and for what applications, Intel Corporation (NASDAQ:INTC) has been a solid player in the processor industry. Obviously, if you believe Intel will shoot past competitors such as Qualcomm Incorporated (NASDAQ:QCOM) and ARM Holdings Plc (NASDAQ:ARMH), you believe the stock will go up in due time.
As it stands Intel has $53.02 billion in revenue for the last twelve months. Intel currently has $83,083,000,000 in assets and $31,889,000,000 in liabilities. Despite stiff competition Intel is very conservatively financed.
Intel currently pays a $0.90 dividend at a 3.70% yield. The company has a payout ratio of 44%. Intel has paid a dividend since 1992. Intel has regularly increased its dividend although not annually, for the past decade.
Current earnings of $2.00 place the P/E at 12.62. Intel's Graham Number is $21.58. Earnings for the last seven years are:
| | | | | | | | | | | |
| --- | --- | --- | --- | --- | --- | --- | --- | --- | --- | --- |
| Year | 2012 | 2011 | 2010 | 2009 | 2008 | 2007 | 2006 | | AVG | @ $25.00 |
| EPS | $2.13 | $2.39 | $2.01 | $0.77 | $0.92 | $1.18 | $0.86 | | $1.47 | P/E 17 |
No doubt about it, Intel has had a rough past couple of years. Even though earnings for the last seven years have been bumpy, the average earnings of $1.47 give Intel a P/E of 17 at its current price. QUALCOMM's current P/E is 17.74 and ARM Holdings is 70.49. At Intel's current price, there is little to no growth priced in.
Share Buybacks
Not only does Intel have a great dividend it also buys back its own shares. In the past 20 years Intel has reduced its shares by 26.27%. Based on its financials, Intel is in more than a good enough position to continue returning share holder value over the next couple of years.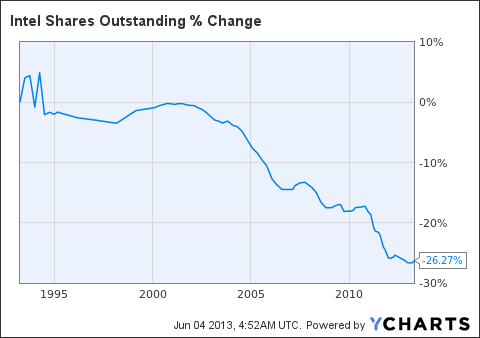 INTC Shares Outstanding data by YCharts
Conclusions
Intel is currently valued very attractively. There is only one problem and no one can answer the question hanging over Intel's head. Can Intel move into the mobile space that its main competitors seemingly dominate at the moment?
Intel is attractively valued based on past and current performance. However, where is Intel going from here? Aside from the recent information that Intel will provide chips for some Android-powered devices, no one can be totally sure it will move into mobile and dominate it as it did the PC market.
If you believe Intel can overcome these obstacles then Intel looks to be a sound investment. At current valuation Intel's ability to move into the mobile market is not priced in. If you are not sure how well Intel will do in the mobile market as I am, then better wait for more information as it comes out. If you think its competitors have Intel backed in the corner, well you probably have already played your cards.
Even with this recent victory, Intel still has a lot to prove in the new mobile market. It needs to prove that every aspect of its chips are the best. Once it can accomplish this, the price will follow.
Disclosure: I am long IBM, KO, MPC, WMT. I wrote this article myself, and it expresses my own opinions. I am not receiving compensation for it (other than from Seeking Alpha). I have no business relationship with any company whose stock is mentioned in this article.