Introduction
If you don't think there's a war going on right now over Apple (NASDAQ:AAPL), you haven't been paying enough attention over the past few months. Ever since Apple's unceremonious crash off of its highs near $700 in September and October of 2012, the bears and bulls have been fighting harder than ever to make their case on Apple. We are in no doubt at what is going to be a beginning point for Apple's stock to begin a sustained trend in one direction or the other. Both sides of the trade can smell blood and arguing their cases violently.
Bulls haven't had much new ammunition, as it's been a pretty "business as usual" couple of months for Apple. Bulls are still defending buying stock in the most fundamentally sound company on Earth, but Apple hasn't had a stellar earnings report in several quarters. Furthermore, bulls have been without ammunition on the "new product" front - for now, at least. However, Apple did recently increase their dividend and institute the largest stock buyback program in stock market history, which broke some of the stale air that was hanging above Apple stock as it grazed above and below the $400 line for most of 2013.
Bears have been screaming "Samsung!" from rooftops. It was reported in February 2013 that Samsung (OTC:SSNLF) had passed Apple in both smartphone sales as well as tablet sales. This was great news not only for Samsung longs, but also for Apple bears. Bears have been presenting arguments that Apple is not only becoming second rate in production and sales, but (more crucially) in innovation.
I wanted to take a somewhat objective view at Apple here. I was long at $396 and sold off after the recent earnings pop. I sold primarily because I wanted to lock in profits, but I also didn't notice anything of serious substance to get behind in the short term, even though I'm very long-term bullish - I saw the shareholder value play as already being priced in, an after-thought, and was a bit surprised at how well the stock instantly responded.
With the intensified arguments about Apple, it's easy for retail investors like myself to simply become disinterested in hearing about a particular company or stock. The ambivalence I've had with regards to Apple over the past couple of months drifted away this weekend, as I realized what a crucial point this is in the company's history. I played over and over in my head all of the reasons why this is more of a time than ever to pay very close attention to Apple's coming months, and I wanted to share them.
Here's 10 reasons that I believe it's time to turn all eyes back on Apple.
1. Dividends are Now $3.05/Share
The dividend - the ultimate hand that rocks the cradle in the investing world. A dividend is a "bread and butter" must have for investors looking to hold income stocks. Dividends are a chance for a company to say to its shareholders that no matter how the stock is performing, we want to guarantee you some return on your belief in our company.
As everyone knows, Apple recently upped its dividends by 15%. Who likes this, aside from retail investors? Institutions. Institutional dumping was part of the problem that led Apple on its recent 40% fall; if institutions get back on board with Apple, we could see the same type of powerful trend upward.
I stated, after the dividend increase was announced, that should it had been the only thing the company did for shareholders, it would have been a major mistake. However, in conjunction with their buy back, this is an appealing move for current longs and potential future Apple investors - retail and institutional.
The dividend is a fundamental building block of any ROI strategy, and this is why Apple is worth noting.
2. An Overlooked Earnings Recalibration Has Taken Place & Q3 Earnings Aren't that Far Away
This is a big one that I think a lot of people have missed. Over the past few quarters, the Street has had a massive recalibration about expectations heading into earnings for Apple.
In February of 2013, I wrote the following:
Apple's CFO Peter Oppenheimer obviously realized this was going to be an issue and, while accepting that it was going to lead to short-term recalibration, thought it would be better for the long term to offer guidance a bit more responsibly. As this article notes:

In the past, Apple has provided a single point, (one revenue figure, for example), the company expects to hit over the course of the upcoming quarter. Apple is notorious for releasing conservative numbers then blowing them away when it reports earnings a few months later.

Now, things will change. Instead of offering a single point, Apple will begin offering a range.

Peter Oppenheimer explained the change on the Apple's Q1 2013 earnings call, which is going on right now:

"In the past we provided a single-point estimate that was conservative. This quarter and going forward, we are going to provide a range of guidance that we're likely to report within.

What does this mean? It means that the last guidance offered was a big recalibration for not only analysts, but the market and retail shareholders. Everybody is so used to Apple's annihilating guidance as it had done in the past, analyst expectations have gone astray and needed to be roped in by Apple executives. It's been 18% year-over-year revenue growth and substantial recurring growth with impressive margins for years now - and this kind of panic sets in on a small share of a miss on earnings? Simply baffling.

This was a savvy move for Oppenheimer. He's taking the analysts from a push to a pull, essentially saying: this is our company, we're selling our product, we have the best interest of the shareholders in mind; we're going to be the authority on guidance.

Oppenheimer is going to be praised in the future for this recalibration. There's no doubt he knew this last earnings call was going to be ugly, but from this point forward his new strategy will be kept in mind, allowing analysts and retail's expectations for earnings run commensurate with the company's.
Well, "that future" that I refer to is now.
Whether or not people know it, the last few quarters of Apple's anything-but-stellar earnings numbers have changed a lot of analysts' perspective and sentiment about how Apple reports. We are well past the "Apple is going to annihilate expectations every single quarter" phase, and that gives the true leverage on reporting numbers to the company and its shareholders. Long gone are the days when we feel like we know what to expect from Apple earnings.
It's a bad thing that Apple isn't consistently crushing earnings, but it'll prove extremely beneficial in the future when Apple does beat again - we'll likely see massive action from the stock that we haven't seen in many months.
Is it too early to start thinking about upcoming earnings already? Absolutely not. Q3 earnings are, to me, going to be one of a few steps the company is going to need to meet or exceed to break through all-time highs leading into 2014. With the nascent stages of pushing new all-time highs, all roads lead back to making sure Q3 earnings don't come in low. Guidance for the third quarter came in lower than expected. From CNBC.com:
For the third quarter, Apple forecast revenue of between $33.5 billion and $35.5 billion, well below the $38.25 billion Wall Street was forecasting. It also expects its gross margin to continue to slide to between 36 percent and 37 percent.
Q3 earnings are expected in July, and will no doubt be a catalyst for Apple stock.
3. iOS 7 at WWDC coming up, June 10-14
Much like Macworld, the WWDC is an annual conference that Apple holds to let developers have a peek at its new software and developments. It includes workshops, interactive labs, lectures, and everything an Apple fanatic could possibly need to put themselves several degrees deep into the ultimate "dorkdom of Apple nirvana."
As I noted in a previous article, "Every year, attendees sign NDAs before heading into the WWDC and every year, someone leaks information. You can bet we're going to get a good look at what's coming down the pipeline with Apple one way or another, whether it's hardware or updated operating systems and iOS features."
We have been everything short of guaranteed to get a look at Apple's new iOS 7 this year. Thoughts on iOS 7 are that it's going to be an extreme difference from the iOS that we all know and are used to. Quite frankly, I think it's going to be a change that loyal Apple users welcome, and one that could possibly run commensurate with changes in the Mac OS going forward as well.
9 to 5 Mac said about iOS 7:
As we reported in April, Apple Senior Vice President of Industrial Design Jony Ive has been leading a thorough overhaul for iOS 7 that focuses on the look and feel of the iOS device software rather than on several new features.

Sources have described iOS 7 as "black, white, and flat all over." This refers to the dropping of heavy textures and the addition of several new black and white user interface elements.

Sources say that over the past few months, Apple has re-architected iOS 7′s new interface several times, so until the new software is announced at WWDC, interface elements could dramatically change from what Apple has been testing internally in recent weeks.
Simply Zesty.com has offered a couple of concepts for what iOS 7 could look like. All of our questions will be answered in just about a week.
(click to enlarge - courtesy simplyzesty.com)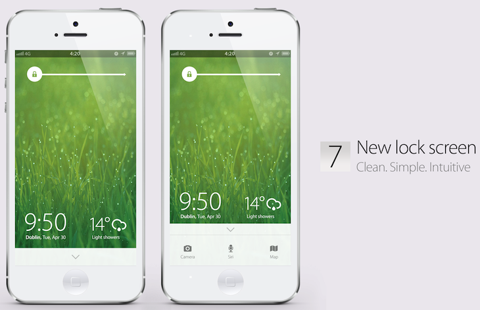 4. You Know There's Still Eventually Cool Stuff Coming from WiFiSlam
We haven't heard much about Apple's purchase of WiFiSlam a while back. I was liking the idea when it took place because it spoke to me that things were churning in the world of development and innovation behind the scenes at Apple during what was otherwise a quiet time for the company.
I recently wrote about Apple's purchase of WiFiSlam:
Let's venture into the realm of indoor GPS. It seems like a relatively simple concept that, at first, you might even wonder what it could be used for. I'll postulate this question to you: When was the last time you...

Used a skyscraper building directory?
Used a mall directory to find stores you need to go to?
Used a directory in a zoo/amusement park/airport?
Needed directions to find something in a Wal-Mart, Target, or other stores that are built in buildings the size of Airport Hangars?
Now, could you imagine that technology being put into something that you're wearing around your wrist? That sounds awfully convenient. As I said in my last Apple article:
Apple has a knack for tapping into new markets. It did it first when it started into the mp3 business and they carried that over and morphed it into the iPhone. From there, it was the tablets. Every single new product it makes is sexier to look at than what's currently out there and offers superlative new function. Apple only seems to enter into a market if it can be the best. There hasn't been anything that has made major media in the world of wristwatches for as long as I can remember. Like a leopard stalking its prey, this could be the best possible time for Apple to enter into this market.
Soon we'll find out exactly how Apple has integrated the technologies it acquired with WiFiSlam into the new products the company will be releasing.
Hints could come as soon as June 10th, when the company starts to show off iOS 7.
5. Current AppleTV and Future Media/Home Appliance Integration
This is a long-term, forward thinking, macro level concept that Apple fans need to keep an eye on from a birds eye perspective. I introduced this topic in a previous article about an AppleTV going head to head with Xbox One:
Apple is the company that we think about when we think about media integration. Apple started with this concept back in the early 2000's when it introduced iLife, a package of 4 media programs that all worked together with each other to make media the main focus of the user experience. While stating my case for Apple to release a TV in a previous article, I noted:

This is one reason I'm convinced that Apple is going to put out a TV. When they started down the "i" path (iTools, iMac, iPad, iLife), the ultimate goal was 100% media integration with computing. This is why your iPhoto works seamlessly with iMovie and iTunes, and they all work with your Apple TV. Soon, everything will be based from one master controller, which is going to make ordering channels, programming and movies on demand extremely easy.

In a hypothetical situation where Apple releases a TV, it's going to have all of the features that the Xbox One has, plus more. If history serves us correctly, we'll note that when Apple introduces an entirely new product from scratch, they tend to blow everyone else out of the water. Examples? Compare the iPod to mp3 players at the time or the iPhone to phones at the time; Apple was light years ahead, and would do the same with releasing a TV.
So, not only do I think that Apple will continue to improve on the AppleTV, but I also believe there's going to be much more home/daily life integration with Apple products as years pass.
As Apple moves forward with the iWatch and Google develops Glass, the line between home electronics, computing, and other things we use around our house begin to blur. If Apple can integrate your phone, watch, and TV - why can't it integrate your coffee maker, clocks, and home air conditioning?
Years ago, when Bluetooth finally started to become standard on a lot of electronics, I would have sworn to you up and down that by 2013 all of your home appliances would be controlled by universal tablet/remote. Although we're starting to see bits and pieces of this with tablet control of your cable, we're nowhere as far along as I thought we would be in terms of this type of in-home standardization.
I expect Apple to be a large player in this type of integration going forward.
6. Without a "Game Changer," Tim Cook is on Borrowed Time
This was a title to an article I was going to write when Cook made his timely comments that game changers are coming. CNBC.com reported on what Apple CEO Tim Cook recently said:
Cook repeated some things he has said before: Apple's stock drop has been painful for Apple's board and investors, but Apple's best response is to remain focused on making high-quality products.

"I think we have several more game changers in us," Cook said.

I asked Cook about Apple's iOS software, and whether the company needed to release a mobile-specific suite of software more like the iLife offering it created for Macs. He said Apple is focused on apps that show off the iPad's content creation chops.

"In the beginning we were very worried that people would only see the tablet as a consumption device," he said. "Do we need to do more? Yes, always. Always we need to do more. So you'll continue to see some cool things there."
These sentiments came at the exact right time for this investor. I had already started penning an article (now shortened to this section) about why Cook was on borrowed time if Apple didn't show a sign of a coming "game changer."
Apple shareholders and customers have become accustomed to a certain amount of innovation from the company; a serious set of expectations and precedents inadvertently set by Steve Jobs during his "rebirth" of Apple post-2001.
If customers and investors aren't approached with consistent innovation, at least on a yearly basis, they begin to lose faith in the company. Apple is built, almost entirely, around the easy to understand concept of simply "coming up with new, cool stuff." With the fire Cook has been under due to the stock price (and recently the tax issue), his failure to deliver on a new product would likely mean the door.
7. The iTunes Store is Kicking Serious Ass, iRadio on the Way
Tim Cook made several points alluding to this during the Q2 conference call, and rightfully so. With 35 million songs and over 60,000 movies being offered in over a hundred countries, the iTunes store continues to be the (most important) fastest growing media purchase point worldwide.
In an emerging market of purchasing media online, which is still transitioning to movies and streaming multimedia (see: Netflix, Google Fiber, Hulu, etc.), the iTunes store remains as the spearhead.
It was reported by theverge.com in April that progress had been made with iTunes streaming radio, tentatively called "iRadio":
Apple is expected to sign its first internet radio licensing agreement with a major record label perhaps as soon as next week, multiple sources with knowledge of the talks have told The Verge. Universal Music Group, the largest of the major record companies, has reached the final stages of the negotiations and Warner Music is close behind, the sources said.

Apple is expected to launch a web radio service similar to Pandora's later this year, provided that executives there can strike an agreement with Sony Music Entertainment as well as music publishers. Talks with Sony, which operates the third label, Sony Music Entertainment and Sony / ATV, the music publishing company jointly run with the estate of the late singer Michael Jackson, are said to not be as far along towards reaching a deal. Last week, The Verge broke the news that Apple had made substantial progress in the talks with Universal and Warner.
Moving forward, with the addition of an iRadio streaming music through iTunes, Apple continues to innovate and improve one area that's already massive for the company in revenues. iTunes was the Apple "game changer" that started the rebirth of the company in the early 2000's and it's important that they continue to spearhead and be the leader in online media. So far, they're totally unmatched, but other companies are getting the idea and gaining ground.
8. iWatch & New Products Expected Starting Fall 2013
Tim Cook said it loud and clear on the Q2 earnings call: expect new Apple products starting this Fall, and running all the way through 2014 - no doubt there are exciting times ahead. As time passes, more and more allusions are made to "wearables," and the first thing that comes to mind is a watch. We are all but guaranteed that we're going to see the iWatch before year's end.
Apple has a knack for tapping into new markets. It did it first when it started into the mp3 business and they carried that over and morphed it into the iPhone.
From there, it was the tablets. Every single new product it makes is sexier to look at than what's currently out there and offers superlative new function. Apple only seems to enter into a market if it can be the best. There hasn't been anything that has made major media in the world of wristwatches for as long as I can remember.
Like a leopard stalking its prey, this could be the best possible time for Apple to enter into this market.
Time magazine said it best:
Apple normally doesn't invent a new product or product category. Sure, the company did invent the first commercial PC with the Apple II, and the Mac improved on PCs with a graphical user interface and mouse input. But since then, all of Apple's other products have been recreations of existing products. Apple did not invent the MP3 player; Apple reinvented it and made it better. Apple did not invent the smartphone; Apple reinvented it and made it better. And Apple did not invent the tablet; Apple reinvented it and made it better.

As Apple designer Jonathan Ive said recently, "Our goals are very simple - to design and make better products. If we can't make something that is better, we won't do it." Clearly, Apple applied that thinking first to iPods, then smartphones and more recently, to the iPad.
With the watch, Apple will have a chance to potentially merge several products: the iPhone, the iPod nano, and all of its Nike (NYSE:NKE) branded workout gear that uses your iPhone and other devices to track workouts. Something wrapped around your wrist could be a great indicator of things like running times, steps taken and heart rate, right?
Also important to note is that Apple's products don't really cannibalize each other. iPad owners often own Macs and iPhones as well. Apple will do well to engineer this watch as a complement to the Apple products you already own, not to replace them. This should be easy due to the limited amount of space that it has to work with.
(click to enlarge - courtesy USPTO)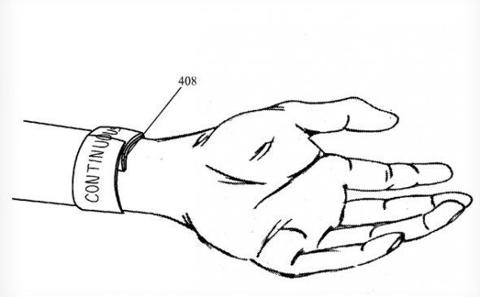 Apple's patent, shown above, leads to what I believe could be the closest concept of the iWatch yet, shown below.
(click to enlarge - courtesy Espen Oxholm)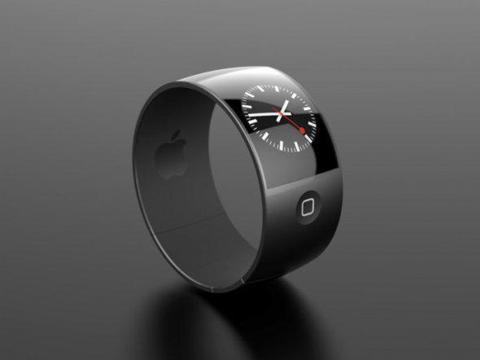 9. Speculative, New Products that May (or May Not) Ever Happen
And then we have the "long shot products" that we haven't really thought that much about. I recently penned an article about three long shots that might happen, including a video game system, hybrid touch screen iMacs, and a stock split.
Video Game System
Although not likely, it's certainly an area that Apple would have an opportunity in. A commenter on a previous article that touched on this was quick to point out that the iOS is, in and of itself, already becoming one of the most extremely popular video game operating systems out there. I recently talked about some of the quick benefits Apple might experience from a video game system:
The benefits to Apple creating a video game system would be massive. Once getting over the initial costs of developing and launching a new product, they would have the following going for them:

entirely new revenue stream
continued household media integration with Mac and Apple TV
negatively affect competitor Microsoft
Hybrid Touch Screen iMacs
Hybrid touch screen iMacs just simply make sense to me. PC's are already doing it, the iPad is looking more and more like the MacBook Pro screens. I'm almost surprised this hasn't happened already.
As I wrote in my article "3 Apple Long Shots that Could Happen":
This is probably the most likely out of the three scenarios to actually happen. After all, there is a relatively small dead zone between where iPads start and MacBook Air's end. Essentially, the missing link between the two continues to grow smaller and smaller as Apple marches forward. The PC market has already touched on this idea as Windows 8 has allowed computers to semi-seamlessly operate as touch screen entities.
10. The Technical Picture Just May Be Shaping Up
Here's Apple's one-year chart, with my added mess that I've contributed, courtesy of the fine folks down at the Microsoft Paint developers office: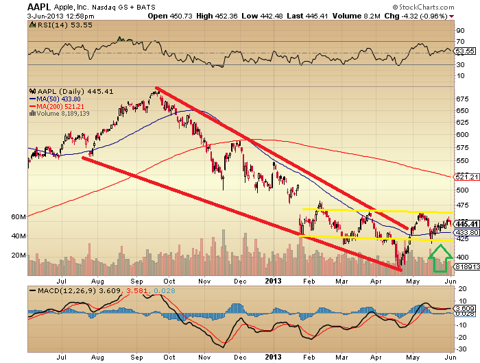 I'm not a huge chart user, but I do use them as supplemental tools on occasion. I think Apple's chart is worth a look, and I want to point out a couple of things:
We obviously have established pretty firm resistance at just under $475 and support at right around $425. Breaking either one of these levels is what's going to lead to the stock's next trend. We're inching back up towards the crucial $475 level today.
We have clearly, for the time being, broke the sustained downward trend the stock has been on for months. This denotes an uptrend could be coming
We recently crossed the 50DMA, and it'll start to curl upwards toward the 200DMA if Apple can sustain its support. The next stop is the PPS crossing the 200DMA, then the coveted "golden cross."
The RSI indicates that the sell-off was healthily traded, as Apple was rarely in oversold or overbought territory. This means the formation of an uptrend would likely have sustained legitimate, sustained buying behind it.
Conclusion
I haven't yet taken another position in Apple. Admittedly, I'm watching from the sidelines right now due to being overextended in some of my other positions. If I had a bit more dry powder, Apple calls might look appealing to me at this point. I hope that this list can give current and potential investors reasons to possibly follow Apple again, had they stopped, and give people pause and reason to possibly stake their position in the company.
Again, I'm long-term bullish on Apple. It's fundamentally beyond reproach and is a great value for investors. Whatever position you take, I wish you the best of luck.
Disclosure: I have no positions in any stocks mentioned, and no plans to initiate any positions within the next 72 hours. I wrote this article myself, and it expresses my own opinions. I am not receiving compensation for it (other than from Seeking Alpha). I have no business relationship with any company whose stock is mentioned in this article.