The S&P 500 has rallied 16% to all-time high levels. However, several of its components have underperformed the market YTD. For example, the basic materials sector ETF (NYSEARCA:IYM) has increased by 4% year-to-date. However, as global economies seem to stabilize, oil prices have surged 3% and natural gas prices have increased 24% on a year-to-date basis. Among oil and natural gas companies, Enerplus Corporation (NYSE:ERF) has rallied 18% YTD. Enerplus Corp. is a company sought by dividend-oriented investors due to a hefty 7% dividend return. However, is the dividend payment in jeopardy? The analysis of its earnings report and a forward-looking discussion of the company should give hints about the stability of its dividend payment in the near term.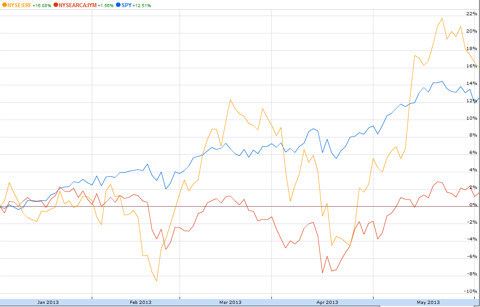 Click to enlarge
Figure 1. YTD Performance of S&P 500 (blue), Basic Materials Sector ETF (red), Enerplus (Yellow).
Brief description of the business
Enerplus Corporation, a $3.00 billion company by market capitalization, is an energy producer with a portfolio of high-quality oil and natural gas assets. The company produces oil, natural gas, and natural gas liquids in U.S. and Canada. 50% of the production in 2013 is natural gas, 46% of the production is U.S. and Canada oil, and 4% corresponds to natural gas liquids.
Fundamental Analysis
The company is trading with a negative P/E, and a forward P/E of 0.69. Before its 1Q2013 earnings report, the company had increasing sales on a quarter-over-quarter basis by 77%, but it was trading with a negative profit margin. Over a 12-month trailing, its shares have remained unchanged, by declining 4%. However, the stock is outperforming the S&P 500 by rallying 23% on a year-to-date basis. This company is sought by dividend-oriented investors because it offers an attractive monthly dividend of 7%.
Earnings report
The company's 1Q2013 earnings report was outstanding mainly due to a natural gas hike production in the Marcellus region, located in the Appalachian basin. The production of natural gas averaged 79 million cubic feet per day (MMcf/day) in 1Q2013, up from 57 MMCf/day in 4Q2012. Further, the capital expenditure was $173 million, well within the guidance for 2013. The company also drilled 25 wells, of which 17 already began production.
One fact that had me worried before was the excessive payout ratio of 254%. Such a high payout ratio does not leave free cash for future expansions. However, as the company's free cash flow increased, its payout ratio was reduced to 126% while keeping its dividend payment unchanged. Although the payout is still somewhat high, the company has shown signs of improvement.
Overall, the production in the first quarter of 2013 increased to 87,183 Barrel-of-oil-equivalent/day (BOE/day) from 85,490 in the fourth quarter of 2012. Further, its production for the first quarter increased 10% compared to the same period in 2012.
Moreover, the rise in natural gas prices played a key role in its revenue. United States Natural Gas Fund (NYSEARCA:UNG) has rallied 20% in the last 12-months, and 12% YTD. However, natural gas prices have more than doubled in the last 12 months due to higher demand for the commodity. The production of electricity based on natural gas has increased popularity. It is the cleanest electricity-generation method that is based upon the combustion of fossil fuels. Atlantic Power (NYSE:AT) is an independent electricity generation company that produces 55% of its total electricity using natural gas as its energy source. As the prices of natural gas continue to rise, Enerplus Corporation should not have issues maintaining a steady cash flow.
As a brief summary of Enerplus' 1Q2013 earnings report, the company's revenues increased 8% from $250.1 million for 1Q2012 to $272.7 million for 1Q2013. Although its net income resulted in a loss of $5.2 million for 1Q2013, it was up from a loss of $33.8 million for 1Q2012.
Forward-looking: Is the dividend truly safe?
Of course! Why? There are several reasons. First and most important is the fact that the company is expanding operations and acquiring properties rich in oil and natural gas. More importantly, the production of natural gas increased by 40%, averaging 79 MMcf per day. The production from this area will be key as natural gas prices continue to rise.
I expect the demand for natural gas to remain strong. More electricity generation facilities utilize natural gas as fossil fuel source, as opposed to mineral coal, and natural gas prices should increase. This will drive Enerplus' revenues and net income higher.
It is clear that the company is oriented to bring capital appreciation to its shareholders. The production already surpassed the production guideline for 2013, and as more acquisitions are made, the company should even boost its production higher.
The last point that I want to mention is that the company's net cash at the end of the period increased to $12.5 million from $1.4 million a year ago. The net cash flow is improving, and it should provide stability to the dividend. Furthermore, hikes in dividend may be expected in the future.
Final note
Although the net income of Enerplus Corporation resulted in a loss, the company is getting back on its feet. As natural gas prices continue to gain appreciation due to stronger demands, the company's revenues should continue to increase. Consequently, the payout ratio will be reduced over time to levels below 100%, which will leave enough cash for future operations. There is no reason to be concerned about the dividend stability of Enerplus. I believe the stock will bring capital appreciation to its shareholders in the interim.
Disclosure: I have no positions in any stocks mentioned, and no plans to initiate any positions within the next 72 hours. I wrote this article myself, and it expresses my own opinions. I am not receiving compensation for it (other than from Seeking Alpha). I have no business relationship with any company whose stock is mentioned in this article.