PennyMac Mortgage Investment Trust (NYSE:PMT) is a REIT. It is a specialty finance company that invests primarily in residential mortgage loans, mortgage servicing rights and MBS. PMT invests in both newly originated prime quality mortgage loans and mortgage loans which may be distressed (and acquired at substantial discounts to their unpaid principal balances). The company seeks to maximize the value of the distressed loans through loan modification programs, special servicing, and other initiatives focused on keeping borrowers in their homes. It is divided into two main segments: Correspondent Lending and Investment Activities. It is managed by PNMAC Capital Management LLC.
Many mortgage REITs have been lowering dividends and losing book value lately. The opposite can be said for PMT, and that is a good thing. Most mortgage REITs have been buying either Agency RMBS and Non-Agency RMBS or both. Due to Fed involvement, the net interest spread especially for the fixed-rate Agency RMBS narrowed considerably last year. Consequently profits and dividend rates fell for many mortgage REITs.
As the net interest spread has widen slowly since mid-fall of 2012, the primarily fixed-rate Agency RMBS mortgage REITs have seen some of their book value evaporate. They are hedged against this, but apparently not well enough. Since interest rates are likely to continue to rise longer term, this could pose a long-term problem for these companies.
PMT has a largely different approach described well in the table below: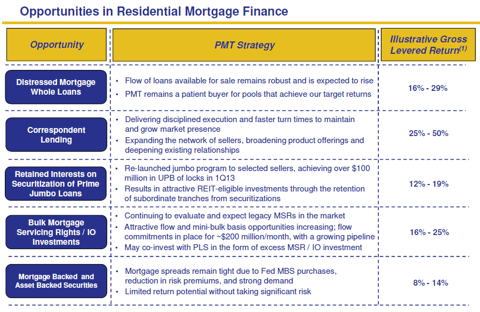 As you can see, MBS and ABS (asset backed securities) are PMT's lowest levered return on investment category. PMT's diversity of investments should help it as the mortgage market returns to a more normal state. For example, PMT buys MSRs (mortgage servicing rights). As mortgage rates rise, there will be less refinancing. This means the average lifetime of MSRs will extend. This effectively makes the MSRs more valuable, and it increases PMT's profits. This also allows for the recapture of impairment reserves on the MSR portfolio.
PMT also buys distressed whole loans. The value of these have been going up as the housing market improves. In a better housing market, they can be refinanced with new loans. This means the old distressed loans get paid off at face value or near it. Since PMT buys these at a huge discount to face value (roughly 50%), it profits greatly when such loans are paid off at anywhere near 100% of face value. Government programs such as HARP are helpful in this.
Further the houses themselves are becoming more value. The Case-Shiller 20 city index was up +10.9% in March 2013. Higher home values make refinancings easier to accomplish. There is that much more equity. Low or no equity is often an affliction of distressed loans. Hence higher home prices make the payoff of distressed loans at near face value more likely, and this makes the distressed loans more valuable. Further the improving economy allows for greater rehabilitation of distressed loans. People with now higher and more stable incomes can suddenly afford to pay their mortgages. I could go on, but the point is that PMT's businesses are very well aligned with where their management thinks the market is likely to go (and where the market has been going recently).
In contrast to this, the primarily Agency fixed-rate RMBS mortgage REITs have definite problems. They will benefit from wider net interest rate spreads as mortgage rates rise (but the cost of funds remain relatively unchanged for the mortgage REITs). This will be true at least until the Fed starts raising the Fed Funds rate, and then it will be less true.
These same primarily fixed-rate Agency RMBS REITs such as American Capital Agency Corp. (NASDAQ:AGNC) and Annaly Capital Management Inc. (NYSE:NLY) have (and will) suffer book value losses as rates rise. Plus they will suffer extension risk. Extension risk means people will not refinance 3.5% fixed-rate mortgages. Hence AGNC and NLY may effectively be stuck with a net interest spread based on that historically low mortgage rate(s), when the actual mortgage rate have already moved much higher. In other words, these companies may get stuck with relatively poor returns on their capital. Alternatively they might have to sell those low mortgage rate Agency RMBS at a loss. Effective hedging and strategic selling will play a big roll in their actual performance. However, the outlook for these companies is troubled. In sum they are not as well aligned as PMT is for an improving housing market.
I have exaggerated the above a bit. In all likelihood, mortgage rates will rise, but US economic growth and the US housing market is expected to stay subdued until roughly 2020. Therefore mortgage rates should not skyrocket. Further as mortgage rates rise, higher rates will make homes less affordable for most buyers. This in turn will tend to keep both prices and rates down. Most expect the Fed to aid in this in order to maintain a healthy housing market. Therefore the extension risk for NLY and AGNC is there, but it is probably not immense. Naturally there are those who disagree with my assessment. They feel the extension risk will be immense.
PMT's recent performance is important too. In Q1 2013 PMT performed well. It had diluted EPS of $0.90. This was up +8% from Q4 2012. Net investment income was $119.1 million in Q1 2013. This was down -5% from Q4 2012. Net income was $53.3 million. This was up +8% from Q4 2012. PMT's return on average equity was +18%. This was up from +16% in Q4 2012. PMT's gain on its investment portfolio was $64.00 million. This was up 68% from Q4 2012.
Some investors may notice some weakness in the above, but overall the results were good. Some of the weakness was likely due to PMT's more conservative buying in Q1 2013. Correspondent acquisitions were $8.5B in UPB (unpaid principal balance). This was down -15% from Q4 2012. Conventional acquisitions were $4.8B in UPB. This was down -26% from Q4 2012. Still the MSR portfolio grew to $17B in UPB, which was up +36% from Q4 2012.
Overall I think most people can see why some results may have looked a bit weak. However, I think this likely just indicates prudent management instead of a downturn in the business. In support of this, management also sees plenty of business opportunities at least through 2013. This does not mean 2014 will be a bad year. It merely means PMT management does not wish go on record with predictions that far into the future.
The chart of PMT's MSR portfolio growth below demonstrates more than anything else where PMT thinks the market is going.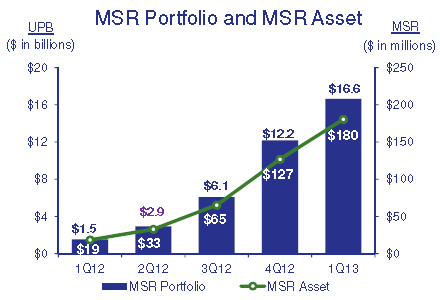 The portfolio grew +36% quarter over quarter, and it grew about 1,000% year over year. I personally am encouraged that PMT is moving aggressively into an area that should be a great earner in a healthier housing market. The biggest bargains are probably now. PMT is likely locking in future profits at great prices. When you consider that most of the loans underlying the MSRs were originated at historically low mortgage rates, you should realize that these MSRs will likely continue to exist for far longer than their current market prices suggest. In other words few people will pay off such mortgage loans early, except home sellers. Few would be sellers and few will be able to afford a better house if mortgage rates go up. I am impressed by PMT's strategy.
The improvements in the housing market will also drive PMT's profits on its distressed loans segment up. PMT should do well. It is a buy.
The two-year chart of PMT provides some technical direction for this trade.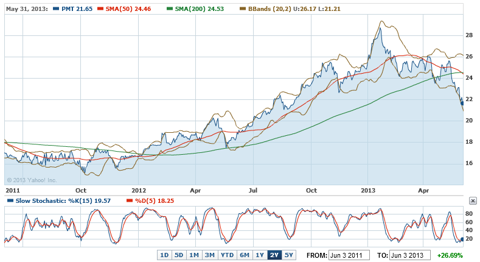 The slow stochastic sub chart shows that PMT is oversold. The main chart shows that PMT is technically starting a downtrend. Its price line has moved down through its 50-day SMA. Its 50-day SMA is just crossing its 200-day SMA (downward). This is very negative. However, the uptrend before 2013 was very strong. Plus PMT management expects the second half of 2013 to yield stronger results. This means that a bounce upward is more likely than a continued journey downward.
The recent results do not substantiate PMT's recent downward movement - neither does the forecast for future results. Further the dividend has risen to 10.5% as the price of the stock has fallen. This is a great dividend for a company that is well positioned for the future. PMT is a buy. Many other analysts agree with me. They give PMT an average recommendation of 1.6 (a strongish buy).
A big caveat is that much of my opinion on PMT is based on a recovering US housing market and the recovering US economy. With the Fed backing the US housing market strongly, this view seems reasonable. However, it is possible that the EU, which has much more severe problems than many are willing to currently admit, will drag the US back into recession. The payroll tax hikes and the sequester cuts will help this scenario occur. If it does, PMT could be stuck with a lot of bad loans at a very bad time. It could be stuck with MSRs that will suddenly become much more troublesome (less profitable) to service. I think PMT is a worthy investment. However, it might be a wise idea to buy it in conjunction with a company like American Capital Agency Corp.
AGNC would fare relatively well in a tough economic environment. All of its Agency RMBS are government guaranteed. If you owned both AGNC and PMT, one might effectively hedge the other. I recommend AGNC over Annaly Capital Management because AGNC's net interest spread was much larger than NLY's in Q1 2013. AGNC's net interest rate spread was 1.52% without its dollar roll income or 1.87% with its dollar roll income. This is much higher than NLY's net interest spread of 0.91% in Q1 2013. Further AGNC pays a 19.6% annual dividend; and NLY pays only a 13.3% annual dividend.
However, if you are going to buy AGNC as a hedge against PMT, you may want to wait until after it reports Q2 2013 earnings. I do not know all the details, but there is a strong likelihood that AGNC experienced significant losses in the dollar roll market in Q2 2013. If I am correct, AGNC could see a move down on earnings. However, this phenomenon should be a one time occurrence, and AGNC has proven itself to be one of the best managed (and largest) mortgage REITs. It should weather any problems. It should make appropriate adjustments.
NOTE: Some of the fundamental financial data above is from Yahoo Finance.
Good Luck Trading.
Disclosure: I have no positions in any stocks mentioned, but may initiate a long position in PMT over the next 72 hours. I wrote this article myself, and it expresses my own opinions. I am not receiving compensation for it (other than from Seeking Alpha). I have no business relationship with any company whose stock is mentioned in this article.