Although the stock market reflects a continuum of time and events, the investment community would much rather focus on the one year performance of investments. With this in mind, I have constructed a
timeline
of when
Dividend Achievers
have reached a new one year low.

The 2009 list of Dividend Achievers consists of 284 companies. Many of these companies are in the banking, finance and real estate arena. The above timeline excludes most banking, finance and real estate companies and instead focuses on all other sectors of the economy. I routinely avoid falling industries or sectors of the economy that are breaching new highs (highest relative strength).
What should be noticed is that the remaining stocks (after excluding banking, finance and real estate) provided us with 166 companies to invest in with 9 months and 35 different days in the year to (theoretically) buy low and sell at whatever price suits our needs. All of this could be done within a one year time frame allowing the investor to get out when and if necessary. Below I have a table with Dividend Achievers performance from their 52-week low (the left column has the best performing and the right the worst performing).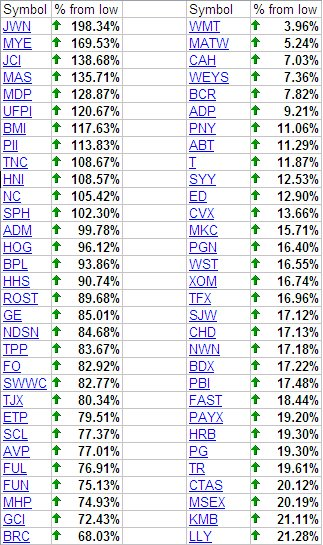 I found it interesting that the months of March and October are where the most companies reach their new lows. This seems to confirm the stories that we've all heard about October being the worst month to be holding stocks, yet it seems that it might be the best month to be buying stocks. As we are in a real bear market (as opposed to the fake bear markets touted by the folks on CNBC just because the market declined 20%) the distribution of new lows is much less than in "normal" or range bound markets.
Conversely, during the roaring bull markets of the past, stocks hitting a new 52 week low were few and far between. I was definitely put to the test when I did my fundamental due diligence. The thinking at the time was, "if the company was so great then why is everyone else selling it?" Because I developed my investing approach with the worst case scenario in mind I now realize that it is most ideal for bear markets. During bull markets I was forced to hold companies much longer than I have done recently.
It should be noted that the basis of my investment philosophy hinges on the belief that if I can buy quality stocks at a new low then I can avoid much of the buyers remorse associated with individual stock selecting. I never intended for this approach to be a "trading" strategy. I have sailed through the nautical graveyard of other sunken ships that have fallen prey to the siren song of easy money in trading. However, the reality of Charles H. Dow's principle of "seeking fair profits" has demonstrated to be a reality to reckon with in today's fast paced, gee-whiz technology society.
I have continually examined the stock market data every which way to see the benefits of "buy and hold" only to come to the conclusion that such an approach is inconclusive and unreasonable. It just isn't fair to tell someone that if they look at the stock market over the last 100 years it has outperformed all other asset classes. Nobody has an investment timeline of 100 years, so why sell such a ridiculous idea to an uninitiated person who works so hard for their money.
Believing that somehow I'm right on this matter, I still need to emphasis that anyone hoping to follow my approach should first limit their efforts to their retirement accounts (IRA, Roth IRA, 401k etc.) Some may feel that it is hard to think rationally when a stock is down and the news is so negative. My answer to this is that it doesn't hurt to prove that the company is really going to disappear off the planet. After all, the timeline above takes place every year with varying quantities and distribution no matter what.
Disclosure: Long CAH, Long BCR