Haswell has arrived. Analysts predicted a wave of Intel powered devices sporting the new Haswell and Silvermont processors will be launched at Computex. They weren't disappointed by the news from Taipei on how Intel (NASDAQ:INTC) is progressing.
The new chips are more powerful but consume less power than competing ones from Qualcomm (NASDAQ:QCOM) and ARM Holdings (NASDAQ:ARMH). For example, Intel says the Silvermont processor can provide either three times the processing power or use one-fifth as much battery power as the predecessor Atom processors.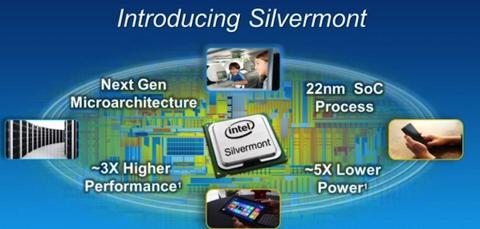 Intel expects Haswell will consume 20 times less power than its predecessor, allowing all-day battery life and more than 10 days connected stand by, substantially better than anything on the market today.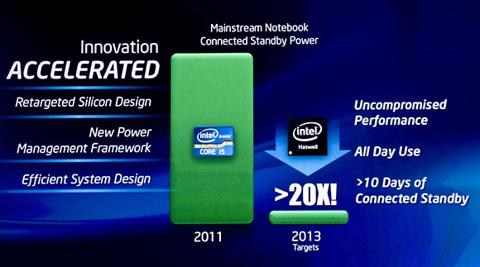 These specifications could revolutionize the market for smart mobile devices, which have been dominated so far by processors designed by ARM Holdings or Qualcomm, which hold out relatively long battery life but are less powerful than Intel chips. That is changing, and changing fast. The new Intel products will offer both high power and long battery life, and will support both Windows and Android operating systems.
How big an impact this will have on Intel will depend on how well the new processors are adopted by phone, tablet and PC producers like HP, Lenovo, Acer, Asus, Fujitsu, Dell, Toshiba, Sony, Samsung and Apple. To the extent Intel achieves major design wins at the expense of ARM Holdings or Qualcomm, the impact on all three companies will be significant. Intel has the potential to show quite rapid growth in earnings and cash flows, while ARMH and Qualcomm are more likely to see their revenues and margins shrink.
While it is too early to tell how quickly or widely the industry will adopt the new Intel processors, early indications are strong. Here are some of the announcements so far:
Computex is still ongoing and there will be more announcements to be sure. But there is no doubt that Intel is not only making progress in finding customers for its new processors in its traditional PC market but also beginning to make inroads into the tablet and smartphone space.
Any real progress will come at the expense of ARM Holdings and Qualcomm, which have been dominant suppliers to phones and tablets for the past few years.
Disclosure: I am long INTC. I wrote this article myself, and it expresses my own opinions. I am not receiving compensation for it (other than from Seeking Alpha). I have no business relationship with any company whose stock is mentioned in this article.
Additional disclosure: I am short ARMH