Given the current low interest rate environment throughout developed markets, investors are getting outside of bonds and increasingly looking for high-dividend paying stocks as a substitute. One sector that has naturally received a significant driver of investor interest is the pharmaceutical sector, which offers higher than average dividend yields. The pharmaceutical companies of the world rake in billions of dollars per year in revenues and proportionately large numbers in profits. One of the sector's structural positive factors is the high operating cash flow generation, which depends mainly on its products life-cycle than the overall economic landscape and is very supportive for the sector's dividend payments. Moreover, large pharmaceutical companies still have large cash balances that support the company's shareholder remuneration over the coming years.
A large part of the companies' power to make great profits come from investing in proprietary intellectual property, resulting on brand-name drugs that the companies can patent and sell exclusively for a fixed period of time. On the negative side, pharmaceutical companies are in the midst of the second big year of patent expiries. This is one the key issues facing the industry tight now and can negatively impact the large pharma companies' revenue growth, earnings, and therefore its ability to pay dividends. However, although generic erosion remains a major threat to the company's profitability, many of them have maintained cash flows and dividends.
Regarding this issue, ELI Lilly (NYSE:LLY) is one of the companies most affected. In 2011, the company had sales of $24.3 billion and $7.2 billion worth of its products faced patent expiration in 2012, followed by $8 billion over the next three years. Last month, the company announced it will be dealing with the revenue erosion by laying off up to 1,000 employees in its U.S. sales force. Merck (NYSE:MRK) lost protection of Singulair, a $5 billion per year drug responsible for 16 percent of the company's U.S. sales. AstraZeneca (NYSE:AZN) with $32 billion in annual revenue has more than 70 percent of its sales at risk over the next three years, due to patent expiries. Bristol-Myers Squibb (NYSE:BMY) was also hit hard after losing Plavix patent protection, and suffered a huge drop in sales of this drug.
In addition, government's budget constraints throughout the developed economies are also a headwind for the sector's top-line growth and profitability, so companies with more exposure to emerging markets may offer higher dividend sustainability over the long-term. Valuations for large pharmaceutical stocks have risen since the start of the year, driving down dividend yields.
Nevertheless, there are still some stocks within the industry offering yields above 3 percent which still compare favorably to bond yields, like neglected companies Eisai (OTCPK:ESALY) and Lonza Group (OTCPK:LZAGY).
| | | | |
| --- | --- | --- | --- |
| Company | Market Cap ($B) | Div. Yield (%) | P/E Ratio |
| Eisai | 11 | 3.8 | 23.7 |
| Lonza | 4.0 | 3.0 | 15.1 |
Source data: Bloomberg
Eisai: The company produces prescription drugs and medical equipment, and sells mainly to sales agents and subsidiaries. It also produces and sells diagnostic drugs. In its fiscal year 2012 (ended in March 2013) it had about $5.7 billion in sales. Its major market was Japan, accounting for almost 60 percent of the company's sales. Americas are the second biggest market, with a weight of 27 percent of the group's sales.
Eisai's dividend payment frequency is semi-annual. The company maintains a fundamental policy of rewarding shareholders with stable dividends. Over the past four years, the annual dividend has been stable at $1.50. However, as its earnings are naturally more volatile the dividend payout ratio has changed considerably. The average dividend payout ratio was 84 percent from 2008 to 2012, but it seems to be sticky compared to earnings.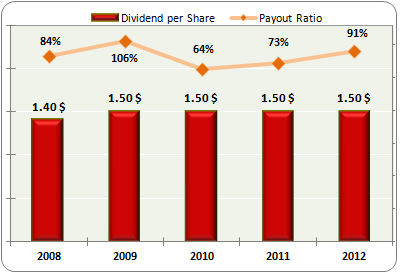 Source: Bloomberg and company data
Lonza Group: Is a worldwide leader supplying the pharmaceutical and biotechnology industries with biopharmaceuticals. Lonza furnishes seven different markets with state-of-the-art products, services, and research. Its customers range from professionals within the pharmaceutical, biotechnology, academic, and government research industries to manufacturers of consumer and health products, distributors, formulators, and service companies. In 2012, Lonza achieved more than $4billion in sales. Around 50 percent of its sales are generated in the Americas.
Lonza's dividend payment frequency is annual. The company's dividend policy is to pay between 25 percent and 40 percent of net profit to shareholders in the form of dividends. During the last three years, the dividend has been stable at $2.26 per share. The average dividend payout ratio was 42 percent from 2008 to 2012, which is a relatively low ratio.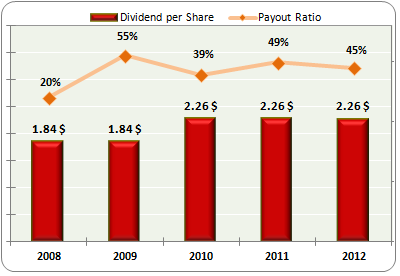 Source: Bloomberg and company data
Disclosure: I have no positions in any stocks mentioned, and no plans to initiate any positions within the next 72 hours. I wrote this article myself, and it expresses my own opinions. I am not receiving compensation for it (other than from Seeking Alpha). I have no business relationship with any company whose stock is mentioned in this article.