Healthcare ETFs have been outperforming the market since 2011. As equities break into historic record highs, defensive healthcare sector exchange traded funds have been outstripping the broader markets again. Moreover, the healthcare sector is a long-term play for an aging population.
The SPDR Health Care Select Sector Fund (NYSEARCA:XLV) gained 3.9% over the past month and is up 23.9% year-to-date. In comparison, the S&P 500 Index rose 3.8% in the past month and increased 17.1% year-to-date.
Looking at the long-term fundamentals, the aging baby boomer population will continue to support the industry.
"Historically defensive and noncyclical, the health-care sector is seeing added growth from an aging America," according to Morningstar analyst Robert Goldsborough. "Demand is relatively stable because people require treatment regardless of the economy, and the need among approximately 78 million baby boomers in the United States for greater treatment makes for a compelling secular growth story."
According to the Health Care Cost Institute, 8,800 Americans will turn 65 every single day over the next 18 years and spend $142,000 in medical expenses over the next 20 years, reports Michael Bowman for The Globe and Mail.
"An aging population bodes well for the industry's future prospects because the majority of people's lifetime medical costs are spent in their final few years," Goldsborough added.
Additionally, according to the Bureau of Labor Statistics, the healthcare industry will create jobs at a steady clip to meet the increased demand, with an average job creation in the sector of about 24,000 per month, writes John Whitefoot for Business 2 Community.
Some other broad health care ETFs include:
Vanguard Health Care Index Fund (NYSEARCA:VHT): up 4.0% over the past month and 23.8% year-to-date
iShares Dow Jones US Healthcare Sector Index Fund (NYSEARCA:IYH): up 3.8% over the last month and 24.2% year-to-date.
SPDR Health Care Select Sector Fund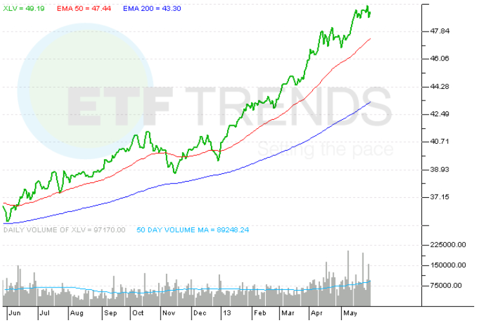 Max Chen contributed to this article.
Disclosure: I have no positions in any stocks mentioned, and no plans to initiate any positions within the next 72 hours. I wrote this article myself, and it expresses my own opinions. I am not receiving compensation for it. I have no business relationship with any company whose stock is mentioned in this article.