By Tawhid Ali
European equity markets continue to face severe stress as the continent struggles to contain fallout from the sovereign debt crisis. Yet this seemingly toxic environment is creating some exceptional investment opportunities in relatively healthy companies that can control their own destinies.
From Greece to Italy to Cyprus, Europe has lurched from crisis to crisis, giving little respite for investors. Without a comprehensive solution, it's hardly surprising that fears of contagion persist, risk aversion remains high and investors' time horizons are unusually short.
Against this backdrop, European equities are trading today at an unusually deep discount to global stocks and attractively valued stocks can be found across a wide range of sectors. But how can investors feel at ease taking positions in European companies when the surrounding market environment remains so turbulent and unpredictable?
We think the key is to focus on companies that have distinct advantages by virtue of solid underlying cash flows and strategic advantages that are specific to their industry or company. In other words, look for companies that aren't susceptible to Eurozone troubles and as such don't require an expansion of stock multiples to deliver solid returns.
Although European companies have been tarnished by the crisis, many aren't as vulnerable as you might think. For example, even though economic growth in Europe is weak, many European non-financial companies have exposure to fast growing markets elsewhere (display), so they're relatively immune to the regional slowdown.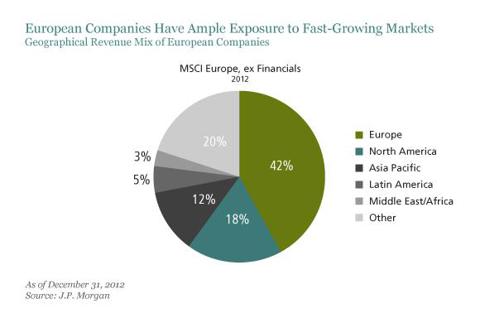 Click to enlarge
In addition, we think many European companies are capable of reviving profitability since margins have fallen since the outbreak of thee urozone crisis, after broadly tracking US peers for much of the last decade (display). Companies have several ways to improve their margins, even in a tough environment. For some, restructuring or changes to inefficient capital structures can produce results. Others might be in a position to benefit from industry consolidation or better supply and demand dynamics. And some companies simply have a sustainable competitive advantage.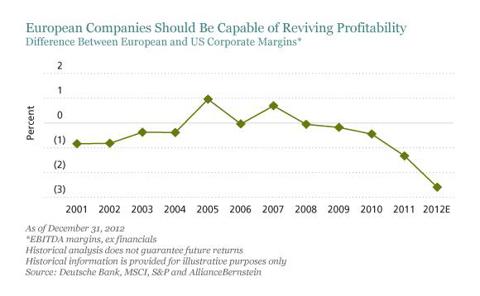 Click to enlarge
Take aerospace giant EADS (OTCPK:EADSF), which in February reported strong earnings and cash flows for the fourth quarter of 2012, issued above-consensus 2013 profit guidance and raised its dividend. Yet the stock continues to trade at a significant discount to rival Boeing (NYSE:BA), based partly on concerns about possible delays to its key A350 program, which our research suggests are overdone.
In the medical sector, we think Actelion's (OTCPK:ALIOF) competitive advantage hasn't been recognized by the market. Our research suggests that the Switzerland-based company's global sales will benefit from the success of two late-stage pulmonary arterial hypertension (NYSE:PAH) drugs which should drive revenue growth and margin expansion beyond consensus estimates. The drugs are potential successors to its blockbuster Tracleer treatment, whose patent expires in 2015.
These companies may be based in Europe, but their global businesses should be immune to regional stress. And there are many more like them in a variety of sectors, with sufficient earnings growth and cash flows to pay off even if market pressures persist.
The views expressed herein do not constitute research, investment advice or trade recommendations and do not necessarily represent the views of all AllianceBernstein portfolio-management teams.
Tawhid Ali is Director of Research, AllianceBernstein European Value.