Earlier in the week we highlighted a company from our list of 10 Stocks to buy on Monday (10 STBOM - Large Cap) from AFG's annual client conference. The 2 groups of 10 STBOM (10 Large and 10 Small) are some of the more anticipated pieces of information from our conference, providing our clients actionable ideas to consider when they return to the office after spending the week learning about AFG. The names on each list are well researched companies by AFG analysts that look to be attractive for a long term period.
Below is the performance of our 10 Stocks to Buy on Monday portfolios from 2004 to 2008 in which alpha was added to the respected benchmarks every year. Below is an example of one of the stocks that made it to our small cap list this year, American States Water (NYSE:AWR) . For more information regarding AFG's 10 STBOM or other research services AFG provides, sign up for a free trial at www.EconomicMargin.com.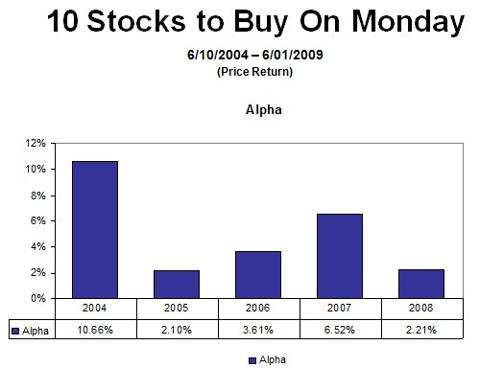 10 Stocks to Buy is a portfolio released each year at AFG's annual conference, which looks to outperform the Russell 1000 and Russell 2000 indices. This portfolio contains 10 Large Cap and 10 Small Cap buy ideas across major economic sectors.
Sector: Utilities
AWR Investment Summary: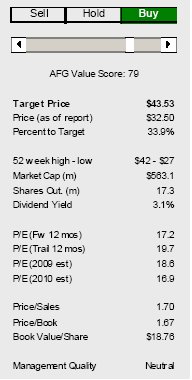 Value Proposition – "Climbing the Ladder": American States Water is a holding company whose largest subsidiary, Golden State Water, provides water services to over 250,000 customers located in 10 counties throughout California, as well as to 13,000 customers in Arizona. Revenues and operations for this subsidiary are highly regulated and account for over 90% of the $1 billion asset base and over 75% of the $318 million in revenues. Other subsidiaries include a non-regulated water and wastewater services company whose primary contracts are with U.S. military installations and a small electric distribution company with 23,000 customers in the Big Bear recreational region of California.
As with other highly regulated firms in this sector, we see AWR as "climbing the ladder" toward a 0% economic margin. From 2003 to 2007, AWR's economic margins steadily increased from -2% to -.4%. EM fell in 2008 to a -.8% primarily due to the economic downturn and stricter water conservation efforts in California. Management has responded in a positive manner by executing numerous regulatory efforts to not only assist the state in promoting conservation, but more importantly, to decouple the lagging cash flow impacts through the use of water balancing accounts and other regulatory trackers. These positive regulatory strategies were evident in first quarter '09 results with operating earnings per share increasing 40% over 2008. We feel that history will repeat and that AWR will again "climb" to a 0% EM from current levels in the next 5 years., therefore representing a good opportunity for us to participate in this 34% upside potential.