Today, I am looking at Pfizer (NYSE: PFE), the global pharmaceutical company which has made its mark worldwide through its remarkable products and hefty acquisitions. The company, founded in 1849, has diversified into different portfolios of human and animal biologic and small molecule medicines and vaccines, as well as nutritional products.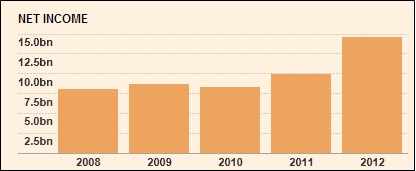 Pfizer had a poor 2012 in terms of revenues as they fell 12.5% as compared to 2011. Even with low revenues in 2012, the company has been able to show higher profits as compared to the previous year. The company had cut down on Selling and Administration expenses dramatically. These expenses were down to $23.8 billion in 2012 from $28.6 billion in 2010. Repayment of debt has also helped to reduce the expenses and, hence, increased the profitability of the company. While the company focused on enhancing profits by increasing sales in 2010 and 2011, it had to cut down costs and expenses in order to boost profits. This move has turned out to be beneficial as the company realized that growth in revenues without increasing the profitability wouldn't help itself to achieve its objectives. In 2012, the company recovered from a poor 1st quarter to post healthy profits in the final quarter of the same year. Similarly, it has begun 2013 by posting a decline in its profits. This has led to a nearly 10% fall in the stock price since the results were announced. But with strong fundamentals and a sound approach to operations, the company is expected to report improved results from the next quarter.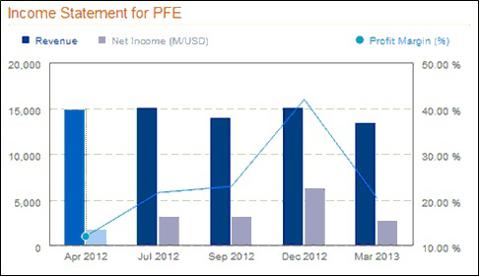 The profits of Pfizer have boosted the cash balance of the company, which has increased from $2.1 billion in 2008 to $10.4 billion in 2012 within a 5-year period. This will help the company to fulfill its short-term cash requirements as accounts receivable has increased from $9.8 billion in 2008 to $12.4 billion in 2012. The increased need for working capital has also been reduced partially by the increase in accounts payable which rose from $1.75 billion in 2008 to $4.2 billion. By the end of 2012, the company has reduced nearly one-third of its debt from 2008. Half of the assets of $180 billion are made up of intangibles in the form of goodwill and other intangibles which lead to huge amortization expenses for the company.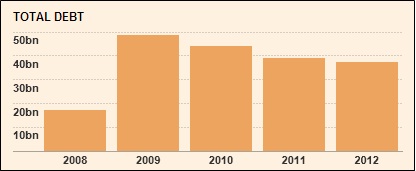 Pfizer's health can be primarily judged through its cash flows through operations due to high amortization of acquired intangibles. The company has been consistently reporting cash inflows worth more than $10 billion in the past 5 years with a high of $20.5 billion in 2011. Acquisitions led to negative cash flows of $12.8 billion in 2008 and $31.3 billion in 2009. The company has paid handsome dividends to its shareholders in the past and will continue to do so. It started paying off dividends as early as 1982 and has been doing so since that period. The point to note here is that despite paying out a large amount of dividends consistently, the management has been successful in growing the company to the size it is today and that too without taking on a lot of debt. It has also used its cash flow from operations to manage the investing and financing activities. While the operational income financed acquisitions in 2008 and 2009, the company used its profits to repurchase shares and pay off its pending debt to improve the profitability for its shareholders. It bought back $19.2 billion worth of shares in the last 3 years while paying back $7.4 billion worth of debt.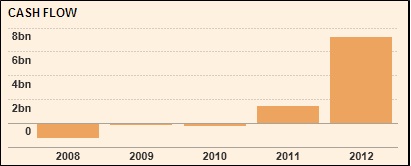 Pfizer has a pro-shareholder policy. It has been posting good financial results continuously. The company focuses on growing not only organically, but also through acquisitions. The use of profits has been very effective in terms of growth and returns for the shareholders. The intangible assets worth nearly $90 billion held it in a good steady state. These will also enable the company to generate consistent profits in the near future. I would recommend the investors looking to take mid-term or long-term positions to buy the stock as it is attractive at the current P/E level of 12.6 which has dipped after the recent decline in earnings in the first quarter of 2013.
Disclosure: I have no positions in any stocks mentioned, and no plans to initiate any positions within the next 72 hours. I wrote this article myself, and it expresses my own opinions. I am not receiving compensation for it (other than from Seeking Alpha). I have no business relationship with any company whose stock is mentioned in this article.