On Tuesday, Amazon (NASDAQ:AMZN) put another foot forward in the streaming video space, striking a key deal with Viacom (NASDAQ:VIAB). Amazon made a huge deal to acquire some valuable children's programming, a nice coup as Netflix (NASDAQ:NFLX) had recently seen a deal with Viacom end. Today, I'll discuss the deal specifics, and show why Amazon continues to strengthen itself while Netflix falls flat again.
Specifics of the deal:
Amazon has brought in a nice chunk of content here, with the excerpt below taken from the above linked press release:
Prime members will now have unlimited instant streaming access to popular kids programming such as Bubble Guppies, The Backyardigans, Team Umizoomi, Blue's Clues and Victorious, along with top-rated shows from MTV and COMEDY CENTRAL like Awkward, Tosh.0 and Workaholics. Prime members will also have access to future episodes of Dora the Explorer, SpongeBob SquarePants, Fairly Odd Parents, Fresh Beat Band and more.
According to Reuters, Amazon agreed to pay more than $200 million for this content package, which would represent the largest check they've written for content. According to Bill Carr, Vice President for digital music and Video at Amazon, kids shows are among the most watched programs on Prime Instant Video. Part of the deal will get key exclusivity for Nick Jr. shows, including "Dora the Explorer," "Go Diego Go!," "Blues Clues," and "The Backyardigans."
Netflix's loss is Amazon's gain:
It was just a few weeks ago that Netflix lost content from Viacom, as Netflix has looked more to "cherry pick" certain pieces of content rather than sign large bulk deals. That obviously makes sense, since Netflix can tell what shows are doing better than others, and it also makes sense if you are looking to be financially selective.
Amazon has continued to boost its Prime Instant Video library, which now stands at more than 41,000 titles. You may recently remember Prime hitting a milestone of 40,000 titles. The Prime number could actually be higher than the current figure given, because I don't know if Amazon is including titles they have not received yet. Remember, some of this deal is for future episodes of certain shows.
One thing is certain though, and that is the impressive growth of the Prime library, which you can see in the chart below. Less than two-and-a-half years ago, Prime Instant Video started with around 5,000 titles. We are now over 41,000 and still climbing. I stand by my past statement that at the current acquisition pace, Prime's library will be over 50,000 titles strong by the end of this year.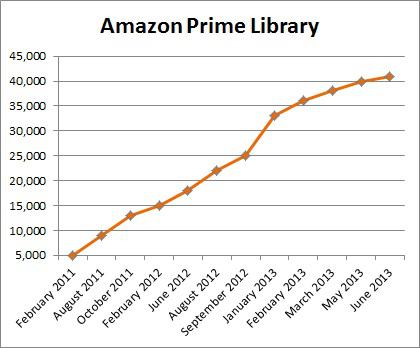 Netflix Top 200 versus Amazon Top 200:
Do you remember the chart below from Netflix's Q4 investor letter back in January? It was the Top 200 viewed on Netflix in Q4, 100 movies and 100 TV shows, and how many of each its competitors had. At the time, Netflix had this quote in relation to content and its competitors:
In other words, when it comes to the most popular content with members on Netflix, none of these services are good substitutes to Netflix.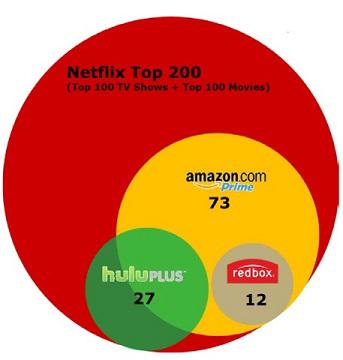 (Source: Netflix fourth quarter 2012 investor letter)
When Netflix released its first quarter investor letter in April, they stated that Prime had risen to 74 of the Netflix Top 200. At that time, I was very skeptical about such a little jump, given how much Prime's content library was rising, and you saw that in the chart above.
But the funny part here is that Amazon doesn't have too much overlap with Netflix because Amazon keeps picking up content Netflix is dropping! So for Netflix to continually say that competitors aren't good substitutes is misleading, because Netflix is getting rid of content. Going forward, I'd rather hear how much of "Amazon's Top 200" Netflix has, rather than how much Amazon has of Netflix's Top 200. Unfortunately, Amazon doesn't provide that kind of information, so we probably will never know.
But it gets even more hilarious when looking at the Netflix Top 200. We may actually start to see a decline in the Amazon number. How could this happen? Well, as Netflix releases more of its originals, those shows seem destined to be in the Top 100 shows watched on Netflix. Because they are Netflix originals, Amazon can't have them. Just this quarter, Netflix released "Hemlock Grove" and a new season of Fox's old show "Arrested Development." As they will most certainly enter the Top 200, and more originals come, Amazon's place in the Netflix Top 200 could decline. But that might be misleading if it is due to Netflix losing shows that Amazon then picks up, like we saw Tuesday.
Additionally, Netflix did not release a number for Redbox Instant, the partnership between Coinstar (NASDAQ:CSTR) and Verizon (NYSE:VZ), in the Q1 investor letter. Redbox Instant fully launched in Q1, and the current Q2 will be the first full operating quarter of that service. Redbox Instant launched with about 4,600 titles, comparable to the Amazon Prime Instant Video launch a few years ago. Netflix might say that Redbox Instant isn't a serious competitor with that kind of library, but look at Amazon's growth in just two plus years. Amazon went from 0 of Netflix's Top 200 to 74. While I don't think Redbox Instant will make that kind of leap, it was at 12 of the Top 200 at the end of Q4 and will definitely look to add content. Additionally, Redbox Instant provides competition on the DVD front, something that Prime does not offer. Netflix's DVD segment is the more profitable one, so the DVD threat from Redbox Instant could be the bigger problem for Netflix.
Netflix - kids versus originals:
I recently wrote about the potential ways that original programming could backfire for Netflix. The Amazon-Viacom deal could represent at least three of the points I made in that article.
First, the "Arrested Development" gamble. While we don't know what the actual cost of that show was, we could probably assume it was in the neighborhood of the roughly $4 million per episode Netflix spent on "House of Cards." Remember, "House of Cards" was $100 million for two seasons, and season one contained 13 episodes. The "Arrested Development" season contained 15 episodes, so even if it was less expensive per episode, the show could have been more expensive overall.
The "Arrested Development" gamble ties in with point three, which is that there has to be some trade off. If Netflix is plopping down $50 million on an original series, that means that they are not throwing money at other content. Is it possible that Netflix decided to go with "Arrested Development" over some of the Viacom shows? It very well may be. If Amazon paid more than $200 million for that package of content, including exclusivity, it is possible that Netflix could have gotten some shows.
That brings me to point two from the article, which is finding a balance and trying to cater to the largest audience. If it came down to "Arrested Development" or "Dora the Explorer," what would be the most logical choice? Should Netflix go after one cult TV show that last aired seven years ago, or a very popular kids show? Would your argument change if it was "Arrested Development" versus five shows, or maybe more? It is an interesting debate to have.
Netflix has lost a number of children's shows, and that may come back to haunt them in the short-term if "Arrested Development" is not a blockbuster hit. Netflix has already launched three original series so far this year, with three more coming throughout the summer and later in 2013. But it won't be until December 2013 until they release their first original series for kids, "Turbo F.A.S.T.," as opposed to most of their shows which are not geared at children. With Netflix letting Amazon steal some of the most popular kids shows away, one must wonder if the original programming slate is starting to hurt Netflix. If children's shows are really important, could we see that evident in the Q2 results and Q3 guidance?
Hulu buyout / inflated premiums:
Over the weekend, a fellow contributor on this site wrote about the current bidding war for Hulu exposing Netflix's extreme valuation. I do agree to a point that a Hulu deal could change how we view Netflix, but I think that there are a few numbers from the above mentioned article that need to be discussed. Here are the key points that were made:
At a purchase price of $1B, Hulu is receiving a value of roughly $250 per subscriber for its reported 4M subscribers. Alternatively, Hulu would be valued at roughly 1.4x its 2012 revenue.

This has implications for Netflix when considering the valuation the company currently is afforded today. With roughly 33M total paid subscribers at the end of Q1 2013, Netflix is valued $385 per subscriber at its current market capitalization of $12.7B. On a subscriber basis, Netflix would be valued 50% higher per subscriber than Hulu would be if the latter were purchased for $1B. With estimated revenues of about $5B for 2013, Netflix receives a valuation of roughly 2.5x its forward revenue estimate. Compare that to Hulu, which potentially could be purchased at 1.4x its trailing revenue estimate.
A couple of these numbers are a bit off, and they actually sway the argument in both directions, depending on how you look at them. First, at the end of Q1, Netflix had 27.91 million domestic paid subscribers and 6.33 million paid international subscribers. That total is 34.24 million, a bit above the 33 million number used for the argument. On the flip side, the $5 billion estimate for revenues is really the 2014 estimate, not the 2013 one. Current estimates call for $4.34 billion in revenues this year and $5.06 billion next year. Also, the above mentioned article does not even bother to mention the more than 7.8 million paying DVD subscribers at the end of Q1. While the DVD business is in decline, it still provides a fair amount of profits, and value, to Netflix. Taking out the DVD business would substantially lower the actual valuation per Netflix subscriber. Also, most reports suggest a Hulu price will be more than $1 billion, meaning Hulu subs could be valued even higher.
So let's make the following assumptions here, and I'll be a little conservative on some of them:
Hulu purchase price of $1.2 billion.
Netflix Q2 total paying streaming subscribers turns out to be 35 million, below the 35.5 million midpoint of guidance.
DVD business worth $1 billion right now with 7.5 million paying subscribers at end of Q2.
Like I said above, I was being conservative with some of the end of Q2 subscribers, and my valuation on the DVD business gives a valuation of just $133 per paying DVD subscriber. Given the fact that DVD subs are more profitable, this is a very low valuation.
Based on my numbers, each Hulu subscriber would be valued at $300. However, based on my assumptions above and Tuesday's closing prices, each Netflix streaming subscriber would be worth about $333. That would imply a premium of just 11% for each Netflix subscriber, as opposed to the 54% premium stated in the article above.
On a price-to-sales side, my Hulu valuation is about 1.71 times last year's sales. Netflix currently trades for 2.91 times 2013 expected sales, and 2.50 times next year's sales. Yes, that is more of a premium, but don't forget that Hulu generates ad revenues as well. If Netflix were to start airing commercials and generating ad revenues, Netflix's valuation would be a bit lower and potentially more in line with Hulu.
In the end, I don't think that Netflix shares will move a ton on the Hulu news. Of course, if something dramatic happens, like a few suitors just walk away and the Hulu price falls to something like $800 million, then maybe you see a reaction. I think the bigger reaction would be to who actually acquires Hulu, rather than the price. If Hulu ends up going for something like $1.25 billion or $1.5 billion, I've shown above how the subscriber math works for Netflix. Don't forget, I used extremely conservative numbers for Q2 subscribers and the DVD business.
When it comes to premiums, I'm more afraid of the "Icahn premium." As many know by now, Carl Icahn's purchase of a stake in Netflix late last year is one of the reasons why the stock has soared and shorts have run for the exit. I've long since maintained that there is about a 10% to 15% "Icahn premium" in the shares. If news were to come out that Icahn is selling his position or has completely exited the name, I wouldn't be surprised to see Netflix decline by double digits overnight. I'm more concerned about Icahn than I am about Hulu.
Conclusion - Amazon wins again:
Amazon struck another key content deal on Tuesday, and this time, it was for content that had been recently dropped by Netflix. It's another shot across the Netflix bow, and you wonder how many more may be coming. Netflix may have the high profile originals to its name, but is it starting to cost the company in terms of its overall selection? I'm curious to see how Netflix spins this in their next quarterly letter and conference call. For now, it appears to be a zero sum game between the two. Content prices will go higher and higher, meaning less packaged content in the end for each. Other names like Redbox Instant aren't helping the fight either. The battle for original content has intensified as well, and both Amazon and Netflix have issued large amounts of debt in the past year. Will they need more funds for content going forward? Only time will tell. Expect the Hulu deal to spark some conversation in the near future as well, but I don't think the price paid will really impact Netflix. The real winner on Tuesday appears to be Viacom, but you have to think that Amazon is celebrating this as well, while Netflix watches more content leave its platform. Maybe subscribers will too as well.
Disclosure: I have no positions in any stocks mentioned, and no plans to initiate any positions within the next 72 hours. I wrote this article myself, and it expresses my own opinions. I am not receiving compensation for it (other than from Seeking Alpha). I have no business relationship with any company whose stock is mentioned in this article.
Additional disclosure: Investors are always reminded that before making any investment, you should do your own proper due diligence on any name directly or indirectly mentioned in this article. Investors should also consider seeking advice from a broker or financial adviser before making any investment decisions. Any material in this article should be considered general information, and not relied on as a formal investment recommendation.