The FDIC has spoken... and they are unwilling to guarantee CIT Group's (NYSE:CIT) bond sales. This is an extremely positive step in the recovery process, in my opinion. Broken businesses MUST be allowed to fail.
From Bloomberg:
The Federal Deposit Insurance Corp. is unwilling to guarantee CIT Group Inc.'s bond sales because the commercial lender's credit quality is worsening, according to people familiar with the regulator's thinking.

The FDIC, which has backed $274 billion in bond sales under its Temporary Liquidity Guarantee Program since Nov. 25, is concerned that standing behind CIT debt would put taxpayer money at risk, said the people, who declined to be identified because the application process is private.
Credit Ratings and "Raw Material" Prices

Capital is a lender's raw material. As with any business, if the cost of your raw materials increase, your profitability will suffer (especially if you can't increase prices to offset the increase in costs). This credit crunch has significantly increased the cost of capital for lenders and banks across the board, regardless of credit quality. A lender lives and dies by its credit rating. Their credit rating dictates their cost of capital. Without access to cheap capital the business model breaks down.
CIT has been downgraded to "junk" status by all three credit rating agencies. Their cost of capital has gone through the roof and the FDIC is refusing to lend (no pun intended) a helping hand by guaranteeing their bonds. This is huge problem for CIT because the company has a $2.1 billion credit line maturing in April 2010. If CIT can't refinance this facility (which is looking more unlikely everyday), the company will default and it will set off a downward spiral that may be impossible to recover from.
CIT's Business Model is Broken!

I think that there is virtually no chance that CIT will recover from this. Like most other banks, CIT is paralyzed by the bad assets that are on its books. CIT is a "zombie bank". The company can't continue lending because its cost of capital is too high and it will eventually bleed to death from its deteriorating portfolio.
This is not something that happened overnight. CIT got greedy in the credit boom and they entered into bad reward-to-risk trades. Part of the blame can be attributed to the fact that CIT is a publicly traded company, that is in large part judged by its quarter-over-quarter asset growth. The only way you could grow assets the past few years was to be a market-taker. CIT knew that the risk was mispriced, but they bought it anyway (forbid they would not meet or beat the street's asset growth targets). By looking at a monthly chart (see below), you can see that no one was really fooled. The stock fell off a cliff in mid-2007 and it has never recovered.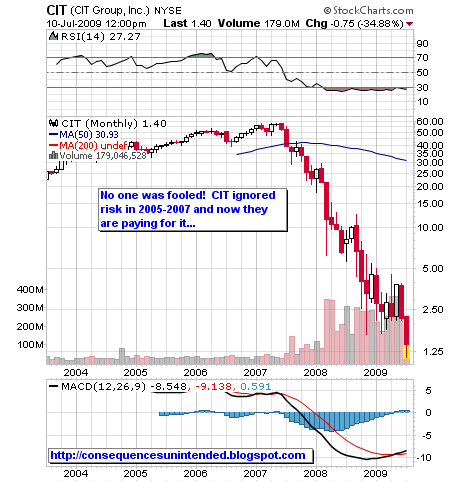 CIT is NOT a "Value" Play
If you bought Citigroup (NYSE:C) and Bank of America (NYSE:BAC) back in March at $2 or $3, the trade has worked out pretty well for you. However, don't be fooled into thinking that the government is going to continue to support bad banks. The "systemic" risks were definitely mitigated by bailing out the large, "too big to fail" financial institutions... but CIT is not "systemically important" according to the FDIC.
CIT will likely be liquidated and sold off in pieces, but I think the equity is worthless. Don't be fooled, CIT is NOT a value play. If your currently long the stock, I would take your $1.30 and cut your losses...
Disclosure: No positions