In today's world of mixed signals and confusing messages from our own Federal Reserve, investors have seemed to have stormed the exits of most stocks in the agency mREIT sector. Annaly Capital (NYSE:NLY), my personal favorite, has not escaped the beating.
It is clear to me, given the most recent reports on consumer spending, personal income, manufacturing and unemployment, that the Fed has no choice but to keep QE in place. Unless of course they make a complete about face on their stated policies and goals. As a matter of fact, I personally (and this is only my opinion) cannot find a reason to even taper off their current policies.
My opinion is that shares of NLY have become oversold and represent a buying opportunity. I will look at the basic details of this, after I offer my opinions on why QE will remain in place.
Looking At The Bare Bone Facts
I think the first facts we should take a look at, is that of consumer spending and personal income. After all, a healing economy would show these very basic measures in a consistent growth mode. That seems NOT to be the case, as detailed in the Bureau of Economic Analysis, a department within the U.S Department of Commerce.
The report, released to the public last Friday, shows a drop of disposable personal income of more than $20 billion in April, vs an increase in disposable personal income of $25 billion in March. A $45 billion turnaround in one months time is anything but a measure of growth. As a matter of fact, it clearly indicates weakness in the economy. Will the Fed overlook this fact?
Here is what the report had to say about wages and salaries:
Private wage and salary disbursements increased $1.6 billion in April, compared with an increase of $16.3 billion in March. Goods-producing industries' payrolls decreased $2.0 billion, in contrast to an increase of $0.7 billion; manufacturing payrolls decreased $2.1 billion, in contrast to an increase of $0.2 billion. Services-producing industries' payrolls increased $3.7 billion, compared with an increase of $15.6 billion. Government wage and salary disbursements increased $0.2 billion, in contrast to a decrease of $0.4 billion.
Seems like the only continuing growth in wages is coming from the government. Why am I not surprised? Obviously the other measurements of wages have come to a grinding halt. Will the Fed ignore these facts?
OK, what about personal spending, or as the BEA likes to describe it, "personal outlays" which covers just about everything that anyone spends. Here is what the report found:
Personal outlays -- PCE, personal interest payments, and personal current transfer payments --decreased $21.7 billion in April, in contrast to an increase of $16.4 billion in March. PCE decreased $20.5 billion, in contrast to an increase of $14.2 billion.
Call me crazy, but if personal income is falling and consumer spending is dropping at the same time, does this mean that the economy is now home free and healthy? Not in my world. Could the Fed completely ignore these facts as well?
According to another finding of the BEA as reported in this article, corporate profits have come in weaker than expected in the first quarter, which has had an impact on the GDP.
The nation's economy grew at a seasonally adjusted annual rate of 2.4 percent in the first quarter, slightly slower than originally reported, the Bureau of Economic Analysis (BEA) said Thursday. Economists surveyed by Bloomberg had expected the revised gross domestic product (GDP) to grow at a 2.5 percent pace, unchanged from the first estimate issued a month ago. At the same time, BEA said corporate profits in the first quarter were $1.97 trillion, down almost $44 billion from the fourth quarter. The last time corporate profits showed a quarter-over-quarter decline was in the first quarter of 2012. Corporate profits are considered a key indicator of employment trends.
Now correct me if I am wrong, but if the GDP has dipped, and corporate profits have decreased, combined with the previous reports of lower consumer spending and personal income, where are any of the facts to support even a tapering off of the current Fed policies?
How This Has Affected Annaly
Just by the mere chatter of the Fed changing course, Annaly shares (as well as other stocks in the sector) were pounded. Interest rates increased, and the 10 year Treasury climbed over 2% for the first time in quite a while. All of this spooked the markets, and mREIT investors into selling their positions. Annaly, the largest and most conservative of the companies in the sector, sold off to a point where the share price is now significantly below book value.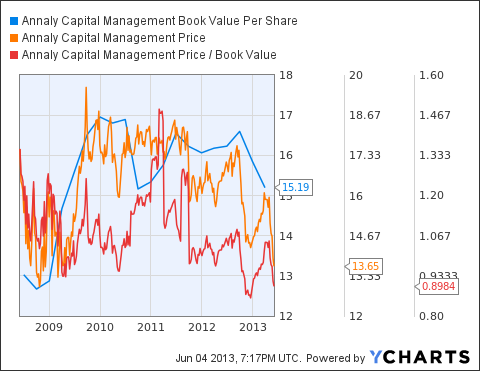 It does not take a brain surgeon to see that the NLY share price is selling at only .898% of actual book value. While the shares could fall further of course, the price right now is selling at a discount. I also believe that mREIT investors have forgotten about the way NLY makes money.
It is not about book value, it is about the yield curve spread, and the difference between the 2 and 10 year interest rates that give us the best clue as to the potential for profits for NLY. Since the Fed still has a short term zero interest rate policy in place (ZIRP), and the 10 year Treasury has climbed over 2%, the spread has WIDENED. In my opinion, this should mean that profits going forward could be greater than they have been.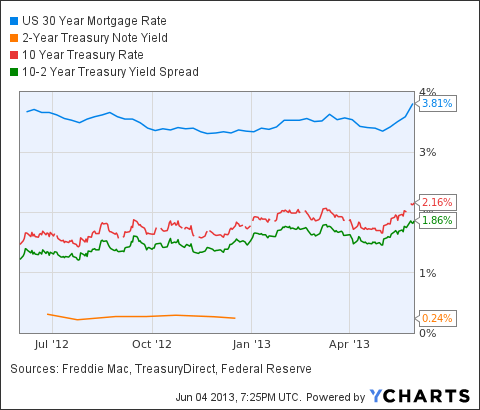 What am I missing here? The spread has jumped almost 50 basis points in less than one month! I realize the turning over NLY's "inventory" to higher rates could create some disruption, but going forward, the sand box that NLY is playing in has gotten more appealing, not less.
I would also point out that with the rise in the 30 year mortgage rate, refinancing could come to a abrupt slowdown and that would mean that prepayments could drop. That would also help NLY going forward.
Remember The Recent Steps Annaly Has Taken As Well
While I was early when I wrote this article, I have never claimed to be a magical market timer. The point was that Annaly had more going for it than just the whimsy of "Fedspeak".
I noted these comments made at the Annaly conference call:
Note the comments made by Wellington Denahan during the earnings conference call:
"For the quarter, our overall dividend yield and yield on core earnings remains at historically high levels relative to virtually all other asset classes. For example, our dividend yield of 11.3 is 967 basis points greater than the 10 year treasury. Our historical yield spread since inception versus the benchmark has been around 730 basis points. Our current yield on core earnings of approximately 7% remains higher than even the corporate high yield index which now stands at about 5.3."
And the comments about the CreXus acquisition:
"The CreXus's acquisition is accretive to the Annaly dividend and represents a meaningful step in the evolution of Annaly's capital allocation strategy, one that will enable us to take advantage of a broader spectrum of investments. Since the announcement of this acquisition in November, we have continued to build out our commercial expertise and we remain confident that CreXus' capabilities and growth may be significantly enhanced when coupled with Annaly's broader capital base."
As far as I am concerned, these comments alone support my own thesis, and opinion; Annaly shares are on sale.
The Bottom Line
The Federal Reserve has not made this period of time easy. It has tossed around the notion that QE could be tapered, altered, and changed, sooner than later. The obvious risk, and the main one that we must monitor, is if the Fed actually takes that action.
From everything I have noted within this article, I cannot find any evidence that any change in QE policy is imminent. Could I be completely wrong? Of course. In my opinion, I think I am spot on.
What are your thoughts?
Disclaimer: The author of this article is not an expert in this field and the opinions are not a recommendation to either buy or sell any security. Please do your own research, which could include consulting with an expert in this industry, prior to making any investment decisions.
Disclosure: I am long NLY. I wrote this article myself, and it expresses my own opinions. I am not receiving compensation for it (other than from Seeking Alpha). I have no business relationship with any company whose stock is mentioned in this article.