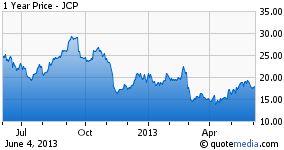 Capital Ladder Advisory Group has initiated coverage of J.C. Penney (NYSE:JCP) as of May 1, 2013. We are initiating our full scale coverage with a Hold recommendation and a 12 month price target of $23.50/share. With that said, investors should consider price targets as superfluous information as they are highly contingent upon the quality and quantity of the data accrued by the reporting analyst and the appropriate analysis of the data. The intention of this article is to introduce Capital Ladder to the investment community either participating or considering participating in JCP stock, corporate bonds or options. Additionally, we hope to provide some analytical points of reference.
We are not enveloping a history lesson within this article as the "Demise of J.C. Penney" story has been relentlessly reported on and archived over the previous five quarters or more and with a consistently negative bias which is well deserved. During FY2012, Capital Ladder initiated coverage of SodaStream (NASDAQ:SODA), Monster Beverage Corp. (NASDAQ:MNST) Lululemon (NASDAQ:LULU) and Bed Bath and Beyond (NASDAQ:BBBY) to supplement our existing coverage of Green Mountain Coffee Roasters (NASDAQ:GMCR), Target Corp. (NYSE:TGT) and Yahoo! (NASDAQ:YHOO). Now we are ready to tackle the difficult task of weeding through the current market sentiment, noise and operational chaos that has been touted as the business of J.C. Penney.
Analysts' estimates are a whole other ball of wax as we have come to find. We spent the better part of the last several weeks devouring unsupported and antiquated methodologies for assessing JCP's possible earnings and revenue estimates based on the trend data offered by JCP to analysts. The average analyst estimate is for the company to lose $3.14 a share on revenues of $12.35 billion.
Investors have a job to do if they choose to stake a position in JCP. First and foremost they have to decipher fact from fiction when juxtaposing the data at hand with the incessantly negative sentiment surrounding the company and its on-going challenges. Secondly, from an investment thesis standpoint, investors have to find that one thing. At Capital Ladder we call that one thing the "conclusive variable". The conclusive variable is by definition the variable that outlines the future direction of the company's profitability. Ideally, the conclusive variable will help the investor determine whether or not there is a profitable opportunity for an investment in a company. Capital Ladder prides itself on finding this conclusive variable and we think we have found it in JCP.
We have all seen the steady YOY decline in both top and bottom line results from JCP. The company produced a sales decline of some 25% and an earnings per share loss of $3.50 which has undoubtedly marred the perception for a future turnaround amongst investors. We aren't going to take a deep dive into these results and the cause of these results as they have already been widely reported upon and analyzed thoroughly with seemingly no conclusive outcome. To put it quite frankly, the conclusive variable is all that matters and more importantly as we look through a litany of trend analysis, charts and statistics we come to one conclusion; JCP is not J.C. Penney and even the JCP of last year is not the JCP of this year.
So what is JCP if it is not the J.C. Penney of the old days, which are not that far in our rear view mirror, and if it is not even the JCP of last year? It's really quite simple and based on the relative changes that have engulfed JCP over the last 2 years, JCP is a start-up retailer looking to capture and solidify a customer base that is boundless at this time. No, we haven't gone too far out on the curve in suggesting that JCP is a start-up retailer; the results have more than born out this underlying fact of the existing JCP company product which is only in a limited way, shape or form the former J.C. Penney. Either through changing the store concept, merchandising concept, pricing and promotional structure and abandoning its former customer base, these facts serve to solidify the start-up categorization of JCP.
While some point to JCP's lack of definition when pinpointing a "type" of customer or a demographic consumer, they are failing to accept the most simplistic idea and probably the most relevant idea; JCP is bound to no specific customer and no specific demographic presently in the way it had been in the past. The doors, as they say, are wide open given the vast array of price-points, merchandise and store footprint that can cater to most consumer needs and desires. At the end of the day, what makes a retailer good are consistent merchandise which is relevant to the modern trends and delivering that merchandise at an easily identifiable value to the customer in a profitable way. What makes a retailer great is being able to deliver on this core objective in a fast and customer-centric way. It is all about the customer and if there was ever a time for which the old adage, "the customer is always right" applies it certainly applies here with JCP.
Naturally, when evaluating the future for a company investors have to have a clear understanding of the past. The question to isolate and decipher is what went wrong for J.C. Penney. Let's sum it up in what has been more broadly defined as lack of evolution and modernization. The J.C. Penney formula for growing sales stagnated for much of the last 10 years and a shock to the system, such as what occurred during the financial crisis of 2008, uncovered a fundamental flaw in the J.C. Penney operations. "But J.C. Penney was growing sales after the abrupt shock from the financial crisis", they say. True, but the pace of growth began to sharply decelerate as the years carried on and management did not react quickly enough to make the necessary changes. When Ron Johnson came on board as CEO in 2011, he addressed the need to revolutionize the business of J.C. Penney and he certainly did that. While many cloak Ron Johnson in scrutiny, what they may fail to realize is that the current state of affairs at JCP was going to beseech the company sooner or later, but it was a certainty. The course for which J.C. Penney was heading was already being widely considered by analysts, management and the BOD (Board of Directors). The trend data serves to prove that the deceleration in sales growth, foot traffic and conversion rates would ultimately lead J.C. Penney exactly where it is today, just at a slower rate than what had been accelerated by the changes instituted by Ron Johnson. Without the necessary changes instituted by Johnson's second shock to the J.C. Penney system, the end result would be the same as what investors have experienced for the last 6 quarters, just at a later date.
Some say that Johnson could have extended his time frame for the changes that he instituted and that would have offered better results. To that we offer this might very well be true, but the probability is unlikely. You see, retailing is all about training the customer and for years, decades J.C. Penney had trained its core customer to expect a certain product package and exhibit a certain payment behavior. The transformational changes instituted by Ron Johnson didn't permit for this specific relationship to continue, either today or in the future. It was a matter of retraining the customer, even if it meant that it came at the customers' expense for a period of time. The customer's choice was fairly simple, accept the change in the relationship or dissolve the relationship, at least for a period of time. The choice made by the customer was heard loud and clear.
The mistake that Ron Johnson made was in the delivery of the changes, not the speed for which the changes occurred. Ron Johnson didn't allow himself to include the customer in the changes. Essentially, the message surrounding the impending changes was never clearly delivered to the core customer of J.C. Penney and with a core customer base of 55 or older consumers, this clarity was surely necessary. Would a better, more clearly delivered message have resonated well with the core consumer? The answer is probably not; the end result would have been the same. J.C. Penney needed to change its product mix, cost structure and its pricing structure to grow for the future. The existing core consumer would not afford J. C. Penney that opportunity. Simply put, J.C. Penney had trained its core customer to well over the years and 'boxed" itself into a corner.
So with all of that said, we still have to get back to the conclusive variable right? Mind you, despite the negative sentiment surrounding the company, most analysts are painting a greater possibility for a successful recovery over the coming years more so than an eventual demise. In order for JCP to successfully see itself through this start-up phase it has to continue on the current path. The "newer" CEO, Mike Ullman, has recognized the strength of the rebranded merchandising strategy and footprint of the stores. Ullman has stated that the "attractions" (shop-in-shop) concept adds value on a sales/sq. ft. basis and plans to continue with this concept will depend on the cadence of business. When considering the statements offered by Ullman, we would characterize the future propensity toward "attractions" to continue, but at a more moderate pace than under the Ron Johnson regime. This may ultimately be the right approach. Additionally, we would also be considering Mr. Ullman's potential tenure as CEO with JCP as a temporary bridge toward the future.
Fortunately for Mike Ullman, much of the "heavy lifting" has been accomplished. Expenses have been dramatically reduced, remodeling the footprint of stores has largely been completed, IT infrastructure has been updated according to long term scheduling, product mix has been changed, inventory has reduced by over 20% and ever-closer to relative sales cadences, promotional activity has resumed modestly, e-commerce infrastructure development is accelerating, vendor partnerships have expanded and recognition of successes and failures are being built upon.
The conclusive variable: Q1 2013 results were worse than anticipated on the top and bottom line, but this is the most simplistic and superficial methodology behind analyzing a company's propensity for future success or failure. As noted earlier, the company has been reducing inventory dollars throughout 2012, taking write downs that have subsequently impacted gross margins in a negative way. Clearance dollars as a portion of total sales rose sharply in 2012 due to this stated measure. With much of this aged inventory out of the system and newer merchandise and brands which have entered the system, the conversion rate was down only 1% in Q1 2013. The conversion rate is definitively the conclusive variable. The conversion rate outlines the propensity of a shopper/consumer entering a JCP, shopping the offered merchandise at an offered pricing structure and exhibiting the desired payment behavior. Based on what has been reported in Q1 2013, and with lower inventories, newer brands, fewer consumer dollars available as we exited the Holiday Shopping Q4 environment, an ever-increasing competitive retail landscape chasing fewer consumer spending dollars, an e-commerce business still developing, slowing traffic declines, slower comp declines, limited promotional activity and a Home department for some 500+ stores being remodeled, the conversion rate fell by only 1% YOY and slowed by 9% sequentially. You can throw a lot of bricks at this variable and we certainly have, but making an argument that would suggest the conversion rate isn't providing some meaningful information about how the consumer is currently receiving the JCP offerings might prove faulty. Additionally, as remodeled Home departments come on-line in stores for JCP, there could be a meaningful boost for sales, traffic and conversions as Home goods tend to drive roughly 15% of cross category shopping purchases within a department store format. We have taken the liberty of sharing our initial findings of stores that have a remodeled Home department open for roughly 30 selling days with participating analysts. Lastly, with regards to conversion rates, we would invite investors and would-be investors to consider how the results would differ on both the top and bottom line when the conversion rate changes from down 1% to flat or even up 1%. The conversion rate is the equivalent to consumer sentiment and we invite all classes of investors to pay close attention to this under utilized metric in the coming quarters as it is the conclusive variable.
It has been argued and will continue to be argued that JCP will have a tough slog in a highly competitive retail environment. We would certainly concede to this argument, but there are always winners and loser and despite stock movement recently we would suggest that there are more losers than winners currently. Therefore, there is always an opportunity present for a new winner to emerge. As noted in my most recent analysis concerning comp store sales for Target, the company continues to witness comp store sales deceleration which resulted in the company cutting its full year earnings, revenues and comp store sales forecasts. In Q1 2013, Target saw a decline in comp store sales of .8% when its initial guidance was for comp store sales to be flat to up 2%. In spite of this revelation, shares for TGT are up since the quarterly report. TGT's expansion efforts will be able to buffer any comp store sales declines and investors enjoy a healthy dividend currently yielding 2% annually. These characteristics have helped shares of TGT offset potential sell-offs on poor results. Kohl's (NYSE:KSS) has witnessed much of the same in the way of comp store sales as the retailer bore comp store sales that fell by 2.5% in Q1 2013. Kohl's is probably the most comparable company to JCP as it has been well known for its couponing methodology. The trend beseeching Kohl's currently is in-line with what JCP has gone through over the last couple of years. Kohl's has resorted to increased frequency of discounting and couponing in recent quarters and with no change to management's tone with regards to addressing the trend in comp store sales, we may hear more about Kohl's comp store sales declines going forward.
Clearly the consumer has discretionary income to spend, albeit not as much as in previous years and the availability of credit has been constricted. Companies like Macy's (NYSE:M) and The Gap (NYSE:GPS) have proven that with the right product mix, promotional strategy, service and store footprint winners can emerge. Price does not usually determine success, value determines success. Macy's and The Gap offer the consumer aspiration products (recognized brands usually at premium of pricing tier for product category), but they offer these aspiration products at perceived affordable prices based on promotional pricing and have won market share in doing so. JCP has an opportunity based on the characteristics of the existing business and suggested plans moving forward to accomplish similar success in the coming years.
Disclosure: I have no positions in any stocks mentioned, and no plans to initiate any positions within the next 72 hours. I wrote this article myself, and it expresses my own opinions. I am not receiving compensation for it (other than from Seeking Alpha). I have no business relationship with any company whose stock is mentioned in this article.