Mechel Steel (NYSE:MTL), one of Russia's leading mining and metallurgical companies, reported results for its first quarter ending March 31, 2009. Mechel reported consolidated net loss of $690.70 million, compared with consolidated net earnings of $500.00 million in the corresponding quarter of the previous year. Net loss per share amounted to $1.72 in the quarter, compared with net earnings of $1.20 in the first quarter of 2008.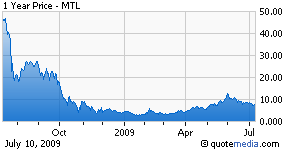 Revenues were down 49% year-over-year to $1.80 billion. The company attributed the decline to weak demand for steel and coking coal as well as foreign exchange losses.
The Steel segment generated 55% of revenues, which slipped 50% year over year to $643.20 million in the first quarter. Unfavorable market conditions and low demand for steel from the end consumer markets -- especially auto, construction and machinery -- resulted in the decline.
Net loss in the segment amounted to $358.10 million as against net income of $184 million in the year ago quarter. Production of steel was down 30% to 1.10 million tons and that of rolled products was down 22% to 1.00 million tons when compared to the production level of the year ago period.
In 2009, Mechel foresees demand for steel from the Middle East and Southeast Asia. The company plans to operate facilities at 100% capacities. By May 2009, Mechel had increased steel-making capacity utilization to 94%, metallurgical commodity products capacity utilization to 95%, including rolled products capacity to about 99%, hardware capacity to about 74%, while forgings and stampings crossed 58%.
The Mining segment generated 29% revenues. Sales in the segment plunged 60% year-over-year to $344.20 million driven by a sharp decline in demand for coking coal. EBIDTA margin in the segment was 10.6% compared with 48.8% in the year-ago period driven by higher production costs. Reckoned year over year, production of coal and coking coal more than halved to 3.40 million tones and 1.00 million ton, respectively. Production of steam coal was down 19% year-over-year to 2.40 million tons.
Mechel is banking on Asian markets, particularly, China, Japan and South Korea. In June 2009, Mechel through its subsidiary Mechel Trading AG signed a long-term contract with South Korean Hyundai Steel to supply 300,000 tons of coking coal per annum from 2010. The company has a total supply contract of 2.00 million tons of coking coal and 2.30 million tons of steam coal in 2009 produced at its Yakutugol and Southern Kuzbass mines.
The Power segment produced 12% of revenues, which totaled 138.20 million, down 28% from the same quarter of the previous year. Net income was negligible at $0.20 million compared with net income of $15.00 million in the year ago quarter. The economic crisis resulted in an overall demand for electricity. Moreover, Mechel's power is expensive as compared with the liberalized electricity in Russia.
The Ferroalloy segment yielded 4% of revenues, or $53.9 million. Net loss of $328.70 million was driven by higher production costs and lower product prices. Mechel is increasing its output of high quality ferrochrome, an alloy required to produce stainless and special steels.
Mechel has a large capital-spending program. It reported capital expenditures of $96.10 million in the first quarter of 2009. Total debts were $5.8 billion in the quarter. Higher debts resulting in greater interest burden are a drag on the company's profitability.
Mechel has not provided any financial guidance for the rest of 2009. There is no update on the refinancing the $1.5 billion bridge loan and a $2.0 billion loan which had been used to acquire the Yakutugol coal mine in 2007. We maintain our Hold rating on the stock.