President Obama is being invited to spend some of his time in his own back yard to rub shoulders with the oil workers of Montana and North Dakota to check on their progress for increasing domestic crude oil production.
The President would be able to obtain greater insight on how to solve this country's energy needs for the immediate future. Bret Smelser, owner of Border Steel and Recycling, who is the mayor of Sidney, Montana as well, would like to have a chance to speak to him directly about the local effort in making our nation energy independent. He is actively involved in his state's effort about getting the message out on how to best develop the Bakken's rich mineral deposits
Exploration for crude oil in the Bakken Oil Formation is rapidly being expanded and its output is expected to expand exponentially as long as oil prices remain above $60 a barrel. The U.S. Geological Survey (USGS) figures it could yield up to 3.65 billion barrels of recoverable oil with additional reserves possible using even more sophisticated and as yet not invented methods. It is the largest oil field in the continental U.S. but it does not come close to the roughly 60 billion barrels of existing proven reserves discovered in the North Slope of Alaska.
The President will learn that oil is the "Life-blood of America" and a national energy policy, not based on politics as usual, is urgently required. What would happen if we had another energy crisis occurs and the Organization of the Petroleum Exporting Countries (OPEC) decides to cut us off again? Our generation still remembers the days of gasoline allocation, even and odd days buying of gasoline and pulling up to the gas station behind the "last car in line" during two energy crises of the 1970's.
In addition to having been the mayor of Sidney since 2002, Mr. Smelser was appointed to the Montana Board of Oil and Gas Conservation by Governor Brian Schweitzer in 2007 and serves in his current term until 2011. He spoke to me about the need for cooperation between the different state and federal governmental entities involved in oil production since the area in which he lives and works, which straddles all the way from Eastern Montana to Western North Dakota.
The catch with President Obama's current energy plans, to increase energy conservation as well as fuel efficiency gains, is that he has decided to pair that up with government intervention. This will reduce demand by installing a cap-and-trade, fuel tax or carbon tax, thereby any savings from efficiency gains will be taxed away or otherwise removed from further economic circulation and therein lies the rub. With the coming cap-and-trade or CO2 tax, oil is going to be more expensive to produce in North America, especially when compared to the Canadian oil sands.
We need to build a bridge to a renewable energy future in the U.S. Further exploration for domestic crude oil will be a crucial step in filling that gap. Some alternative energy projects may be as far as twenty years of away of getting on-line. By then we may be able to rely on wind, solar and hydro-power as a way to energy independence.
Mr. Smelser said that the first step should be to expand the capacity of crude oil shipping pipelines as well build at least one new refinery in the area. The local sweet crude oil is now trading at $10 discount from the West Texas Intermediate crude oil posted price, and more investments will be required to take full advantage of this domestic oil production.
The USGS estimates the Bakken possesses 3.0 to 4.3 billion barrels of yet "undiscovered, technically recoverable" crude oil and 1.85 Trillion Cubic Feet (Tcf) of natural gas. The formation is also estimated to hold 148 million barrels of natural gas liquids.
The current pipeline is overbooked and some oil wells have already been slowed down or shut down pumping completely until the infrastructure catches up to handling the overabundance of crude oil still in the ground.
This is the part of our country where the real work gets done to keep the oil flowing. The slogan "Get 'R Done" is seen far and wide in what is commonly known as the Bad Lands. But that slogan will become a household word in the country and soon may be called "Persia on the Prairie". The locals in Williston, North Dakota are more prone to using their own slogan, "Rockin the Bakken"; in showing enthusiasm for their new found buried treasure.
In between very modest homes and farms we are sitting on top of one the largest reserve of crude oil The underground Bakken Oil Formation stretches from Eastern Montana through North Dakota north to Saskatchewan and Manitoba, Canada and it is just now receiving the national attention it so well deserves.
Map of the territory showing how much area the Bakken Oil Formation covers: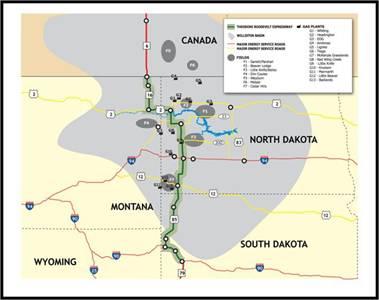 The heart of the Bakken oil field, which contains three layers of shale, was formed when the area was covered with a relatively deep ocean. It is about two miles down with about two-thirds of the acreage located in western North Dakota. In the year 2000, the Elm Coulee oil field was discovered in the Williston Basin of Richland County, Montana and draws its oil from the Bakken Oil Formation.
This massive rock of shale was initially discovered as an oil source in the mid-1950s, but with extremely low porosity and permeability, it was almost impossible to exploit fully with conventional drilling techniques. At that time crude oil was going for less than $10 a barrel. Other methods were cost prohibitive with more sophisticated but more expensive and not yet invented methods being required.
A joint venture, of Exxon (NYSE:XOM), Unocal and Tosco in Colorado first explored and developed crude oil from shale oil deposits in Colorado during the two energy crises in the 1970's, quickly dissipated when the Reagan era of hands off policy on government controls on energy took hold.
Their site was located in Parachute, Colorado but was eventually shut down when the U.S. government decided to withdraw the subsidies being paid to the oil companies. The major difference between the Parachute and Bakken operation is the first used a "retort" and the latter "in situ" (meaning in its original form, undisturbed) for their oil shale recovery systems. In situ uses slanted drilling and "fractionation" extraction techniques to bring "Black Gold" up to the surface instead using the standard horizontal drilling.
By itself and without government support the development of oil shale into crude oil was uneconomical especially when the price of a barrel crude oil took another dive in the early 1980's. But we are now in the affordability range once again with West Texas Intermediate crude oil over $70 a barrel.
The cost of exploring and producing crude oil from shale is still relativity higher compared than that of exploring for conventional crude oil, which can be brought up from underground for about $40 a barrel in even the most far away places in the world.
Perhaps in the year 2109 our future generation of kids will be shaking their heads in disbelief at our futile attempts to stay ahead of running out of energy while watching repeats on television of "Black Gold", "Deadliest Catch" and "Ice Road Truckers".In their American History classes they will have to listen to lectures about how we used to transport our oil from the Middle East instead of exploring for it in our own backyard.
They will be shocked and awed just as we were when reading about our early pioneers, who actually churned their own butter and had milk delivered to their doors each morning.
Disclosure: The writer has no positions on any of the commodities or companies in this article.