With part two of the monster rally nearly upon us (part one was from March to May 2009), we are on the alert for some potential important changes in relative performance trends (against the S&P 500), especially with merging markets, which have produced stellar returns since the November 2008 lows with:
We feel that the emerging markets en-masse will be hard pressed to repeat these gains over the next three to six months. Russia was one of the first emerging markets to turn sour in 2008, and once again is showing similar signs of weakness (please refer to chart RSX:SPY and chart RSX:EEM) brought on primarily by the fall in the price of oil.
Investors should be aware and keep a watchful eye on the first chart of the MSCI Emerging Markets ETF to the S&P 500 ETF (EEM:SPY). We believe that given the over optimism in sentiment, this uptrend of relative performance will break down in the coming months, with higher performance coming from the developed markets, especially the U.S. However, we concede that "it's not about being right, but about making money" and the market will tell us if this stance is wrong.
What then? We will go with the flow and buy the EEM on a last hurrah relative chart breakout.
Stay tuned there is movement afoot.
click to enlarge images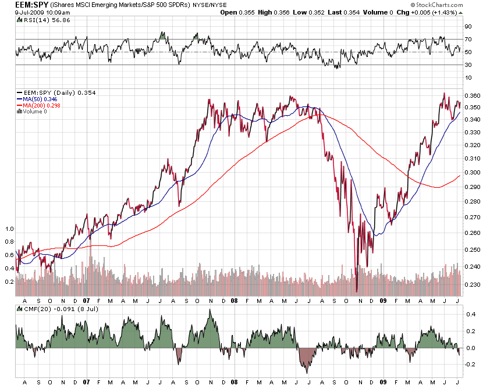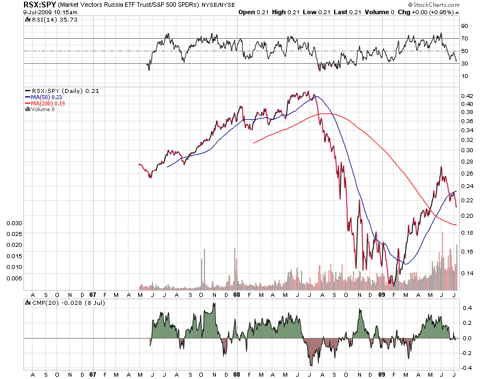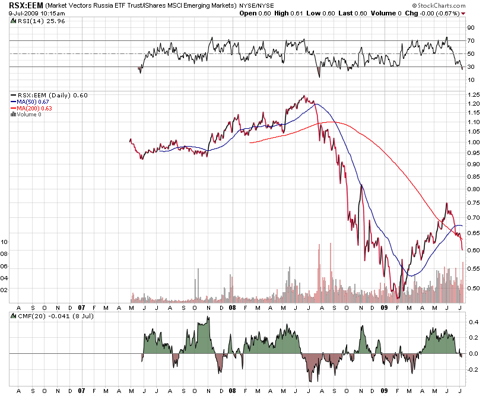 Disclosure: No positions, but some featured in our model portfolio