The PNC Financial Services Group, Inc. (NYSE:PNC) offers a wide range of financial services, and financial services are one of the hottest areas of the market right now. PNC's business segments are: Retail Banking, Asset Management, Corporate and Institutional Banking, Residential Mortgage Banking, and BlackRock. PNC owns approximately one-fourth of BlackRock (NYSE:BLK), which is a prominent U.S.-based investment manager. Given all this, PNC should be a hot stock -- and it is. Its two-year chart shows that its stock price has been climbing steadily, if in spurts, over the last two years.
Click to enlarge images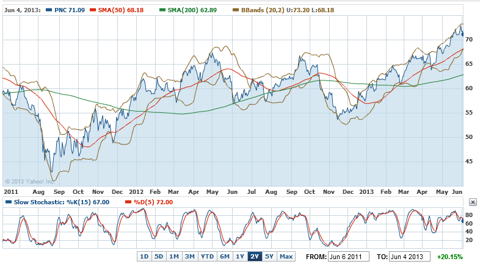 The slow stochastic sub chart shows that PNC is near overbought levels. The main chart verifies this. The 50-day SMA is far above the 200-day SMA, and the stock price line is far above the 50-day SMA. This is a strong uptrend. However, it also indicates that potential investors may want to wait for a slight pullback before buying. Recently the overall market seems to have been pulling back. If we continue to see further pullback, the pullback in the overall market could provide an excellent buying opportunity for PNC.
Banks and financial services, of which PNC is both, earn significant amounts of money based on their net interest margins. The chart of the 30-year U.S. Treasury bond yield below indicates that net interest margin, which is partially dependent on long U.S. Treasury bond rates, has been expanding rapidly lately. This bodes well for an increase in the profitability of PNC in Q2 2013 and in future quarters.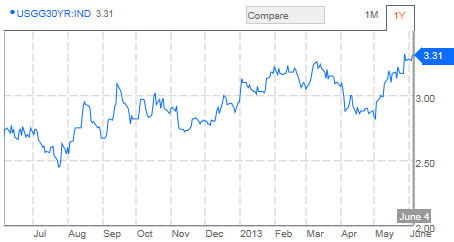 Investors can see that the 30-year U.S. Treasury Bond yield has been in an uptrend since July 25, 2012, when the yield was 2.45%. The current yield is 3.28%, which is 0.83% higher. The 30-year U.S. Treasury Bond yield is a typical benchmark for fees banks and financial services firms charge their clients. For instance, their best mortgage loans (guaranteed by the U.S. government) might charge the 30-year U.S. Treasury Bond yield plus about +0.5% premium. When the cost of funds for the banks and financial services firms stays relatively steady, but the 30-year U.S. Treasury bond yield goes up, this means that the yield curve is widening. Banks will make more money. One benchmark measure for the cost of funds is the Fed funds rate. The Fed has said that it will keep this low at 0% to 0.25% through mid-2015. This practically guarantees banks will make more money in a rising 30-year U.S. Treasury Bond yield market. The rise of the 30-year fixed rate mortgage rate to 3.81% for the week ending May 30, 2013, supports this thesis.
On top of the widening yield curve, the Case-Shiller 20-City Housing Price Index was up +10.9% for March. This means that many of the older loans PNC's Residential Mortgage Banking segment holds (or BlackRock holds) are no longer underwater -- or they are less underwater than they had been. This effectively means the value of PNC's assets have increased. The quality of PNC's loans is better. It will likely be able to decrease its loan loss reserves. Troubled owners will be able to sell more easily, and any foreclosures that do occur will result in smaller losses.
The number of homes being sold is also up. This provides greater liquidity. It means loans are less risky and more valuable. Specifically, pending-homes sales for April were +0.3%. New-home sales for April were 454,000 vs. the prior month's 444,000. Existing-home sales for April were 4.98 million vs. the prior month's 4.94 million. All of these are healthy numbers. The extra liquidity means that loan loss reserves can be lower, and that money can consequently be put to work elsewhere. This means the bank will make more profits.
The recent sharp rise in 30-year U.S. Treasury bond yields may have been the impetus for this article, but PNC has been doing well even without this. Historically it is a top performer. The chart below of PNC's tangible book value growth in comparison to its peers is probably the greatest indication of PNC's outperformance.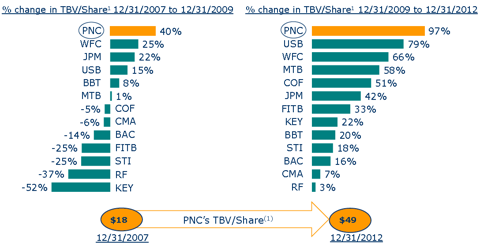 It is easy to see from this chart that PNC has outperformed its peers considerably even in troubled times. This is no guarantee of future success, but it is a strong indication that PNC's management is among the finest. The tangible book value is the most "real" indication of value. At approximately $49 as of the end of Q4 2012, PNC had a very strong tangible book value for its stock price. Its book value was $67 per share at the end of Q4 2012 ($68.19 as of June 4, 2013). PNC is trading at a price/book ratio of 1.04 as of June 4, 2013, which has historically been a bargain for PNC.
Q1 2013 results were generally good, but not great. PNC managed EPS of $1.76 per share vs. an estimate of $1.57 per share and a year earlier result of $1.44 per share. Lower nonperforming assets, reduced operating expenses, and healthy capital levels were positives. However, PNC did see increases in credit losses and net charge-offs. Net income was $1.0 billion vs. $811 million in Q1 2012.
Total revenue was $4.0 billion. This was up 6% year over year. This reflected higher net interest income and higher non-interest income. Net interest income was $2.4 billion. This was a 4% increase year over year. However, net interest margin decreased nine basis points year over year to 3.81%. This last should correct itself quickly given the recent sharp rise in the 30-year U.S. Treasury bond yield. Non-interest income was up 9% year over year to $1.6 billion. This reflected lower provisions for residential mortgage repurchase obligations, elevated asset management income, higher corporate and consumer fees, and higher other non-interest income. With the housing market improvements noted above, this area of PNC's profits should continue to improve in Q2 2013 (and beyond).
PNC did see weakness in its credit quality. Net charge-offs were up 37% year over year to $456 million for Q1 2013. PNC's provision for credit losses was consequently up by 28% to $236 million, although much of this was attributable to portfolio growth. Part of the charge-offs were in residential real estate and home equity loans ($134 million). This part at least should improve with the improving housing market.
In sum, PNC is a buy. The main areas of weakness -- the net interest margin and the charge-offs -- should both improve due to improvements in conditions cited early in this article. PNC's outlook is bright. Its management team is top flight; and its results have been industry leading. It is successfully attempting to cut expenses (a $700 million program). It has a strong pro forma Basel III Tier 1 common capital ratio of approximately 8.0% (Basel 1 of 9.8%). This shows good strength.
Further PNC raised its dividend in May 2013 to $0.44 per share per quarter. This is approximately a 2.50% annual dividend. This makes PNC an elite performer among top banks. It makes PNC a great income stock as well as a growth stock. With -0.3% revenue growth for the S&P 500 in Q1 2013, expectations for 2013 revenue growth have diminished. In this kind of environment, a good dividend stock is among the best investments. PNC qualifies. With low Q2 2013 EPS growth for the S&P 500, financials with expected growth of roughly 17% are a good bet. An industry leader in that sector is an even better bet. With a P/E of 12.64 and an FPE of 10.33, PNC is quite reasonably priced. It is a buy, especially with the recent improvements in its industry fundamentals noted at the beginning of this article. The average analysts' recommendation on PNC is 2.2 (a buy). Investors could decide to average in, or they could wait for a pullback.
Note: Some of the fundamental financial data above is from Yahoo Finance.
Disclosure: I have no positions in any stocks mentioned, but may initiate a long position in PNC, BLK over the next 72 hours. I wrote this article myself, and it expresses my own opinions. I am not receiving compensation for it (other than from Seeking Alpha). I have no business relationship with any company whose stock is mentioned in this article.