Company Description
RINO International (RINO.PB), headquartered in Dalian, the capital of Liaoning province, is a provider of environmental protection equipment for the iron and steel industry in China. RINO designs, manufactures, installs, and services wastewater treatment, flue gas desulfurization equipment, and high temperature anti-oxidation systems to reduce industrial pollution and/or improve energy utilization.
Macro and Industry Conditions
The Chinese government has decided to spend more than $200 billion in the period of 2006-2010 and $300 billion during 2010-2015 on environment protection due to alarming pollution level.

In the steel and iron industry, China has mandated that all blast furnaces and converters in iron and steel factories must have wastewater treatment facilities in place within five years. Energy consumption is required to reduce by 20% during the 11th five-year period (2006-2010). Furthermore, the government provides various tax incentives to certain state-owned steel makers to push for the adoption. Penalties will be imposed if companies continue to dispose pollutants after newly enacted policies.

Squeezed by both rising raw material costs and falling steel demand, China's iron and steel industry is facing significant challenges in the near term. However, China's economic stimulus package will largely increase domestic demand.
Business Breakdown
RINO's product portfolio consists of:
Sinter flue gas defulfurization equipment - 76%

Wastewater treatment equipment - 10%

Anti-oxidation systems - 4%

Other services - 10%
In November 2008, the company announced that a new sludge treatment system has been successfully developed. The new system, which can be applied to municipal and oil industry, is expected to put to commercial use in the second half of 2009.
I will analyze this company from its three segments:
Flue Gas Desulfurization
Background
Sulfur dioxide (SO2) has become a major environmental concern in China as China is becoming the largest steel producer in the world. There are about 400 sinters in the iron and steel industry in China. The government has mandated that the coal fired sinters and other similar furnaces must install desulfurization facilities or will be imposed with monthly penalties, or even be forced to shut down. According to company 10K, RINO's desulfurization system is the only equipment that is specifically designed for sinters larger than 90 square meters, which account about 50% of existing sinters in China. It is projected that the growth would be about 11 sinters larger than 90 square meters per year in China till 2015. The market average sales price is around $7.74 million, with total market value of $1.6 billion in 2009 and $2.06 billion in 2015.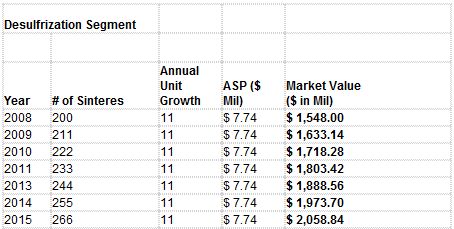 Technology
Most desulfurization equipment suppliers in China concentrate on power generation with little experience in the iron and steel industry because the sintering process needs special design skills and manufacturing technologies.
However, there are also a few technologies on the iron and steel desulfurization process. No particular technology has dominated the market yet.
Flue Gas Desulfurization (FGD) technology is used to remove SO2 from the exhaust flue gases when burning iron ore, coal, or oil. This technology is mainly used in the sintering process.
There are three categories of FGD technology:
Wet FGD: Use limestone/gypsum, ammonia, dual-alkali, and citrate

Semi-dry:

Use spray dry absorption, circulating fluidized bed (CFB) technology
Dry FGD: Dense flow absorber and Nid dry-desulfurization
RINO's technology is semi-dry CFA FGD jointly developed with the Chinese Academy of Sciences.
Prior to 2005, this technology was not incorporated in Chinese iron and steel industry. As the government has enacted stricter regulation policies, the FGD began booming. So far, no major desulfurization technology has become dominant in the market, but RINO's technology has advantages as following:
Small space required

Low water consumption

Low processing cost

90% SO2 removed
Other major technologies used in China are:
Limestone/Gypsum: Low cost but high water consumption, pipes are easy to corrode, process is complicated, 90% SO2 removed;
Ammonia: High cost, 90% SO2 removed;
Dense flow absorber: Low cost but low reliability in processing, 90% SO2 removed;
Given current macro economy, low cost and low water consumption technology should be more competitive in the market.
Based on revenue, RINO had about 6.8% market share in current iron and steel desulfurization market. The company expected that the market share could be 20% in 5 years.
Wastewater Treatment
Background
In the iron and steel industry, water cooling is used in the whole production process. The cooled wastewater is thus contaminated with gasification products, organic compounds, and large amount of rough solids.
According to company 10K, there are a total of 730 blast furnaces of 300+ cubic meters in size operating in China. 470 have adopted wastewater treatment facilities, but most of these facilities are out of dated. 260 have no wastewater treatment equipment installed.
Except blast furnaces, there are also 670 steel making converters with a capacity of 75 tons in China. Among these converters, 340 have old wastewater treatment facilities, while the other 330 do not.
Similar as desulfurization, wastewater treatment is also manadated by the Chinese government within the following five-year period.
Based on company 10K, the treatment facility for a blast furnace costs $2 million per unit, and for a converter costs $1.7 million per unit. Following is the calculation of total market value: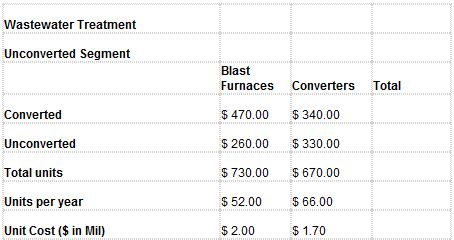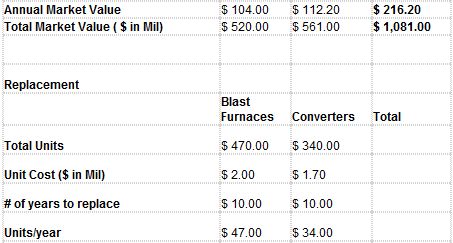 Technology
Current major technologies are:
Membrane separation technology to remove soluble oil and grease

Flocculation to remove fine solids

Sedimentation techniques to remove rough solids

Biotechnology to remove organic compounds
The sedimentation is the necessary step in the industry water treatment process from blast furnaces and converters.
RINO's Lamella Inclined Tube Settler system is one type of sedimentation equipment. This equipment's advantages are:
Low installation cost

Increased throughput

Low maintenance cost
According to company 10K, there is no comparable technology currently available in China.
RINO's Lamella system current has around 4% of market share. The management expects the market share could be 18-20% at 2015.
Anti-Oxidation
Background
During the hot rolling steel heating process, a thick layer of oxidized iron will form on the surface of the steel. The oxidization reduces steel output, adds pollution, and increases energy/water consumption. The production costs will then be much higher. The anti-oxidation is designed to prevent or reduce the oxidation process by putting a protective coating on the steel.
In order to reduce the energy loss caused by oxidation, the government has required the iron and steel industry to use advanced anti-oxidation technology to reduce annual energy consumption by 20% within 5 years.
The production capacity of hot rolling steel is 613 million tons in 2008. The annual growth till 2015 is expected to be 5%.
Technology
There are three technologies adopted:
Vacuum furnace: expensive and can not be applied to all types of steel

Inert-gases protection: fast but expensive

Protective coating: Simple and low cost
Protective coating is common in Chinese iron and steel industry. RINO's technology is called inorganic coating glass, which can be applied to higher temperature than organic coating glass.
RINO's technology has following advantages:
Applicable to a wider range of temperatures for most hot rolling lines. The comparable technologies developed in the US and Europe are mainly used in common steel and alloy steel under normal temperature.
Convenient to use. Just directly spray onto the surface of steel, while other products are applied after the steel is cooled.
The production capacity of hot rolling steel is 613 million tons in 2008. The annual growth till 2015 is expected to be 5%. Each ton of heat rolling steel needs 1.26K ton of paint. Based on ASP of $1265/ton, the market value of 2009 is expected to be $1025.91 million and $1309.35 million in 2015.
Current market share of RINO is less than 1%. Because of the advantages of its technology, the growth of market share is expected to be high.
Financial
Balance Sheet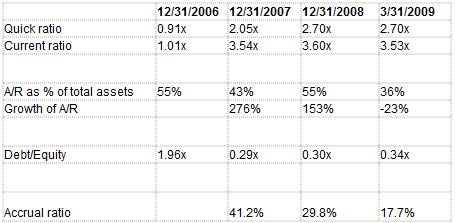 Income Statement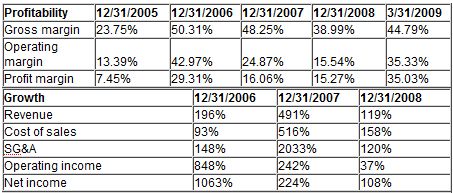 Liquidity ratios improve
A/R improves

Debt increases

Margins improve

Expense growth higher than revenue growth but acceptable

Accrual ratio improves
It is expected that the company will consistently deliver around 30% top line growth, with sustainable profit margins, plus 2-year no-tax for environment protection company policy, FY2009 EPS is expected to be ranging from $2.00 to $2.18 (1Q09 EPS is $0.50). Considering its growth potential, I believe it deserves higher PE ratio.
It is expected that RINO will move from OTC to Nasdaq in the second half of this year, more investors such as large mutual funds can then start to purchase, so the price has great potential.
Risks
1. Corporate governance
CEO and Chairman are husband and wife. Not enough independent board directors.
2. Concentration of major customers
Revenue is generated from a limited number of customers. Top-five customers account for more than 80% of total revenue. Company management said they would expand its sales and distribution throughout China.
3. Fluctuating raw material prices
RINO's raw materials make up the majority of its cost of sales. RINO does not have long term contracts with suppliers. Steel and steel products account for a significant part of RINO's raw material costs. However, the material price is usually factored into the contract value at the time of signing. So most of the time, the raw material price is passed to customers.
4. Impact on Chinese iron and steel industry due to global economy slow down
RINO solely services Chinese iron and steel industry, which is typically cyclical. Recently, the Chinese iron and steel industry has big problem of overcapacity and climbing iron ore price. However, this may also stimulate the demand for low cost domestic technologies that RINO provides. Furthermore, the large economy stimulus package focuses on infrastructure, so there may have strong domestic demand for steel and steel products.
So far I think the ideal entry point maybe below $8.50/share depending on how much margin of safety you want to have.
This stock will definitely be on my buy list but I won't purchase immediately because I want to do a little more research on its management and strategy. I am trying to contact its management to arrange a conference call and want to ask a few questions. I will update if I get valuable information.

Disclosures: Currently none.