Sturm, Ruger (NYSE:RGR) is a compelling value below $12/share. Price target $18.
Long thesis: While the company is rather small in market capitalization (225mm), it has been caught up first positively and now negatively in the "firearm surge" long and short hype - both of which miss the primary point that Ruger has transformed itself from an inefficient manufacturer with an undermanaged but highly recognized brand to an extremely efficient lean manufacturer with a renewed innovative energy and bottom line focus.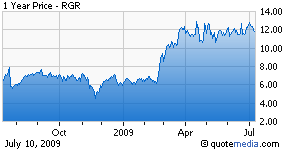 Current management took over the company three years ago from which time it changed a culture, improved returns on capital dramatically, and bought back nearly 30% of the shares outstanding all while maintaining zero leverage and stockpiling $35mm in cash on the balance sheet. Its lean manufacturing combined with its strengthening customer feedback loop allows the company to improve its current product line continuously while innovating higher gross margin niches and micro niches within its core firearm market. The end result has been an increase in operating margins from 1% to 15% and an increase in ROIC from 2% to 20-25%. Ruger has turned and now it enters the next stage of life cycle - sustained growth through core market share gains and potentially an acquisition.
Short Story is over-reaching: Separately, the company is experiencing the benefits of a demand surge in the firearm market which has many short sellers claiming the company is caught up in a "fad". The "fad" thesis is a bit aggressive as the firearms market has been viable for over 200 years but - fair enough - the surge of gun buying by law abiding citizens certainly will not sustain at current levels. However, the current valuation more than reflects the future end of the current demand surge.
Current Valuation: Given RGR has nearly $2/share of net cash, if the cash is backed out from the equity valuation (11.50/share -$2 = 9.50/share), RGR shares are currently valued at just 7.5x (pe) on this year's estimated 1.25 eps estimate and just 8.5x 2010 even when 2010 eps is cut to $1 (and $1 of cash generated is backed out).
Cheap with strong fundamentals and a rock solid balance sheet: So for 8.5x non-peak 2010 eps you get a company that has driven ROIC from 2% to 20%+, repurchased 30% of the company over the past 3 years, with a pristine balance sheet and a newly reinstated dividend. The balance sheet could and probably will be used to acquire adjacent businesses if the capital market seize up again or the surge ends swiftly and some if its less well capitalized competitors are put up for sale.
Price Target: At $15 my down year $1 estimate +$3./share in cash (over a lower sharecount due to an additional buyback), I arrive at a price target of $18/share.
Risk/mitigants: To conclude, I should address the two central risks: 1) a potential abrupt decline in sales due to the ending of the current demand surge and 2) firearm regulation.
On the first point, the current valuation more than fully reflects a decline in earnings next year and a return to trend line sales. Even so, a massive backlog is in place for a business that rarely had any sort of a backlog in its past. On the second risk factor, firearms regulation has taken a backseat in Washington during this congressional term given the more pressing financial and health care related topics du jour. Further, if a ban on automatic weapons is reinstituted, and even greater temporary surge in demand will occur before enactment during which the Ruger will be able to sell through current channel inventory (of which there is none currently due a strong backlog) and rebalance its flexible manufacturing model for the appropriate level of demand.
Short Squeeze likely: As a kicker to this story, the shares are now heavily shorted with the short interest ratio > 11days. Often once shares become this heavily shorted, even weak results but better than the extreme bear case expectations, can cause a violent squeeze providing downside protection and possibly considerable upside. Regardless, Q2 and Q3 at minimum should yield quite impressive earning results in the face of a market that may be starved for earnings growth of any kind - all for less than 7.5x current year earnings.
Full disclosure: The author is long RGR shares