Ethan Allen Furniture (ETH - $10.32)
market cap: $299 million

In my opinion, ETH is one of those rare cases where valuation, fundamentals, and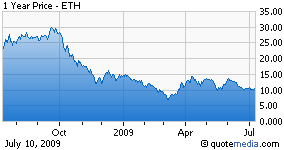 accounting all seem to point in the same direction. Unfortunately for ETH's case, the direction in its stock price is down. While the Company is trading well below its 52 week high of $34.02, it has risen almost 50% off of its March 09 lows as investors covered shorts/moved into plays that could benefit from a housing recovery. As a result, it is currently trading at 29.5 times FY 10 (ended 6/30/10) earnings, a hefty price to pay for a Company exposed to the worst housing crisis since the great depression! As I discuss next, the risk-to-reward potential in shorting ETH is very compelling.
Market position may lead to further demand weakness: Despite significant competition from lower-cost retailers, the Company increased gross margin from 45.8% in FY 01 to 53.7% in FY 08 by differentiating itself as the "preferred" brand. By offering high quality products at value-for-price points and offering a comprehensive complement of home servicing solutions, the Company created a "niche" among upper middle class homeowners. Accordingly, we are concerned the significant pressure from years of living beyond their means, rising unemployment, and the stock market meltdown in 08-09 may be disproportionately impacting this class of consumer. Further, the dearth of "move-up" buyers in the recent housing data suggests many of these consumers may also be significantly underwater in homes they are unable or unwilling to sell. Thus, I believe the Company's key customer group may no longer be willing to pay a premium for design solutions and the highest quality products. As a result, the Company may be subject to significant demand weakness from customers trading down.
Working Capital Deterioration suggests margin pressure: Adding to our concerns, we note several problems with current working capital levels, highlighted below.
Inventory build: In Q3 09, the Company was able to reduce inventory by 6.5% (y/y). However, in the same period, twelve-month revenue (3M COGS) declined 23.1% (33.0%). As a result, inventory-to-revenue increased 21.6% and inventory days (DSI) increased 44.2% to 220 days (from FY 05 - 07, ave. inventory days was 137). The inventory build could lead to further margin pressure, in our view, as the Company is forced to lower prices to free up cash tied up in working capital.
Receivable build: In Q3 09, days sales outstanding (DSO) increased from 4.8 days to 6.2 days (y/y). On the Q3 Conference Call, management indicated that it extended payment terms to customers facing financial difficulties. While this may be rational business practice, I would expect the company to increase its allowance for doubtful accounts (ADA) to compensate for the risk. In the quarter, however, the ADA declined from $2.5 million ($1.8 million) in the prior year (prior quarter) to $1.6 million.
Weak cash flow: In Q3 09, cash from operations was negative for the second consecutive quarter. From FY 04 to FY 08, the Company was able to reduce shares outstanding from 38.3 million to 29.5 million, which has supported EPS numbers and enabled the Company to pay a healthy dividend. In FY 09, the Company has since lowered its dividend to $0.05 and stopped repurchasing shares.
Estimates Too High, In my opinion: While the Street is expecting a loss of $0.22 per share in FY 09, it is expecting earnings to rebound to $0.35 in FY 10 despite a sales decline of 10% (which I believe is optimistic given challenges facing customer base). I'll start with my estimates given Q3 and 9M 09 results.
Sales - Q3 sales declined from $235.9 million to $140.2 million (y/y). The Company generally generates slightly more revenue in FYQ3&4 relative to FYQ1&2. We do not see much improvement in sales but the Street is estimate $162 million FYQ4 09. Annualizing the average of these 2 quarters gives us an estimate of $600 million for FY 10.
Gross margin - Q3 gross margin was 47.1% and YTD was 52.2%. I believe gross margins will likely continue to face considerable pricing pressure due to weak end markets, rising inventory, and lower fixed cost absorption. However, recent capacity reductions will like offset some of the impact. Charitably, I am estimating gross margin and gross profit at 51% and $306 million, respectively.
SG&A - Q3 SG&A (ex-impairments) was approximately $85 million. In the Conference Call, the Company stated that it had generated $20 million in savings in the quarter, and expects to generate an additional $5 million for annualized savings of $100 million. The Company has since issued press releases announcing further cost restructurings that will lead to charges in Q4. Assuming these announcements further reduce savings by $20 million annually, we believe SG&A will be $285 million.
Net income and EPS: We forecast operating income of $21.1 million, non-operating expense (e.g. interest expense) of $10 million, and a 37% tax rate for net profit of $7.0 million. Assuming outstanding shares of 29.0 million, we estimate FY 10 EPS of $0.24, well below the consensus estimate of $0.35.
Valuation: Over the past 10 years, the Stock has traditionally traded between 10 and 20 times forward earnings, which would imply a value between $2.40 - $4.81. In the recession of 2001-2002, the multiple was as high as 23x forward earnings, implying a price as high as $5.53. However, we are not certain a 23x multiple is justified given that housing lead the economy out of recession in 2001-2002 versus driving it into recession this time around.
Risks: Key risks include (1) A recovery in consumer spending would likely increase demand for the company's products. (2) stabilization of the mid-to-high end housing market would increase consumer confidence. (3) The company is able to cut additional capacity without sacrificing long-term growth opportunities.
Disclosure: At the time of posting, the author is short ETH.