Sometimes in the mania of price movement, we get lost in the bigger picture. Tesla's stock (NASDAQ:TSLA) has broken to all-time new highs, on sudden, sharp spikes, on a chart pattern closely resembling a jagged yo-yo.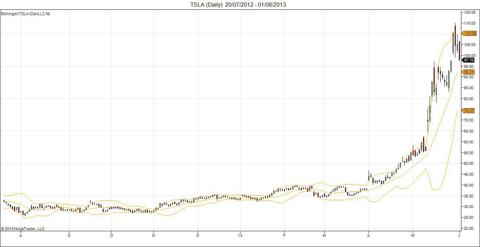 Those price moves are indicative of a stock with such high short interest, peaking at 44% this year. Big money, aware of this crowded short, drove the price much higher after the last reported earnings:
"But back to those Q1 financials: The company reported net income of $11 million on total revenue of $562 million.
Tesla was profitable because it earned $68 million from selling Zero-Emission Vehicle credits (which it earns under California state laws governing vehicle emissions) to other automakers, and a further $17 million from selling Greenhouse Gas emission credits."
Fundamentalists are betting on value, and although the words of CEO Elon Musk state the revenue stemming from these credits may fall, these credits are an over-the-counter product it monopolized the pricing of, and that is not something I want to bet against until we see clear proof the ZEV credits value has declined. As all-time highs get whip-sawed through volatile short covering, it is very difficult to quantify risk, take a look below at what could happen: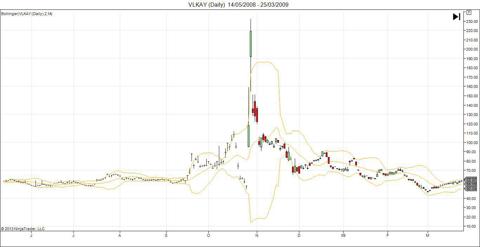 That chart is a daily picture of a series of events that wiped out many shorts of Volkswagen stock back in late 2008.
In an unprecedented move, Porsche, sitting on over 40% of the shares, with options to purchase another 31.5%, made formal plans to buy up to 75% of the company.
The result for shorts was an absolute nightmare!
They were literally trapped, with no available shares; shorts were stepping over each other to get out. The price of Volkswagen nearly tripled overnight, and then crumbled the following day by half after the last of the shorts were fished out.
The merging events, which transpired over the next few months between the two companies is irrelevant, the damage was done.
This is a rare occurrence where my recommendation is to walk away.
As unlikely as this Black Swan event was, it's better to ignore it knowing that some things are better left alone.
Disclosure: I have no positions in any stocks mentioned, and no plans to initiate any positions within the next 72 hours. I wrote this article myself, and it expresses my own opinions. I am not receiving compensation for it (other than from Seeking Alpha). I have no business relationship with any company whose stock is mentioned in this article.