Yesterday, Ashraf Eassa published an article titled "Marvell Technology Group: A Compelling Long-Term Story Tainted By Lawsuit Concerns." In it, Eassa defends Marvell mostly because he thinks Marvell (NASDAQ:MRVL) will have success with new ARM A7-based SoCs including LTE and because he thinks that a lawsuit might be resolved for a value much smaller than presently discounted. I disagree. I believe Marvell at this point is too expensive and has poor prospects in spite of the recent run-up.
Regarding the lawsuit, I agree that any reduction of the massive fine could be a short-term positive. However, the problem is not the lawsuit.
The reason why I'm not a believer
Marvell operates in three significant segments as a fabless chip maker, as follows (Source: 10-K):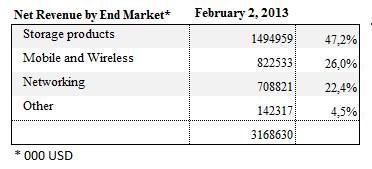 In the Storage products segment Marvell provides controllers for HDDs (hard disks) and SDDs (solid state drives). In the Mobile and wireless segment Marvell provides application and communication processors, and in the Networking segment it provides networking ICs including Passive Optical, Ethernet and other.
While in the past Marvell had a great market position serving BlackBerry/Research in Motion (NASDAQ:BBRY), its fortunes went rapidly downhill together with RIM's. What was left was:
Storage products
This segment is selling into a declining HDD market and facing innovative competition in the SDD side. The end result is a segment whose revenues have been sliding consistently and where there is little reason to believe a turnaround is just around the corner.
Mobile and wireless
Marvell found itself selling isolated ICs for applications and communications at a time when power, cost and packaging constraints meant the market evolved towards integrated SoC containing both the CPU and communications components, as well as the GPU. Now, it is here that Ashraf hangs his hat, in an upcoming ARM A7-based SoC including LTE. For a rough comparison, the ARM A7 core is around 20% slower than a run-of-the-mill A9 which is now being dropped by most vendors in favor of the A15 core or custom (and much faster) A9s. The competitors to Marvell will be companies like Mediatek, tremendously aggressive on price.
So the problem is simple: this segment is massively competitive. You have the Qualcomm monster, but also Samsung (OTC:SSNLF), Apple (NASDAQ:AAPL), Intel (NASDAQ:INTC), Nvidia (NASDAQ:NVDA), Mediatek and God knows who else all trying to make or sell mobile SoCs. The market is so ugly that Texas Instruments (NYSE:TXN) even threw in the towel on it. It's not a market for someone to come in from behind, with a low-end solution, and somehow make a lot of money at it. That's the one reason why I believe Ashraf's faith in Marvell is misplaced.
Networking
While rather mundane, Networking seems to be the one segment where stabilization might be found. Its size in the grand scheme of things should not allow the whole of Marvell to do that well, though, especially since we're just talking about a stabilization of demand.
On the positive side
Marvell still has a $1.9 billion cash hoard and still-significant free cash flow, but net income - its main component - is dropping rapidly. Yet, this still-significant free cash flow is enough for a massive repurchase of shares and a $0.06 per share per quarter dividend. The dividend consumes around $133 million per year, so if net profits continue their decline it might at some point be at risk (against the FY2013 net profit the dividend represented a payout of 43%, but it should be noted that earnings were halved from the year before after having also fallen 32% from FY2011).
Conclusion
What seems to be at stake here, is some kind of hope that Marvell will regain the glories of yore. Those glories, though, we attained in an environment with higher demand for its storage products and massively higher demand for its high-margin application and communication processors. As those two markets stand today, those glories do not seem likely to return.
Hanging the hat on a low-end SoC in a hyper-competitive market strikes me as faith-based speculation bound to be hit by cold reality and low margins. Marvell, as it stands today, is quite a bit expensive. It trades at around 9.5 times EV/EBITDA for a company losing revenues in its two main segments. The stock can easily go lower, even without giving any consideration to the lawsuit.
Disclosure: I have no positions in any stocks mentioned, and no plans to initiate any positions within the next 72 hours. I wrote this article myself, and it expresses my own opinions. I am not receiving compensation for it (other than from Seeking Alpha). I have no business relationship with any company whose stock is mentioned in this article.