Colgate-Palmolive (NYSE:CL) is a global leader in oral care and personal hygiene. With its recent product launches and operational efficiencies, shares of its stock should continue to reward patient investors. In a recent investor conference, Colgate highlighted these efforts and the company's commitment to them.
Over the past twenty years, Colgate has outperformed the S&P 500 significantly (see graph) and while the company is not likely to repeat this performance in the next twenty years, Colgate will surely remain one of the most successful brands in the personal hygiene and oral care businesses. If the company decided to divest its relatively smaller Hill's Pet Nutrition division, this could be an additional catalyst for Colgate to streamline its operations further, while capitalizing on this business.
Most importantly, the top five executives at Colgate were compensated a total of $39.3 million in 2012, of which over 50% or $20.5 million was in the form of stock and option awards. Investors looking for a growing but stable company where management's interests are closely aligned with those of its shareholders should consider Colgate.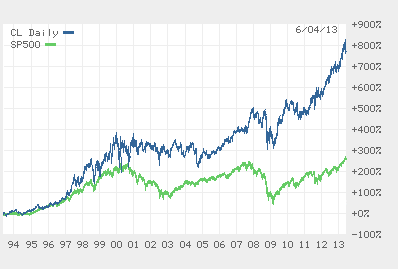 Valuation and fundamentals
Colgate has 933 million shares outstanding following a 2-for-1 split in May '13 for a market capitalization of about $55 billion and an enterprise value of $58 billion. This puts Colgate's size in between Procter & Gamble (NYSE:PG) and Church & Dwight (NYSE:CHD), two major competitors in the consumer packaged goods space, which have a market capitalization of about $210 billion and $8.4 billion, respectively. Below is a snapshot of major valuation and fundamental characteristics for each company:
| | | | |
| --- | --- | --- | --- |
| | CL | PG | CHD |
| Price-to-earnings (2013) | 20.5 | 19.2 | 21.6 |
| EBITDA margin | 24.5% | 21.6% | 22.1% |
| Enterprise value to EBITDA | 13.1 | 12.1 | 13.5 |
| Price-to-earnings-to-growth | 2 | 2.7 | 2 |
| Price-to-sales | 3.2 | 2.5 | 2.8 |
| Beta | 0.4 | 0.4 | 0.4 |
| Dividend yield | 2.3% | 3.1% | 1.9% |
| 1-year total return | 20.6% | 26.5% | 14.3% |
| Recent quarterly organic sales growth vs. last year | 6% | 3% | 2% |
Source: Thomson-Reuters, CapitalIQ, SEC filings; EBITDA - earnings before interest, tax, depreciation, and amortization.
As seen from the table above, Colgate offers the best EBITDA margin and price-to-earnings-to-growth ratio. Also, its dividend yield is higher and its price-to-earnings ratio is lower than those of Church & Dwight, a smaller competitor with 79% of revenues from U.S. sources compared to 20% for Colgate. Colgate's exposure to faster-growing emerging markets and its ability to spread overhead costs on a global basis is one of its major advantages. For example, the Optic White toothpaste was launched almost two years ago in the U.S. and is currently selling in 85 countries and soon will be sold in all 200 countries where Colgate operates. Optic White is built on hydrogen peroxide, something that dentists use for tooth whitening and Colgate, for the first time, was able to make stable in toothpaste.
New Initiatives
Colgate spends between 10% and 11% of its revenues on advertising. As a result Colgate is the highest penetration brand globally after Coca-Cola (NYSE:KO). Colgate is enhancing its advertisement mainly using the following techniques:
Hiring famous personalities across the globe to vouch for its products - most recently in North America it hired the TV personality Kelly Ripa and the pop group One Direction.

Focusing on three campaigns: paid (by paying for media time), owned (by owning Facebook and Twitter pages), and earned (what independent sources are saying about its products).

Using data analytic tools to target its audience better. For example, new technology provides the company with ability to track its sales in real time and with personal data about its customers. Due to these capabilities, Colgate can measure results and make decisions faster and also target customers better.
In addition to building its brand through advertisement, Colgate is also continually focused on effectiveness and efficiency. Its recent global growth and efficiency program aims to make these efforts even faster. Currently, the program is estimated to contribute $275-$325 million in savings through 2016 by:
Hubbing - Combining the management of several country operations into one country while keeping operational resources in each country.

Leveraging of the SAP systems around the world - This will provide more transparency and consistency across the globe.

Optimizing the global supply chain - Reducing the number of plants from 85 in the early 2000s to less than 50, allowing for better efficiency and utilization and keeping a relatively low number of SKUs (Stock Keeping Units) to improve manufacturing and display efficiency.
For comparison, Procter & Gamble is also running a cost cutting program but is focusing more on reducing non-manufacturing staffing. It has already reached its goal for this fiscal year to reduce non-manufacturing employees by 10% and is expecting to obtain its objective of a 16% to 22% reduction by end of fiscal 2016. And due to productivity improvements in manufacturing, it is adding 20 new plants without expanding its headcount. Also, it is targeting $1.3 billion cost of goods savings for next fiscal year on top of $1.2 billion this year. It seems like Procter & Gamble is cutting costs while still actively increasing its products across markets. A drawback of this strategy is that it has not been able to manage its SKU proliferation as well as Colgate has.
Finally, Church & Dwight does not have a set cost savings program but is constantly striving for cost savings and efficiencies. Also, it is able to realize acquisition synergies, most recently with the purchase of the leading gummy form vitamin and supplement company Avid Health. Church & Dwight is best known as the company with one of the lowest overhead costs in the consumer packaged goods industry and the highest revenue per employee. Smaller exposure to emerging markets where revenues per employee are lower is also contributing to these industry-leading metrics.
Hill's Pet Nutrition
While Colgate was slow in competing with pet food companies that started offering natural choices, its Hill's Pet segment is catching up and Colgate should see better results in this segment during the last two quarters of 2013. Investors should trust that Colgate's efforts at Hill's Pet will have results as it recently launched a new Ideal balance diet, relaunched the Science diet, and launched the Prescription diet. Also, it launched a metabolic range of offerings with a breakthrough formulation which keeps pets from obesity. Currently, Hill's Pet Nutrition generates a small share of the company's sales (about 13% in 2012) and its net sales decreased slightly in 2012 compared to 2011. It is clear that Hill's Pet Nutrition is not a core business and that is slowing down Colgate's stellar performance. A sale of Hill's Pet Nutrition in the future seems like a logical thing to do.
Conclusion
It seems like nothing can slow down Colgate in reaching more customers with innovative products across the globe. Most recently, the company has decided to improve its standing in the mouthwash business. According to its discussion with investors, these efforts will pay out due to Colgate's brand recognition.
To sum it up, Colgate is a well-run company that performs well in different economic scenarios and whose management interests are aligned with those of general shareholders. Also, the tangible efficiency and product innovation initiatives Colgate is undertaking and a possible spin-off of the Hill's Pet Nutrition segment at the right time could provide upside opportunities.
Disclosure: I have no positions in any stocks mentioned, and no plans to initiate any positions within the next 72 hours. I wrote this article myself, and it expresses my own opinions. I am not receiving compensation for it (other than from Seeking Alpha). I have no business relationship with any company whose stock is mentioned in this article.