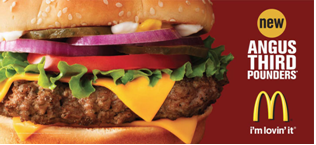 I'm sure quite a few eyes rolled when reading the title of this article. "Green Shoot" has been thrown around the financial media incessantly over the past few months, to the dismay of many. The thought that a new menu item at McDonald's (NYSE:MCD) [57.05, +0.28 (+0.49%)] is a glimmer of hope for the economy is, admittedly, a little preposterous. While I don't believe the 1/3 pound premium sandwich signals a recovery, it does say something about the future of consumer spending. If there is one company that knows a little something about the everyday consumer, it is McDonald's.
Now, the most obvious argument against the idea of using this big burger as an economic indicator will be brought up by anyone that saw the CNBC special on Mickey D's back in July or 2007, entitled Big Mac: Inside the McDonald's Empire. While focusing on McDonald's menu R&D efforts, the program touched on a new premium offering they are closing in on: the Angus Third Pounder. This would leave some to assume the Golden Arches are only coming out with a new premium item because they made the decision to start developing it way before the meltdown of the markets, and concurrent meltdown of consumer spending. While it is true the 'chefs' at McDonald's began working on the burger before the recession, they had complete control as to when to release it. While they were still hammering out some kinks, namely concerning their suppliers, the impression was that the sandwich was near completion. The fact that they chose not to release the new menu item throughout 2008, and even through Q1 2009 is very telling.
Does it mean the executives at McDonald's think the recession is over? I don't believe so. As the economic tumult, or at least the public's perception of it, was at its worst, people were cutting back on everything. Within whatever store or restaraunt they would patronize, they would gravitate toward the least expensive option. This was not so much out of neccesity, but out of a feeling that they should be cutting back in every part of life. This makes sense when looking at McDonald's release of the McDouble several months ago, which is essentially a cheaper version of the double cheese burger (double the meat, not double the cheese.) Even within an extremely cheap establishment such as McDonald's, consumers wanted the lowest possible prices. If McDonald's simply increased the price of a double cheeseburger without finding a still-cheap (although many would consider $1.19 to still be cheap) alternative, McDonald's appeal would most likely suffer, at least to some extent.
Going forward, it is my view, and I believe the view of McDonald's management's, that a long-term trend is developing in a world of deleveraging consumers: Luxury within frugality. This means choosing McDonald's over Panera Bread (NASDAQ:PNRA), but 'splurging' therein. In this case, shelling out $4 for a 'high-quality' burger.
Of course some customers will still choose the cheaper options, but McDonald's is making sure to capture a key sub-demographic – one that is seeking some middle-ground amidst the new Penny-Pincher Era.
Disclosure: The Fund the author is associated with is long MCD.