Following Monday's weaker-than-expected ISM Manufacturing report, we noted that the more important report for investors to watch was the ISM Non-Manufacturing report, given that services makes up a much larger slice of the U.S. economy than manufacturing. That report was released this morning, and it came in better than expected. While economists were looking for the index to increase from 53.1 to 53.5, the actual reading came in slightly better than expected at 53.7.
Below are charts of the ISM Non-Manufacturing Index going back to 1997, as well as the combined ISM reading, which accounts for the size of the Manufacturing and Non-Manufacturing sectors in the U.S. economy. On a combined basis, the ISM index not only remained above 50 (threshold for growth), but it also rose modestly on the month from 52.8 to 53.1.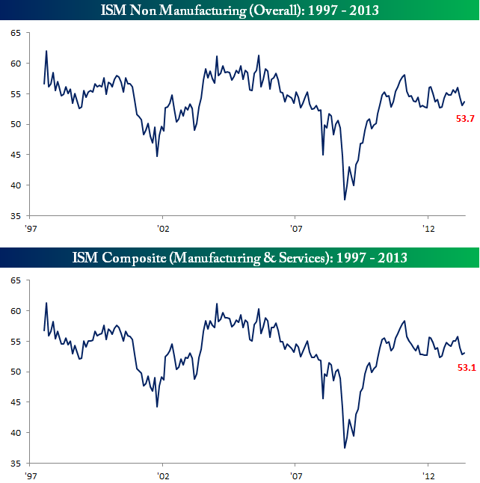 The table below breaks out the ISM Non-Manufacturing Index based on each of the individual subcomponents. We then compare each of the components to its reading last month and last year. In this month's report, the only components that did not show growth (50 and below) were Export and Import Orders. While weak exports makes sense when you consider the dollar's strength, the steep decline in imports is a little more puzzling.
This month we saw growth in Business Activity and New Orders relative to last month and last year, which is encouraging. On the downside, five subcomponents saw declines relative to last month, and eight saw declines compared to a year ago. In all, this month's ISM Non-Manufacturing report fits in perfectly with the Bernanke-Locks scenario of sub-par economic growth and low inflation. (For charts of each component, please click here.)