Occidental Petroleum (NYSE:OXY) is an oil related stock you carry around in your portfolio if you want capital appreciation and a dividend. In all actuality since the beginning of 2013 Occidental is up 23.04% excluding the reinvestment of dividends. What OXY really is, is a good dividend paying stock that moves at the speed of light when compared to peers such as Exxon Mobil (NYSE:XOM) and Chevron (CVX), each of which are only up 4.9% and 13.69% respectively. I design my portfolio with growth as my main focus, and in Occidental I get growth and a good dividend. Occidental is one of the largest integrated oil names in the business and has been raising its dividend payouts for at least the past eleven years. This kind of dividend-growth consistency is what I look for in a dividend paying company and coupled with its growth story is why I like it as a "growth and income paying" company. With all this in mind let's take a quick fundamental and technical look at the company and determine if it's worth buying at these levels.
Valuations
Occidental currently trades at a trailing twelve month P/E ratio of 17.23 which is moderately priced, but that doesn't bother me too much because I like to purchase a stock based on where the company is going in the future as opposed to what it has done in the past. On that note, the 1-year forward-looking P/E ratio at 12.64 is inexpensive to me. If all holds true and there aren't any earnings revisions from the company within the coming year, I believe the stock can go to $112 for a 19% gain before I can consider the stock rich for my blood. But there seems to be macroeconomic headwinds approaching (in the form of falling oil prices) which will make that 1-year forward P/E of 15 I'm targeting difficult to attain. However, the PEG ratio (2.37) which measures the ratio of the price you're currently paying for the trailing twelve-month earnings on the stock while dividing it by the earnings growth of the company for a specified amount of time (I like looking at a 5-year horizon) does tell me Occidental is expensive for the longer-term outlook.
Financials
On a financial basis the things I look for are the dividend payouts, return on assets, equity and investments. Occidental boasts a dividend of 2.72% with a payout ratio of 42.25% while sporting return on assets, equity and investment values of 6.4%, 11.12% and 7.31%, respectively. These are all very respectable values but not high enough for me personally to consider buying my full position in the stock. If maybe you feel the market will retract a little more and would like a safety play then maybe the 2.72% yield of this company is good enough for you to take shelter in for the time being. The payout ratio is not too bad and has room to grow even if earnings cannot be grown. The company has raised dividends for the past eleven years and I would look for it to continue raising it at a pretty good double-digit clip.
Technicals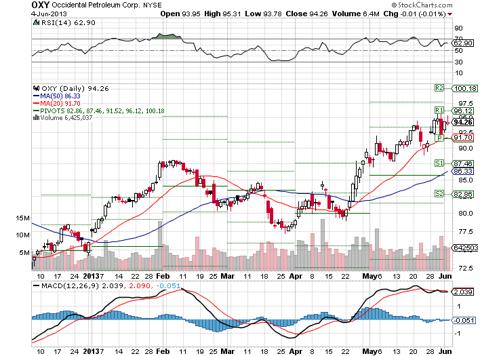 The relative strength index chart (RSI) stands at 62.90 which means it is near overbought territory, and the moving average convergence-divergence (MACD) graph illustrates that the stock may be losing some momentum for the time being with the black line crossing below the red line with a bit of divergence being evidenced to the negative side. There seems to be a bit of weakness in the technicals, which makes me cautious on buying a big portion right now. I would wait and watch if the stock will test the 20-day average before it moves up again. If it fails at the 20-day average I'd look for it to test $87.46, but if the 20-day acts as support then we can see the stock move up to $96.12. The risk reward is 7% downside to 2% upside, which is just not good for me right now.
Recent News
Occidental is contemplating strategic alternatives to create value for shareholders by analyzing what a breakup of the company could look like.
A $0.64/share dividend will be payable on July 15 to shareholders with an ex-date of June 8.
Conclusion
After the technical analysis I can't personally step in here and add any more to my position because I believe I can get it at a cheaper price. The reason is because the stock looks to be in the vicinity of overbought territory with downward momentum. The near term (1 yr) outlook on the company looks great for growth but I would have to reevaluate after a year to see what is going on for the long term in terms of growth. If capital appreciation is not your cup of tea then perhaps the dividend story may compel you to make a buy on the stock. I am already long on the company but won't be making any additional purchases in the next couple of weeks. I will let my current position collect my dividend and revisit the stock probably in the next couple of months.
Disclaimer
These are only my personal opinions and you should do your own homework. Only you are responsible for what you trade and happy investing!
Disclosure: I am long OXY. I wrote this article myself, and it expresses my own opinions. I am not receiving compensation for it (other than from Seeking Alpha). I have no business relationship with any company whose stock is mentioned in this article.