Last week, the session border controller (SBC) pure play Sonus Networks (NASDAQ:SONS) met with Jefferies & Co. The analyst subsequently upgraded the shares to outperform sending Sonus' shares up over 30% in 3 days of trading. Also, last week, AudioCodes (NASDAQ:AUDC) announced that it released a new SBC with increased sessions to broaden its offering from 800 sessions to 10,000 sessions in 2013 and to greater than 10,000 sessions in 2014, a significant revenue driver for it. In addition, AudioCodes released its new software for cloud and hosted environments which services the Carrier space something it has never done before. This now makes it a direct competitor to Sonus, Cisco Systems (NASDAQ:CSCO) and Oracle (NASDAQ:ORCL) (via Acme Packet acquisition) in the Carrier space. The SBC enterprise market is estimated to be worth $1 billion by 2016 while the SBC carrier market is estimated to be $1 billion plus. Recently, Oracle cleverly swooped in to acquire Acme Packet at 6.5 times sales and now Sonus and AudioCodes are positioned to be taken out next.
Here are the reasons to own Sonus and AudioCodes at what I believe are deep discounts to their intrinsic value:
Sonus Networks:
· Empire Capital management, a technology driven hedge fund, has acquired 15% of the shares over the past 12 months. When funds go over 10% it is a sign of confidence and indicates that a tremendous amount of homework has been assigned to the investment.
· Fidelity Management has now increased its investment in Sonus over the past two quarters from about 1 million shares to over 9 million shares. Speculation is that it will increase its position to 20 - 27 million shares.
· Sonus is referred to as the pure play of the publicly traded companies in the SBC market.
· Sonus acquired Network Equipment Technologies (NET) (a weaker competitor of AudioCodes) in 2012 in order to participate in the enterprise SBC and unified communications (UC) markets helping it grow its total available market (TAM).
· 2014 Revenues (estimate): $300 million. Revenues will see 11% growth over 2013.
· 2014 EPS (estimate): $0.12 per share.
· $1 per share in cash which is equal to $278 million.
· I estimate the company could earn $0.25 - $0.35 per share with costs taken out post acquisition.
· 20 times post acquisition EPS gives you a target price of $5.00 - $7.00 per share.
· Likely acquirers: Cisco Systems, Polycom (NASDAQ:PLCM), Ericcson (NASDAQ:ERIC).
AudioCodes:
· CEO and co founder own 25% of the 38.5 million shares outstanding. This lends to the thought process that the company's exit strategy will be to sell the company since so much of the shares belong to insiders.
· Rima Asset Management owns 8% of the shares.
· Fidelity Management was the largest holder in Acme Packet prior to its takeover, and had a small stake in Sonus along the way. I believe that as Fidelity builds up its position in Sonus it will initiate a position in AudioCodes over the coming months.
· AudioCodes has a strong mobile strategy that has yet to be fully detailed, but which I believe could prove very valuable.
· AudioCodes' One Voice for Microsoft Lync strategy allows Microsoft (NASDAQ:MSFT) to bid for UC contracts on a price per seat basis. This puts Microsoft on an equal footing when going up against Cisco Systems on a contract bid.
· $1 per share in cash which is equal to $38 million.
· 2014 Revenues (estimate): $155 million. Revenues will see 15% growth over 2013.
· 2014 EPS (estimate): $0.30 - $0.40 per share.
· I estimate the company could earn $0.60 - $0.80 per share with costs taken out post acquisition.
· 20 times post acquisition EPS gives a target price of $12.00 - $16.00 per share.
· Likely acquirers: Microsoft, Polycom, Hewlett Packard (NYSE:HPQ), Dell (NASDAQ:DELL), Avaya or a mobile or fixed line service provider.
Why would someone pay up or acquire Sonus or AudioCodes?
Over the past few years, Google (NASDAQ:GOOG) has spent a lot of time and money on a new browser protocol called WebRTC (real-time communications) with the support of Cisco, Firefox and many other companies. WebRTC is all about browser to browser communications. In short, there will be no need for the downloading of Whatsapp, Skype, Viber, Tango and the 1,000s of OTT applications as the connection will be browser to browser. This is going to create a massive appetite for enterprises and consumers to own SBCs. To give you a flavor, Google, not me, says there will be 1 billion WebRTC browsers ready by year end. I believe SBCs will sell like wild fire and could pass the $1 billion estimated TAM. Additionally, smartphone browsers will need to be addressed by the service providers both wireless and fixed line. No one seems to be paying attention to WebRTC at the moment, but like many of Google's endeavors it only hits you when it's fully blown and ready for use (think Google search, maps, earth, talk, glass etc...)
Microsoft is not lost in the soup here, it is also engaged in WebRTC but since it acquired Skype it is looking to broaden the standard that WebRTC uses. We can see the beginnings of this integration as it integrates Skype into its Lync platform this month. Cisco with 42% and Microsoft with 26% of UC market share, we are seeing a greater push to get enterprises to switch to all SIP voice networks which is the sweet spot for SBCs.
Enterprises are not afraid of the cloud anymore, in fact, they're embracing it and allowing employees to bring your own device (BYOD) to the networks. This is increasing demand for voice networks to be pure IP based to provide pure VoIP service.
Charts:
SONS: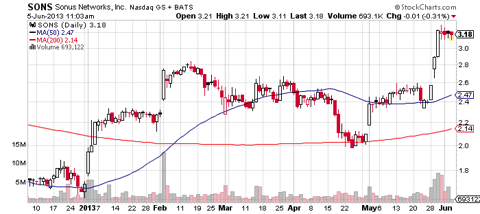 Sonus recently had a textbook breakout at $2.60 and it ran up to $3.25. It is now in a flag pattern and a breakout above $3.25 should take the shares to $4.00 very fast. Once it breaks $4.00 then the next target would be $7.50.
AUDC: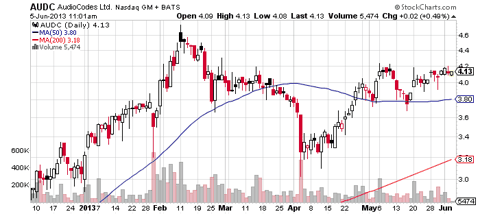 AudioCodes is in a rising wedge pattern and a breakout above $4.25 will quickly take the shares back to 52 week highs at $4.75.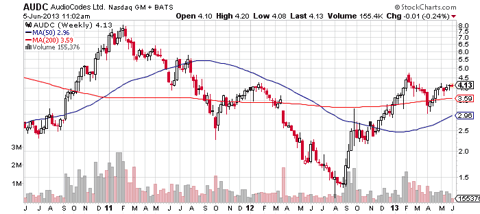 I have included a weekly chart as we can see AudioCodes on the cusp of breaking out of an inverse head and shoulders pattern which has been in effect since October 2011. A breakout above $4.75 which could happen soon, will give AudioCodes an initial price target of $7.50 and further price target of $12.50.
Conclusion:
This morning Oppenheimer raised its price target on Sonus to $4 per share from $3 per share. Opco believes that as enterprises move their communications to the cloud and allow BYOD on their platforms, SBCs will be sought in large demand. I like this view and applaud Oppenheimer's call this morning. Since the call was on the sector, I believe the analyst should also raise his target for AudioCodes as he covers both names. I believe that you cannot discount AudioCodes' 10 years experience in the enterprise market, or its discounted valuation anymore. The growth is in SBCs, first Acme Packet went down to Oracle and next it'll be one of these two players, don't be shy at these valuations.
Disclosure: I am long AUDC. I wrote this article myself, and it expresses my own opinions. I am not receiving compensation for it. I have no business relationship with any company whose stock is mentioned in this article.