In the last few days, there were several encouraging developments for the investors of Nokia (NYSE:NOK). In this article, I will share and review some of these developments.
Kantar Research
As I mentioned in many of my articles before, Kantar is a research company that studies many different things along with market share of different operating systems. While some results are announced on a monthly basis, others are announced on a quarterly basis. Recently, Kantar has announced market share results for last April. The results were encouraging not only for Nokia but also for Windows Phone (NASDAQ:MSFT).
As the table below suggests, Windows Phone continues to gain market share in pretty much every market it sells. In Germany, the market share of Windows Phone jumped from 4.1% to 6.4% between April of 2012, and April of this year. In Great Britain, the market share of Windows Phone was up from 4.0% to 8.4% in the same period. In France, Windows Phone enjoyed a market share growth from 2.5% to 6.2%. While in Italy, Windows Phone's market share jumped from 6.7% to 10.5%, the Spanish market share fell from 2.5% to 1.5%. Spain was the only market where Windows Phone reported a market share decline in this study. In the U.S., Windows Phone's market share was up from 3.8% to 5.6%. Finally, in the European Union Windows Phone's market share increased from 3.7% to 6.7% between last year's April and this year's April. Apart from Windows Phone, Android (NASDAQ:GOOG) was the only operating system that reported consistent market share growth across markets. Symbian and BlackBerry (NASDAQ:BBRY) reported sharp declines whereas iOS reported a relatively small decline in market share.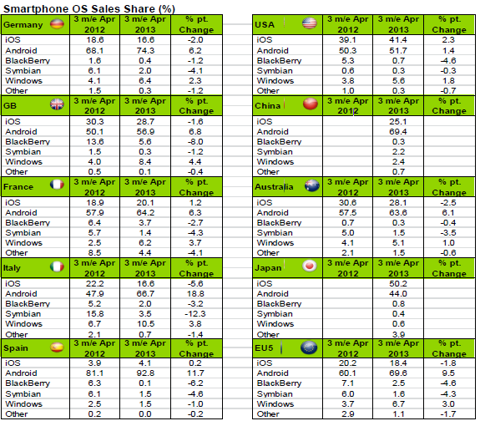 Appmtr.com
An application tracking website appmtr.com reported another interesting point regarding Nokia. The website looked at the number of people that are actively using Facebook (NASDAQ:FB) through the applications that are designed for their Nokia phones. According to the numbers, in March, there were 350,000 Nokia users that were accessing Facebook from their mobile phones whereas in May, the number of users jumped to 570,000. Of course this number could be interpreted in different ways. One could say that the numbers indicate that Nokia is selling more phones. Another person could say that Nokia users are using their phones more actively. Another person could also say that more Nokia users are switching from feature phones to smartphones where applications like Facebook are available. I am in the third group.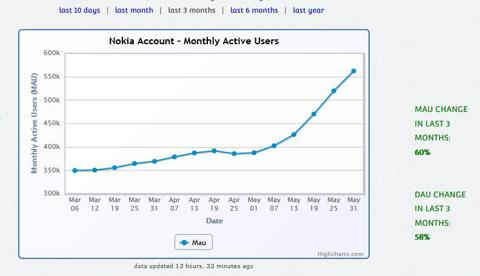 AdDuplex
A couple weeks ago, AdDuplex, another research company announced market share within the Windows Phone ecosystem for different phones. According to the data, Nokia's Lumia 920 continues to be the highest-selling Windows Phone. Furthermore, the company's Lumia 520 reached a market share of 4.4% soon after being launched in the market. Considering that the Windows Phone ecosystem currently amounts 10-12 million devices, a market share of 4.4% would correspond to 440,000-530,000 phones. It's a good start for Lumia 520. Keep in mind that Lumia 520 is a similar but separate model from Lumia 521, which currently sells at Wal-Mart (NYSE:WMT) in the U.S.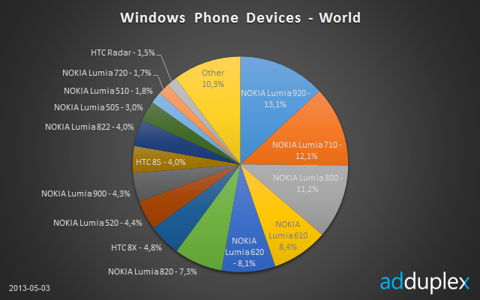 Furthermore, Nokia's market share continues to stabilize at 80%, which means that the company produces four out of every five Windows Phone devices sold in the market.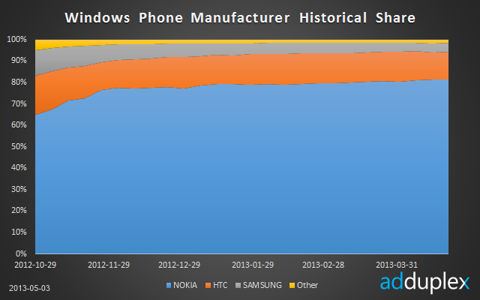 comScore
Another piece of research conducted by comScore showed that the market share of Windows Phone in the U.S. is starting to stabilize. While the number of Windows Phones sold increased in the last few months (by 143,000), the increase was not large enough to gain any meaningful market share. Meanwhile, according to the same data, BlackBerry continues to lose market share in the U.S.
Canalys
Canalys, another research company that examines mobile phones along with other things, published its predictions for 2017. The company predicts that Android's current market share of 67.7% will stabilize at 67.1% as the operating system sells another 1 billion phones between now and then. Apple's market share is expected to fall from 19.5% to 14.1%. Windows Phone's market share is expected to rise from 2.4% to 12.7% globally. BlackBerry's market share is expected to fall from 4.8% to 4.6%. It looks like Canalys expects Windows Phone to steal a lot of market share from Symbian, iOS and BlackBerry. Only time will tell the accuracy of these predictions.
Verkkokauppa
Finally, a Finnish retailer Verkkokauppa.fi published return statistics for the phones it sells. Up until now, many people have claimed that users of Lumia phones are not very happy and that this is proven by return numbers, even though no return numbers were released by any store until now. The Finnish retailer shows that Lumias have much lower return rates compared to iPhones or Galaxy phones. Of course one could argue that these results may not generalize to the world population, since Finland is home of Nokia and people might see the company's products as more favorable than the rest of the world would. Still, this is the only data point we have so far and it's very encouraging for Nokia.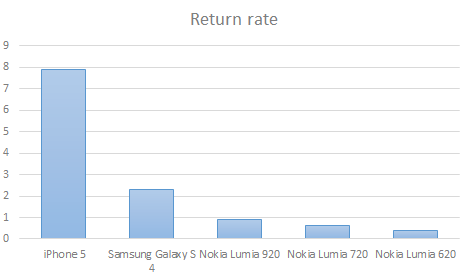 In T-Mobile's website, the users rated Lumia 521 with 4.9 out of 5.0. The same phone was rated in Wal-Mart's website with the same score. Currently, the phone is getting a lot of positive reaction from the users. I bet a lot of people who own high-end phones are buying this phone as their back-up phone since high-end phones tend to run out of battery power very quickly.
Conclusion
Nokia's improvement continues slowly but surely. As the company trades for values near its book value and for 0.3 times its revenues, the company continues to have an attractive valuation.
Disclosure: I am long NOK, MSFT, BBRY. I wrote this article myself, and it expresses my own opinions. I am not receiving compensation for it (other than from Seeking Alpha). I have no business relationship with any company whose stock is mentioned in this article.