At about $63.71, the stock of Qualcomm (NASDAQ:QCOM) is currently trading about 7% off its 52-week high achieved in March, and offers a 2.2% dividend yield. I believe investors should buy the shares on any price weakness based on the following five reasons:
1. Qualcomm is attractively priced relative to its peers in the semiconductor space. According to the chart shown below, Qualcomm's consensus revenue, EBITDA, and EPS growth estimates are considerably above the peer averages. Similarly, the company's various profitability margins and capital return metrics are also largely above par. In terms of leverage and liquidity, Qualcomm does not assume any debt on its balance sheet. The firm's free cash flow margin is substantially above par. Both Qualcomm's current and quick ratios are fairly in line with the group averages, reflecting a healthy balance sheet condition.

Given the superior growth potential, robust margin performance, and healthy liquidity position, I believe Qualcomm should reasonably command a premium valuation. However, the stock's current price multiple at 13.8x is 4% below the peer average. After accounting for the five-year earnings growth estimate, the stock's PEG ratio is even 21% below the average, suggesting Qualcomm shares are likely trading at a notable discount relative to its financial performance (see chart above).
2. Over the past six months, Qualcomm's forward P/E multiple has compressed by 7% and it is currently 9% below the same multiple of S&P 500 Index, which stands at 15.1x (see chart below).

This relative valuation level implies a great buying opportunity to me provided that 1) Qualcomm's consensus revenue, EBITDA, and EPS estimates for the current and next fiscal years have experienced multiple upward revisions over the past six months, suggesting the company has been progressing nicely over the period (see charts below); 2) the stock's forward P/E multiple traded at a 10% premium over the market six months ago; 3) Qualcomm's five-year earnings growth estimate at 14.5% is considerably above the average estimate of 8.2% for the S&P 500 companies; and 4) Qualcomm also offers superior profitability and free cash flow margins, which are markedly above its industry and the market averages.



3. From a historical standpoint, Qualcomm's current valuation also looks cheap. The stock's trailing P/E multiple is now near its three-year bottom level (see chart below).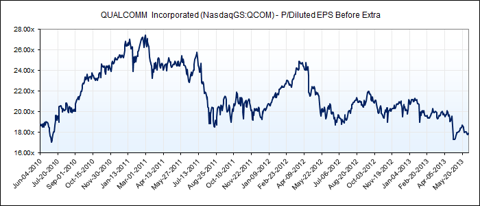 Nevertheless, over the past three years, the company has managed to maintain a steady return on capital (see chart below). Despite the fact that Qualcomm's consensus revenue, EBITDA, and EPS growth estimates for the next few quarters are showing a downtrend, their averages are only slightly below the three-year historical average levels (see chart below).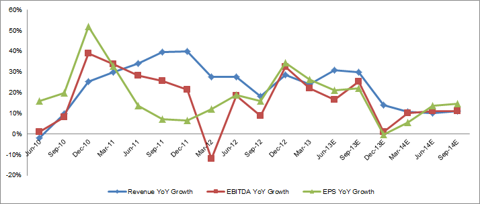 4. From a technical perspective, the stock's 250-day simple moving average ("SMA") has been supporting the downside since 2011, and the current share price is near the 250-SMA (see chart below).

5. Qualcomm is one of sell side's favorite stocks. Of the total 44 analyst ratings compiled by Thomson One, there are 14 strong buy and 23 buy ratings, and the one-year price target of $74.75 is 17% above the current share price. In a JMP Securities research note recently released on May 23, Alex Gauna raised its price target from $75 to $80 quoting the following rationale, which suggests Qualcomm would continue to maintain its solid market share at least in the near term (sourced from Thomson One, Equity Research):
"All signs continue to point to Qualcomm extending its LTE market leadership and 3G reach into emerging markets in 2013, and our present expectation is for competitors to make only marginal inroads in LTE in 2014. Specifically, we learned from several OEMs and test equipment vendors that power efficiency still needs to improve for the more proven LTE hopefuls such as GCT Semi and Sequans(NYSE:NR), and we have yet to come across an industry source that is particularly bullish around Intel or Broadcom LTE prospects even though it is clear the two companies are hiring and spending on test equipment in an effort to get there. Net, we see ample room for Qualcomm to remain the dominant LTE connectivity provider on differentiated advantages in power efficiency, transmit paths, carrier aggregation roadmaps, Apps Processing and WiFi integration, and we believe this has favorable implications for market share, ASPs and margins over the next six quarters."
Bottom line, as Qualcomm shares are trading at a discount to its fundamentals, investors should be buying at the current price level.
All charts are created by the author except for the consensus estimate tables, which are sourced from S&P Capital IQ, and all financial data used in the article and the charts is sourced from S&P Capital IQ unless otherwise specified.
Disclosure: I am long QCOM. I wrote this article myself, and it expresses my own opinions. I am not receiving compensation for it (other than from Seeking Alpha). I have no business relationship with any company whose stock is mentioned in this article.