Drug stocks continued this year's winning ways in May, with the S&P Pharmaceuticals SPDR (NYSEARCA:XPH) notching a 4.75% return last month and a year-to-date return of 23.96%.
But do those heady returns mark a top and if not, which stocks should you buy?
In April, I wrote why you may want to fade the broader healthcare ETF (NYSEARCA:XLV) this summer. But, according to data from the Seasonal Investor database, you don't have to avoid every healthcare industry. Instead, you may find solid returns by narrowing your focus to drug stocks.
Since launching in 2006, the S&P Pharmaceuticals ETF has a solid track record of rewarding investors through summer. Why? Because the busy conference season provides lots of industry updates for analysts to digest and shaky summer months tend to reward news driven stories such as drug pipeline announcements rather than earnings.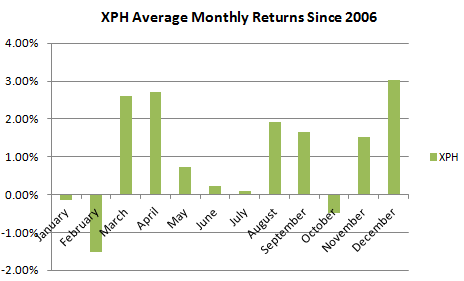 Drug stocks' summertime strength becomes more compelling when you consider the XPH has outpaced the S&P 500 ETF (NYSEARCA:SPY) in every month except July. And notice three of the XPH's best months for generating market beating returns occur in June through September.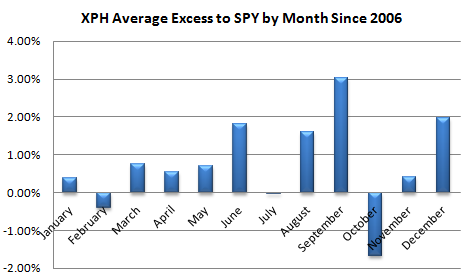 What healthcare stocks may still head higher?
Given the potential running room, it might be a good time to buy Abbvie (NYSE:ABBV), formerly part of Abbott Labs (ABT), Alexion (NASDAQ:ALXN) and United Therapeutics (NASDAQ:UTHR). Each has a history of trading higher through August. Importantly, each has compelling product and pipeline opportunities.

AbbVie Inc.
The first seasonally strong drug stock is AbbVie, the biotechnology spin-off from Abbott Labs most known for its blockbuster immunology drug Humira.
Shares of Abbvie have marched steadily higher since its spin-off thanks to positive Phase II trial results for its Hepatitis C drug ABT-450. I wrote more about the market opportunity for AbbVie last fall here and here.
AbbVie hopes ABT-450's oral dosing and non-reliance on interferon - a drug associated with severe side effects - can capture share among the 2 million-4 million people in America and 5 million-10 million people in Europe infected with the disease.
The drug, currently in phase III trials, could mean big bucks for AbbVie given Vertex's (NASDAQ:VRTX) Hepatitis C drug Incivek was the fastest drug ever to reach billion dollar blockbuster status after launching in the summer of 2011.
Incivek sales have slumped as doctors and patients await these new upcoming oral alternatives. Even so, Incivek still generated $234 million in sales for Vertex in Q1. And, Incivek's competitor Victrelis - manufactured by Merck (NYSE:MRK) - still produced Q1 sales of $110 million despite the warehousing of patients.
Alexion Pharmaceuticals
Alexion has the distinction of producing one of the world's most expensive drugs: Soliris.
But, it's not just Soliris $400,000 dollar a year price tag boosting the bottom line. Sales are also climbing because of label expansion, which I discussed in Expanding Use of Alexion's Specialty Drug Soliris Offers Upside.
The lion's share of Alexion's Soliris sales still come from prescriptions written to treat a rare disease named paroxysmal nocturnal hemoglobinuria ("PNH"). But, that may soon change. Last fall, both the EU and the FDA approved Soliris for the treatment of another rare genetic disorder known as atypical hemolytic uremic syndrome ("aHUS').
While the patient population for PNH in the United States is only 4,000-6000 people - and only a few hundred people are diagnosed with aHUS - the unmet need is significant. Sadly, PNH patients only live 10-15 years after being diagnosed and roughly half of aHUS patients die, suffer kidney failure or require dialysis after just 12 months.
Alexion believes it has additional opportunity to expand Soliris to include the more typical HUS too. That version of the disease is caused by E.Coli tainted meat and vegetables and Alexion hopes to file with the FDA later this year for the indication.
United Therapeutics
United Therapeutics is a specialty player with three commercial drugs used to treat patients with pulmonary arterial hypertension ("PAH"). I outlined those drugs more in The Long Case for United Therapeutics.
The company's top selling drug is Remodulin, which was approved as a PAH treatment in 2002. The company also markets Tyvaso - an inhaled version of Remodulin - and oral Adcirca.
These three drugs generated a combined $245 million in sales last quarter, up 20% from a year ago and United thinks it can expand the market further by innovating delivery and dosing. It's currently working with Medtronic (NYSE:MDT) on an infusible pump, a self-injected version of Remodulin, and a once-daily regimen for Tyvaso.
The company also hopes to launch a fourth commercial drug named 14.18, which it acquired from the National Cancer Institute. That drug has already gone through phase III tests as a treatment for a rare cancer named neuroblastoma.
All three are reasonably cheap.
One of my favorite ways of valuing stocks is to compare their forward price to earnings ratio against their 5 year price to earnings ratio low. I outlined this more in my book Your Guide to Better Stock Picks, but the crux is this measure makes an apples to apples comparison, considering the least investors have typically paid for each dollar of earnings in the past against what they're paying today.
On this basis, all three stocks appear valued at the lower end of historical norms, suggesting potential upside despite year-to-date gains.

Given the strong seasonality for drug stocks generally, and for these stocks in particular, now may be the right time to consider them for portfolios. At a minimum, given the pipeline opportunity at AbbVie, the potential label expansion for Alexion's Soliris, and innovation at United Therapeutics, all three warrant making your next watch list.
Additional Source Material:
Alexion Pharmaceuticals Q1 Conference Call
United Therapeutics Q1 Conference Call
AbbVie Inc. Q1 Conference Call
Disclosure: I have no positions in any stocks mentioned, but may initiate a long position in ABBV, UTHR, ALXN over the next 72 hours. I wrote this article myself, and it expresses my own opinions. I am not receiving compensation for it (other than from Seeking Alpha). I have no business relationship with any company whose stock is mentioned in this article.