Tesla Motors (NASDAQ:TSLA) Annual Shareholder Meeting was held on June 4th, 2013. Elon Musk did not offer any "surprises", but instead reiterated much of the dialogue and targets that have been made public through the previous earnings call, various interviews, and Elon Musk's twitter account. Below is a synopsis of this Annual Shareholder Meeting followed by my personal take away from this meeting.
Introduction
Elon Musk's opening remarks set the tone for this meeting, "Many people chose to short our stock unwisely... I assume those people are not here today". The crowd chuckled, and the positive sentiment flowed through the conference room.
Following this well-received joke, Elon continued to please the Tesla enthusiasts by highlighting that Tesla is the only American car ever to get a 99 rating by Consumer Reports. The reason Tesla did not get a perfect score was because Consumer Reports indicated there are questions around the car's ability for rapid charging and long-distance travel. Elon emphasized that Tesla is actively working on trying to address those issues.
Elon Musk continued on to quantify the results of these stellar reviews. Tesla Model S was the top selling electric car in the first quarter of 2013, and in fact, Tesla's revenue was greater than all other electric car sales combined in the US in Q1 2013.
Future Plans
Elon Musk reiterated Tesla's plan to introduce a lower-end electric car in 3 to 4 years, and this lower end model is expected to be approximately half the cost of Model S. Elon did caution that there is still technology needed to be developed before a compelling low-end, low-price car ($25-30k price point) can be produced to compete with gasoline cars. While Elon Musk remains optimistic Tesla can get there in 3 to 4 years, this risk of additional technology needed before the lower-end model can be produced should not go unnoticed.
Switching to the Model X status, Tesla continues making progress on the Model X (picture shown below), and expects to start making deliveries in 2014 as planned. The Model X will be built on the Model S platform.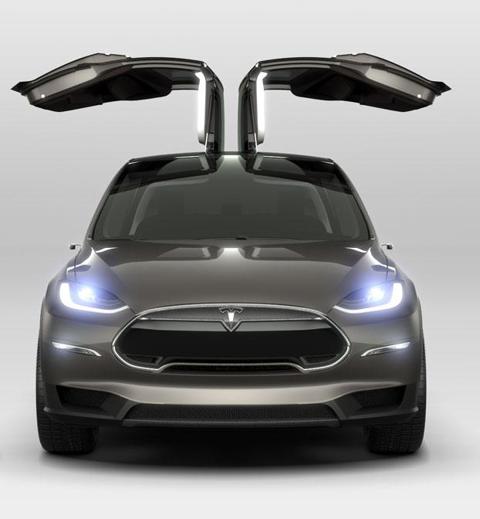 Click to enlarge
(Click to enlarge)
Talking Numbers - Cash Flow and Sales Expectations
One of the reasons Tesla was notoriously shorted in the past was due to its dire cash flow, and the risk of the company running out of cash. Fear no more. With the last financing round, Tesla raised more money than they think they will need per Elon Musk. The company's CEO went on to emphasize that Tesla is currently doing well with cash on hand, and has plenty of cash remaining for rainy days, if there are any.
To prevent rainy days, cars have to sell, and Tesla is doing just that. The demand for North American units is somewhere in the 15,000 units range for 2013, and Tesla expects demand to stay the same through the 2nd quarter. In Europe, Elon believes demand should start picking up in the 3rd quarter as cars are delivered to Europe. As for the overall worldwide demand projection, if the U.S. demand is approximately 15,000 units, Elon Musk projected the worldwide demand to be 40,000 units for 2013.
Side note: the presentation showed 30,000 units, but in vintage Elon fashion, Elon Musk chose to call an audible and give his own personal estimate of 40,000 units instead.
As reported on the previous quarterly call, Elon Musk reiterated that Tesla expects deliveries to be 21,000 units this year. Point to note here is that the expected deliveries are not to be confused by the demand figures. Even though the projected demand for Tesla vehicles is around 40,000 units for 2013, Tesla still expects to deliver 21,000 units given its current supply chain platform.
Additionally, as previously reported, Tesla expects a 25% gross margin by end of the year excluding ZEV (Zero Emission Vehicle) credits. ZEV credit revenue is expected on 1/6th of all deliveries, but it is not calculated in projecting a 25% gross margin. This goes on to show that Tesla is not taking into account government subsidiaries in its long term growth plan.
Tesla Galleries, Service Centers, and Supercharger Stations
As unit sales demand and deliveries projections increase year over year, so does the Tesla infrastructure. The emphasis on creating and growing a strong infrastructure could be the leading competitive advantage for Tesla as more competitors enter the electric car playing field in my opinion.
Diving deeper into the details of this infrastructure expansion, on the marketing front, Tesla expects to have increased the number of stores and galleries by 50% by the end of the year. For current and future Tesla owners, the car itself may be top notch, but buyers need the peace of mind of having a service center nearby in case there are any breakdowns. To address this issue, the company continues to expand their service centers, and expects to almost double the number of service centers by the end of the year. Elon Musk also emphasized that a lot of service centers will be in the "middle of the country" as he thinks people underestimate demand in the middle part of the country.
As mentioned above, one of the main reasons Tesla did not get the perfect 100 score by Consumer Reports was due to questions around the car's ability to rapidly charge and travel long distances. To address this issue, as announced earlier this month, Tesla has developed the supercharger technology to allow for Tesla drivers to reduce charge times, and travel long distances. Per the supercharger announcement press release at the end of May 2013, the supercharger technology "will allow Model S to be charged at 120 kW, replenishing three hours of driving in just over 20 minutes." Continuing the Tesla infrastructure rapid expansion theme, Tesla plans to triple the number of supercharger stations (picture shown below) within 1 to 2 months. These stations should cover 80% of U.S. by the end of the year, and 98% in two years.
The supercharger station costs approximately $150,000 to build one, and approximately $300,000 to build a solar super charger station. The on-going maintenance costs are much lower than people estimate according to Elon Musk, and rent for these supercharger stations is zero or very little since they are on highway rest-stops. Elon also mentioned that these low rents are due to the supercharger stations serving as a driver for traffic to these highway rest-stops. Additionally, and possibly most importantly, these supercharger stations will be free forever.
Elon Musk is planning on taking a personal road trip from LA to NY by the end of the year with his kids to personally experience this supercharger infrastructure.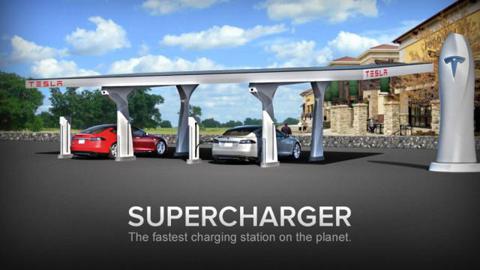 Click to enlarge
(Click to enlarge)
Quote of the Shareholder Meeting
Elon Musk: "I think the way brand happens is if you make good products…not anything more complicated than that"
Personal Take Away
Current valuation, Forward P/E, and other similar metrics are useful for these types of high-growth long term plan companies, but they can only serve as a light barometer. Tesla's long term plan of mass producing these electric cars, if it works, is destined for, who knows, ten-fold its current stock price, so buying at $70, $100, or $130 will not matter. However, any major headwinds such as competition, regulation, technology innovation disappointments, or supply chain issues could send the stock reeling overnight.
For now though, per this shareholder meeting, various other Elon Musk interviews, and the company's financial metrics, I am a believer in the long-term Tesla plan.
Disclosure: I am long TSLA. I wrote this article myself, and it expresses my own opinions. I am not receiving compensation for it (other than from Seeking Alpha). I have no business relationship with any company whose stock is mentioned in this article.