Background
Two recent articles on Johnson & Johnson (NYSE:JNJ) offered contrary views on future prospects.
The pessimistic view was based on reported earnings of $10.85 billion for 2012 year.
The optimistic view was based on Adjusted Earnings of $14.35 billion reported as supplementary information by JNJ.
That is a very large (32%) difference, so it is little wonder that the two sets of numbers can lead to opposing views.
Is one set of numbers more correct than the other and which set of numbers should we use?
The answer is important to investors who are seeking to make long-term investment decisions based on the financial results of the company.
Before answering, it is useful to get an understanding of the differences between the two sets of numbers. The differences are particularly large over the last 2 years with gross charges against income for Special Items as follows -
2011 year $4.2 billion;
2012 year $3.5 billion; and
1st quarter 2013 $0.6 billion.
Adjusted Earnings
JNJ describe the purpose of the adjustments as follows -
The Company believes investors gain additional perspective of underlying business trends and results by providing a measure of earnings before provision for taxes on income, net earnings and diluted net earnings per share that excludes special items in order to evaluate ongoing business operations.
So the differences between reported and adjusted earnings are due to the separation of Special Items to get a better idea of the current and projected underlying routine operations of the business.
Special Items include -
Litigation expenses
Product recalls
In process R&D write-downs
Gains and losses on sales of businesses
Tangible and intangible asset write-downs
Acquisition integration costs
Restructuring costs
Currency gains and losses and "other"
Any of the above items and others that might arise can occur for any one of the three divisions. That makes a possible 24 or more Special Items large enough to warrant separation and exclusion in arriving at Adjusted Earnings each year.
This makes it very likely that out of the 24 or more possibilities there will always be some Special Item/s incurred by JNJ each and every year.
For example in the three year period 2007 to 2009 Special Items totaled -
2007 $2,230M
2008 $ (734)M (recovery of litigation costs)
2009 $ 800M
2007 to 2009 $ 766M average per year
Most or all of these Special Items could and should be regarded as part of the cost of doing business for a company with the type of operations that JNJ is engaged in.
On that basis there can be no justification for omitting Special Items in making projections for the future.
There are other abnormalities that are not taken into account when JNJ reports Adjusted Earnings.
An example would be the effect of an interruption to sales in a period through an adverse occurrence, making the sales for that period not a good basis for evaluating and projecting future sales.
Another area is the effective tax rate for a period.
Below we will analyze and review Adjusted Earnings per JNJ and make suggestions how Special Items and effective tax rates should be treated in projections.
Adjusted Earnings per JNJ
Table 1 below shows adjusted earnings calculations for the 1st quarter of 2013 and 2012 and for full year 2012 and 2011 based on information provided by JNJ (see here and here).
Table 1 shows divisional sales grew by 8.5% for Q1 2013 compared to Q1 2012, but normalized divisional operating profits grew by only 2.2% overall. As mentioned above, there can be items that affect comparisons between periods that are not isolated for comparison purposes. A quarter is a very short period for comparison. Further results for succeeding quarters are needed to better determine the growth trajectory now that much of JNJ's problems appear to be behind them.
Adjusted Net Income or "normalized" income grew by 8% for Q1 2013 compared to Q1 2012. This is despite operating profits growing by only 2.2% for the same period. The main reason for this is differences in the effective tax rates between periods as discussed further below.
Earnings per share increased by 5.9% for Q1 2013 compared to Q1 2012 and by 2.8% for 2012 year compared to 2011 year.
Table 1 - Adjusted Earnings per JNJ analyzed down to Divisional Level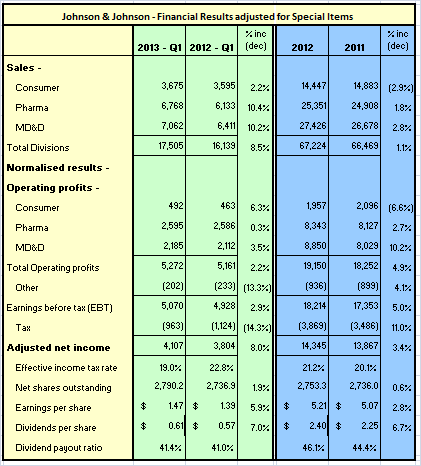 Adjusted earnings per JNJ further normalized for Special Items and tax rates
Regularly recurring Special Items allowance -
Further adjustments to earnings are made in Table 2 to allow for an element of regularly recurring Special Items costs.
This has negligible impact on relative performance between periods but does result in a downward adjustment to EPS which is considered appropriate.
The normalized charge of $0.3 billion in Q1 2013 replaces an actual charge of $0.6 billion for the quarter. Similar adjustments have been applied to Q1 2012 and years ended 2012 and 2011 based on a "normal" allowance for Special Items of $1.2 billion per year.
Uniform effective tax rate -
The effective tax rate is also adjusted to one uniform rate of 21% (assumed average long term rate). This is to avoid the distortion to net income between periods by an item of expense that has little or nothing to do with evaluation of ongoing business operations.
After applying a uniform effective tax rate, the increase in normalized net earnings for Q1 2013 compared to Q1 2012 reduces significantly from 8.0% in Table 1 to 3.1% in Table 2 below, and the increase in EPS reduces from 5.9% to 1.1%.
The revised and lower percentage increases are considered a more true reflection of comparative underlying operating performance between the periods. This is important because it informs for projections for future periods.
Table 2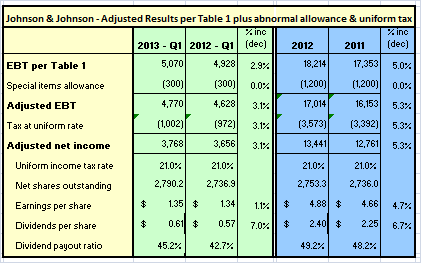 Conclusions:
Starting point -
Adjusted Net Income, rather than reported net income, is an appropriate starting point for projecting net income for the ongoing routine operations of the JNJ business.
Special Items -
While it is necessary to separate Special Items out of the operating results to aid in projecting future operating results there should be a line allowance included for Special Items for the purpose of net income projections.
Special Items are a real and recurring cost of doing business for JNJ and must be taken into account in projecting net income.
It is virtually certain there will be sizable amounts of Special Items arising over any extended forecast period, but timing by year will be uncertain.
Inclusion in projections of an average yearly allowance based on total amounts of Special Items expected to arise over the forecast period overcomes the difficulty of timing.
Effective Tax Rate -
The most recent effective tax rate is not necessarily the appropriate rate to adopt for the forecast period. An attempt should be made to determine the effective tax rate that is likely to apply for the period of the projection.
Differences in effective tax rates between periods should be adjusted for purposes of comparing underlying operating performance.
Disclosure: I have no positions in any stocks mentioned, and no plans to initiate any positions within the next 72 hours. I wrote this article myself, and it expresses my own opinions. I am not receiving compensation for it. I have no business relationship with any company whose stock is mentioned in this article.