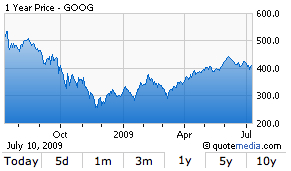 Google (NASDAQ:GOOG) will report second quarter earnings on Thursday July 16th, 2009 after the market closes. Consensus Wall Street estimates has Google delivering $4.031 billion in revenues in 2Q09, up 3.5% YoY but down 1% QoQ, $2.48 billion in EBITDA (61.7% margin), and $5.03 in Adjusted EPS.

Some new observations since I wrote $30 EPS Possible in 2010.

1. Whisper numbers are for a 1% sequential net revenue increase and a $5.05 Adjusted EPS. In other words, these are the numbers Google has to beat for the stock price to rally.

2. CEO Eric Schmidt said recently on CNBC that the worst of the economic recession is over, so it could be that he is seeing greenshoots reflected in Google's numbers this quarter.

3. The dollar continued to fall relative to the Euro and the pound.

4. Search engine marketers have issued less dire scenarios about CPC pricing, ad budget constraints, and search ROIs. I am taking that to mean not that the environment has matertially improved, but that it hasn't gotten worse. "Stabilization is the new up".

My expectations are unchanged from before:
My model has Google reporting $3.993 billion in revenues (+3% YoY, -2% QoQ), $2.485 billion in EBITDA (62.2% margin), and $4.99 in Adjusted EPS. My revenue numbers are based on 15% YoY growth in paid leads and a 13% YoY decline in CPCs, with modest support from YouTube, CPM based revenues, and Licensing/Other revenues. The model assumes a less negative $375 million YoY FX impact and that Google is able to hedge $135 million of that figure for a net $241 million negative FX impact. The wildcard is the actual cost of the hedge, which shows up below operating income, and is difficult to predict. Another is the bonus accrual which is also difficult to predict. Both could lead to variability in the EPS report.
Excluding those items, I believe Google's new found cost disciple under the new CFO Patrick Pichette, should lead to significant margin improvement that is likely to start showing up this quarter. Supporting my thinking is a reduction in the growth rate of employee expenses due to the slowed hiring rate, less depreciation and less operating costs due to lower capex spending, removal of FX headwinds if the dollar goes into a tailspin due to the heavy stimulus spending and tempering of the discretionary costs in the model.

The shares are currently trading at 20x 2009 EPS compared to Yahoo! (NASDAQ:YHOO), which is trading at 40x 09, Amazon at 50x 09, eBay at 12x 09, and IAC at 40x 09. Thus relative to peers, the shares are attractive. I have Google generating $24.13 in Adjusted EPS in 2010 based off 10% growth in paid leads and 1.5% growth in CPC. If the economy recovers in 2010 and the non-FX component of the CPC declines experienced over the past quarters proves cyclical rather than secular, then my CPC estimate will increase and my EPS estimate will likely shoot past $25. If I use Google's current trading multiple and apply it to the 2010 EPS estimate, then I am looking at a stock worth $500 for another 20% upside. My DCF values the shares at $508 based on a WACC of 9.5% and a 3% terminal growth rate (16x terminal multiple). If the margin benefits discussed above are realized then it is not unrealistic to see a $30 Adj. EPS number in 2010, which would imply a $600 share price.