Everyone knows that housing is recovering. While the recovery is mild, housing starts and sales certainly have been on an uptrend and housing inventories are now perfectly contained. Housing prices were recently seen racing ahead as well.
This is not some kind of novelty. In fact, this is so well known that housing stocks, for which the SPDR S&P Homebuilders ETF (NYSEARCA:XHB) is a proxy, have been racing ahead.
The problem
The problem is that this thesis is so well-known, that investors and speculators seem to have gotten carried away. Not only are homebuilders racing ahead, but they're racing well ahead of the fundamentals. Whereas in the past we could see a very direct relationship between the homebuilders' market performance and housing starts, such relationship has completely broken in the last year and a half. The chart below illustrates this point: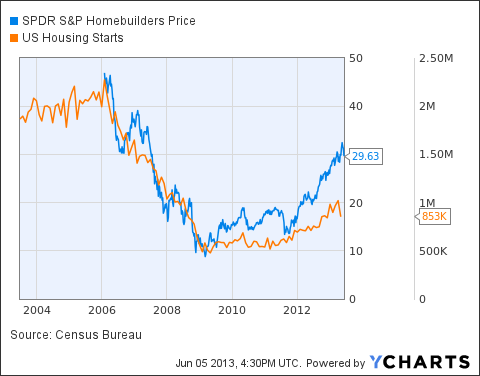 XHB data by YCharts
From this chart, it would appear that the homebuilders are already discounting a 1.5 million run rate for housing starts, whereas the present run rate is running at just 853k/year.
Not only that, but there's reason to believe that some of the recovery in the housing market is coming from investors and not traditional home buyers. This is illustrated in the following Zerohedge.com chart which shows how mortgage purchase applications have disconnected from new home sales: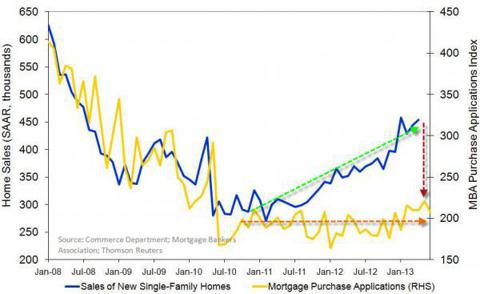 A recovery built on investors -- though some of it will be for rental -- is more vulnerable to a sudden lull. One wonders if such a lull is already taking place, both from the slight downtick on housing starts, and the huge slaughter that's taking place in lumber (down nearly 30% since topping out in March).
Priced for perfection
These disconnects are not to be taken lightly. Homebuilders such as Toll Brothers (NYSE:TOL), PulteGroup (NYSE:PHM) or Lennar Corporation (NYSE:LEN) ran so far that they recovered nearly all of their housing bubble glory (see charts below).
In the process, they amassed significant valuations which require a lot of cyclical goodness. TOL trades at 39.4 times 2013 consensus estimates, PHM trades at 14.4 times and LEN trades at 22.3 times. It should be recalled that these are cyclical stocks whose multiples at a cyclical top will probably be less than 10 times earnings, much like they were at the top of the housing bubble.
These stocks are thus already priced for housing perfection. What we see, however, both with mortgage purchase applications and with lumber prices, is not perfection. Housing stocks are thus very vulnerable here.
Conclusion
Housing stocks have recovered most of their housing bubble glory. They've done this even while the recovery in housing starts has lagged substantially. Likewise, mortgage purchase applications have also lagged, which seems to indicate that much of the housing recovery is being fed by investors and speculators.
At the same time we're seeing lumber prices being significantly weak. Since housing stocks got so ahead of fundamentals, it would seem that they've very vulnerable to a deep correction.
Disclosure: I have no positions in any stocks mentioned, and no plans to initiate any positions within the next 72 hours. I wrote this article myself, and it expresses my own opinions. I am not receiving compensation for it (other than from Seeking Alpha). I have no business relationship with any company whose stock is mentioned in this article.